Caractérisation des périmètres maraîchers institués par les groupements des femmes comme stratégie de résilience en zone post conflit (Casamance, Sénégal)
Ousmane Ndiaye

Université Assane Seck de Ziguinchor, Sénégal

Urbain Diatta

Université Assane Seck de Ziguinchor, Sénégal

Augustin Abeudje

Université Assane Seck de Ziguinchor, Sénégal

Mamady Dramé

Université Assane Seck de Ziguinchor, Sénégal

Saliou Ndiaye

Ecole Nationale Supérieure d'Agriculture, Université de Thiès, Sénégal

Cheikh Tidiane Ba

Université Cheikh Anta Diop de Dakar, Sénégal
Keywords:
Périmètres maraîchers, Résilience, groupements de femmes,, Casamance
Abstract
L'Afrique subsaharienne est marquée, en ce début de 21ième siècle, par une situation d'insécurité alimentaire généralisée, aussi bien dans les campagnes que dans les villes. Pour corriger ce déséquilibre, les groupements des femmes de l'arrondissement de Kataba 1 instituent des blocs maraichers comme stratégie de résilience. C'est dans cette perspective que cette étude se propose de faire une caractérisation des périmètres maraichers des femmes dans l'arrondissement de Kataba 1. Elle a été réalisée sur la base des enquêtes socioéconomiques, menées auprès de 140 producteurs répartis dans 73 blocs maraichers (soit 53,3% des blocs) appartenant à 53 villages. Les enquêtes ont révélé que 36,62% des productrices se trouvent sur la tranche d'âge 40 - 50 ans. Les superficies emblavées contenant 19 spéculations maraichères varient de 0,01 à 7,5 ha, . Le fertilisant le plus utilisé est le fumier avec l'application d'une dose deux (2) bassines par planche de 10 m2 . Toutefois, les cultures sont attaquées par de nombreux bioagresseurs qui occasionnent chaque année des pertes importantes de récoltes. Pour lutter contre ces ennemis de culture, les producteurs adoptent selon les moyens disposés, deux types de traitements phytosanitaires à savoir l'usage des produits chimiques de synthèse d'une part et l'application d'extraits naturels.
Sub-Saharan Africa is marked by widespread food insecurity at the beginning of the 21st century, both in rural and city areas. To correct this imbalance, women's groups in the Kataba 1 borough are instituting market garden blocks as a resilience strategy. It is with this in mind that the study carried out in the district of Kataba 1 proposes to make a characterization of the market garden perimeters of the area. It was carried out on the basis of surveys of 140 producers in 73 winery blocks (or 53.3% 2 blocks) belonging to 53 villages. Surveys revealed that 36.62% of produccers are on the 40- to 50-year age group. With areas ranging from 0.01 to 7.5 ha, 19 market garden speculations were noted in the area. In addition, the most commonly used fertilizer is manure in doses of two (2) basins per 10 m2 board. However, crops are attacked by many enemies who cause significant crop losses each year. To combat these enemies, producers adopt two types of treatments, namely treatments with chemicals and those with natural products, according to the means available.
Downloads
Download data is not yet available.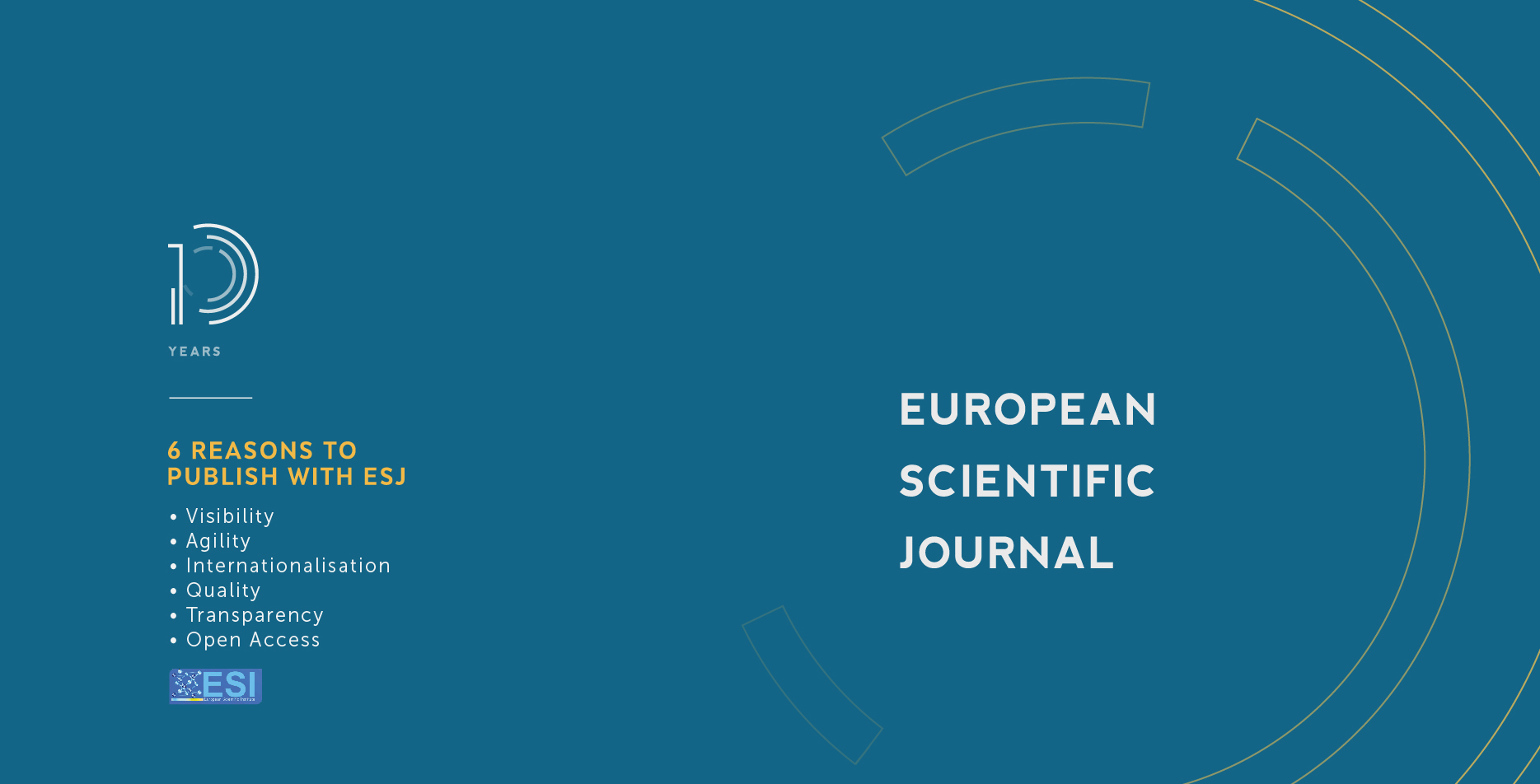 How to Cite
Ndiaye, O., Diatta, U., Abeudje, A., Dramé, M., Ndiaye, S., & Tidiane Ba, C. (2021). Caractérisation des périmètres maraîchers institués par les groupements des femmes comme stratégie de résilience en zone post conflit (Casamance, Sénégal). European Scientific Journal, ESJ, 17(13), 118. https://doi.org/10.19044/esj.2021.v17n13p118
Copyright (c) 2021 Ousmane Ndiaye, Urbain Diatta, Augustin Abeudje, Mamady Dramé, Saliou Ndiaye, Cheikh Tidiane Ba
This work is licensed under a Creative Commons Attribution-NonCommercial-NoDerivatives 4.0 International License.