Solidarité Associative Et Résilience Traumatique : Le Cas De l'Association Sénégalaise Des Victimes De Mines (ASVM)
Ismaïla Sene

Laboratoire de Recherche en Sciences Economiques et Sociales (LARSES) Université Assane Seck de Ziguinchor (UASZ) / Sénégal
Keywords:
Victimes De Mines, Affect Traumatique, Solidarité Associative, Résilience Traumatique, ASVM, Casamance
Abstract
En Casamance, la multiplication des accidents de mines antipersonnel et antichars dans le contexte du conflit armé a entrainé, chez les victimes, un état de vulnérabilité qui s'est exprimé à travers un affect traumatique. Cette situation a favorisé la mobilisation d'une dynamique d'assistance au centre de laquelle on trouve l'Association Sénégalaise des Victimes de Mines (ASVM). C'est donc le rôle de cette organisation dans la résilience des victimes de mines que cet article se propose d'analyser à travers une méthodologie exclusivement qualitative. Ainsi, grâce à la conduite d'entretiens réalisés avec vingt-sept (27) victimes de mines, deux responsables de l'ASVM et trois responsables au niveau des structures impliquées dans l'assistance aux victimes de mines, l'étude démontre que le recours à la solidarité associative a contribué à l'expression d'un soutien par les pairs. Ce soutien s'est avéré décisif dans la résilience des victimes de mines. Cet article qui se situe à la croisée de la sociologie des organisations et de la psychologie sociale, renouvelle notamment la pensée sur les dynamiques de solidarité associative. Ce faisant, il s'inscrit dans le champ thématique de la sociologie des organisations tout en contribuant à diversifier la réflexion sur le handicap.
In Casamance, the multiplication of landmine and anti-tank accidents in the context of the armed conflict has led to a state of vulnerability among the victims, which has been expressed through traumatic affect. This situation has led to the mobilization of a dynamic of assistance at the center of which is the Senegalese association of landmine victims (ASVM). It is therefore the role of this organization in the resilience of landmine victims that this article proposes to analyze through an exclusively qualitative methodology. Through interviews with twenty seven (27) landmine victims, two ASVM leaders, and three leaders of structures involved in assisting landmine victims, the study demonstrates that the use of associative solidarity has contributed to the expression of peer support. This support has proven to be decisive in the resilience of landmine victims. This article, which is at the crossroads of organizational sociology and social psychology, renews thinking on the dynamics of associative solidarity. In doing so, it is part of the thematic field of organizational sociology while contributing to the diversification of thinking on disability.
Downloads
Download data is not yet available.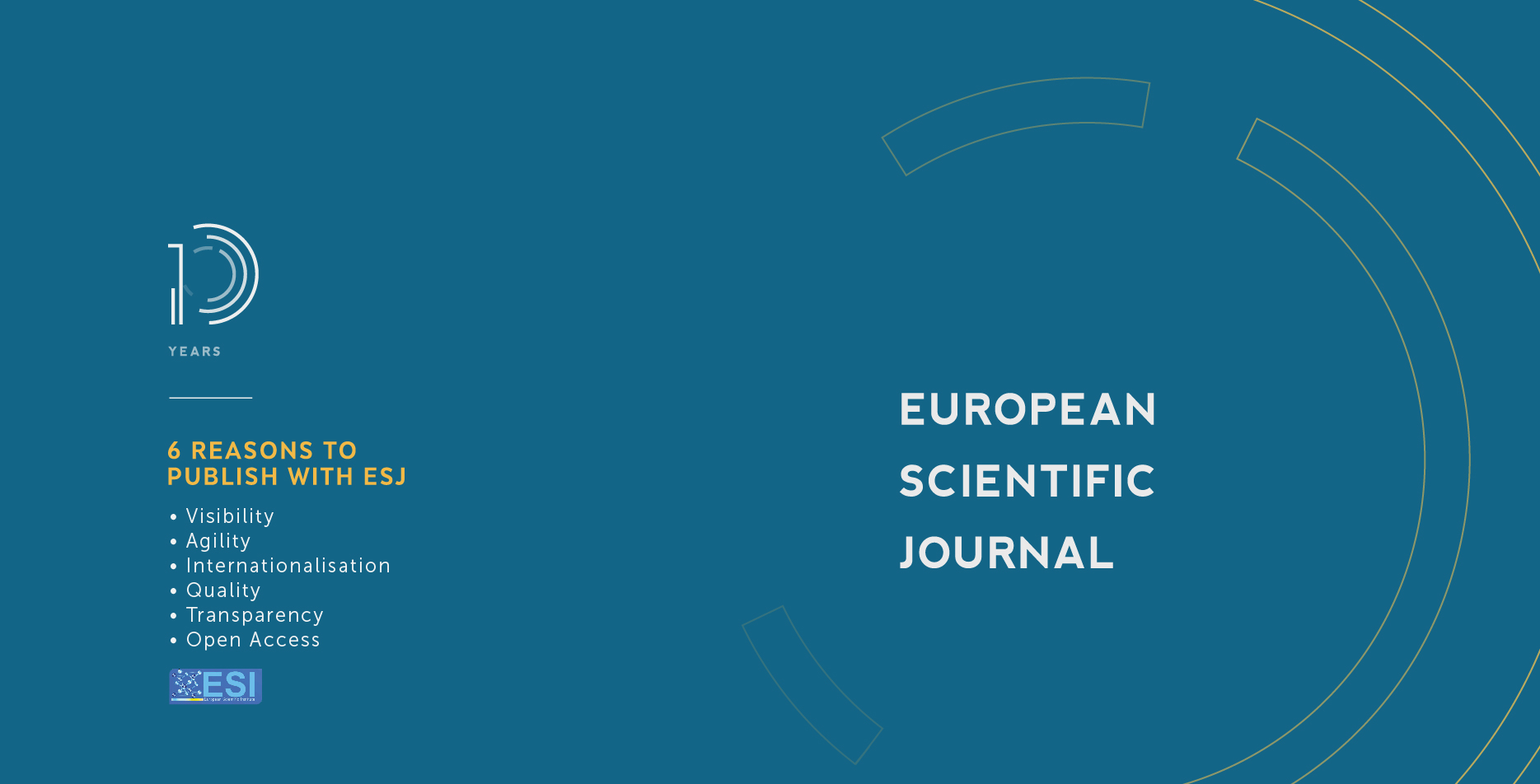 How to Cite
Sene, I. (2021). Solidarité Associative Et Résilience Traumatique : Le Cas De l'Association Sénégalaise Des Victimes De Mines (ASVM). European Scientific Journal, ESJ, 17(15), 142. https://doi.org/10.19044/esj.2021.v17n15p142
Section
ESJ Social Sciences
Copyright (c) 2021 Ismaïla Sene
This work is licensed under a Creative Commons Attribution-NonCommercial-NoDerivatives 4.0 International License.