Education Inclusive En République Du Bénin : L'expérience Des Apprenants Du Centre De Malentendants De Louho À Porto-Novo
Abla Sesime Djissenou

Doctorante, à l'École Doctorale Pluridisciplinaire, UAC

Razacki Raphael Kélani

Maître de Conférences à l'École Normale Supérieure de Natitingou, UNSTIM

Patrick Houessou

Professeur Titulaire à l'École Doctorale Pluridisciplinaire, UAC
Keywords:
Education Inclusive, Handicap Auditif, Perceptions, Défis, République Du Bénin
Abstract
L'objectif du Développement Durable no 4 (ODD4) stipule qu'il faut garantir une éducation de qualité sans exclusion et promouvoir des possibilités d'apprentissage tout au long de la vie pour tous. C'est dans cet esprit que s'inscrit le Centre d'Accueil, d'Éducation et d'Intégration des Sourds (CAEIS) de Louho à Porto-Novo au Bénin. Cette recherche, d'approche méthodologique qualitative, a pour objectif d'explorer les perceptions des acteurs du centre vis-à-vis des apprenants et de l'approche pédagogique innovante et inclusive mise en œuvre pour scolariser les apprenants handicapés auditifs et entendants et d'investiguer les résultats obtenus et les difficultés auxquelles font face les responsables du centre. Des observations de classe, des recherches documentaires dans les archives du centre, des interviews via des focus groups de parents d'apprenants, des gestionnaires du centre et des enseignants ont aidé à collecter les données. Les résultats indiquent que les participants reconnaissent que les sourds, malgré leur handicap, peuvent réussir dans tous les domaines de formation et s'épanouir pleinement pour s'insérer dans le tissu social si des dispositions adéquates sont prises par l'école. L'approche pédagogique innovante conçue et mise en œuvre par les enseignants permet aux apprenants de réussir sur le plan scolaire et parascolaire. Et enfin, malgré les réussites obtenues, des difficultés subsistent comme le défaut de formation et de qualification des enseignants, l'insuffisance de supervision pédagogique, l'absence de soutien de l'Etat et d'autres autorités locales, le retard de payement des salaires des enseignants et le manque de matériel didactiques adéquat. C'est la raison pour laquelle nous finissons sur des propositions de pérennisation du centre.
The sustainable development goal no 4 stipulates that it is necessary to ensure inclusive and equitable quality education and promote lifelong learning opportunities for all. It is for that goal that the center of accommodation, education and integration of the deaf (CAEIS) of Louho has been created in Porto-Novo, the capital city of Benin. The objective of this qualitative research method is to explore the perceptions of the actors of the center towards the students and the innovative and inclusive educational approach implemented to teach hearing handicap students and those without hearing problems as well and to investigate their obtained results and difficulties facing the leaders of the center. Classroom observations of teachers, documentary research through the center artifacts, focus groups interviews with students' parents, teachers  and management teams were used to collect data. Results showed that participants recognized that deaf people, despite their handicap, can succeed in all training domains and fully light up to insert themselves in the social make up if adequate decisions are taken in school; the innovative teaching approach conceived and implemented by teachers allows their students to succeed in school. In spite of their successes, some difficulties persist such as lack of teachers training, qualified teachers, didactic materials, absence of educational supervision, support of government and local authorities, delay of payment of teachers' wages. Relevant suggestions have been made for the perpetuation of the center.
Downloads
Download data is not yet available.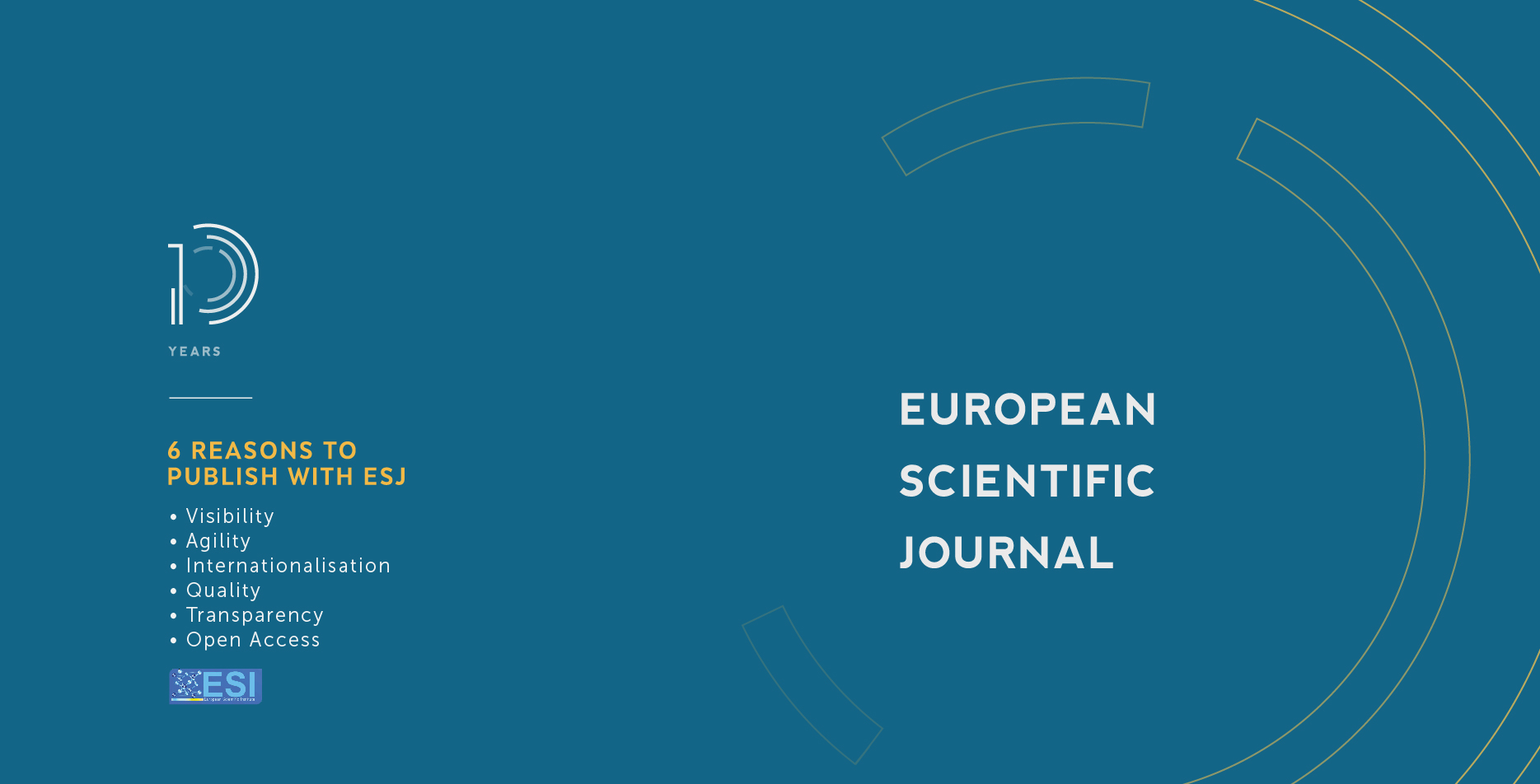 How to Cite
Djissenou, A. S., Kélani, R. R., & Houessou, P. (2021). Education Inclusive En République Du Bénin : L'expérience Des Apprenants Du Centre De Malentendants De Louho À Porto-Novo. European Scientific Journal, ESJ, 17(15), 335. https://doi.org/10.19044/esj.2021.v17n15p335
Section
ESJ Social Sciences
Copyright (c) 2021 Abla Sesime Djissenou, Razacki Raphael Kélani, Patrick Houessou
This work is licensed under a Creative Commons Attribution-NonCommercial-NoDerivatives 4.0 International License.