Evaluation of the Opportunities for Prevention of the Periodontal Diseases Among the Pregnant Women in Tbilisi
Veriko Tevzadze

Doctoral Program: Public Health, University of Georgia, School of Health Sciences, Georgia

Ketevan Nanobashvili

Doctoral Program: Public Health, University of Georgia, School of Health Sciences, Georgia
Keywords:
Pregnancy, Periodontal diseases, Prevalence, Tbilisi
Abstract
Task: Although periodontal inflammatory diseases are very often during pregnancy, little is known about the risk factors that increase the frequency of periodontal disease incidence and affect its development during pregnancy. This descriptive study assesses the prevalence of periodontal diseases among pregnant women in Tbilisi, the impact of their socio-economic status, hygiene habits, and level of knowledge on their periodontal status. Methods: This was an observational, cross-sectional study conducted among pregnant women. The respondents were distributed by Gynecological Centers and districts in Tbilisi. The survey was conducted at 24 Gynecological Centers. The target group of the study was 222 pregnant women aged 18 to 45 living in Tbilisi. The tool used in this study is a Structured Electronic Questionnaire. The oral health of the target group representatives was assessed by periodontal indices, the CPITN-index, and OHI-Jack R.Vermillion's oral hygiene index. Data entry and statistical analysis were carried out using the statistical program SPSS 23.0. Results: The current pregnancy for most of the respondents (36%) is the second, 53.2% of the pregnant women are in the second trimester of the pregnancy, 50,5% of the respondents are bachelors' student or have completed a bachelor's stage of the study. Due to the employment status, 47.7% of them are housewives, and 61.1% evaluate their economical condition as satisfactory; 32,9% of the respondents have dental insurance, and only 13,3% use this insurance for this purpose. 68.8% of the pregnant women address the dentist only in case of pain or discomfort, 67.3% of them have bleeding gums, 66.5% of them feel pain or discomfort in the oral cavity and 59% of them have swelling/pain in their gums. Only 9% of gynecologists recommend their patients plan a visit to the dentist. Pregnant women's awareness about the safety of dental manipulations is also quite low and it is 22.1 %. The statistical testing of the difference due to the qualitative variables was carried out using the Pearson's chi-square method; the index of signification (p), which was less than 0.05, at (p<0.05) was considered as statistically significant.
Downloads
Download data is not yet available.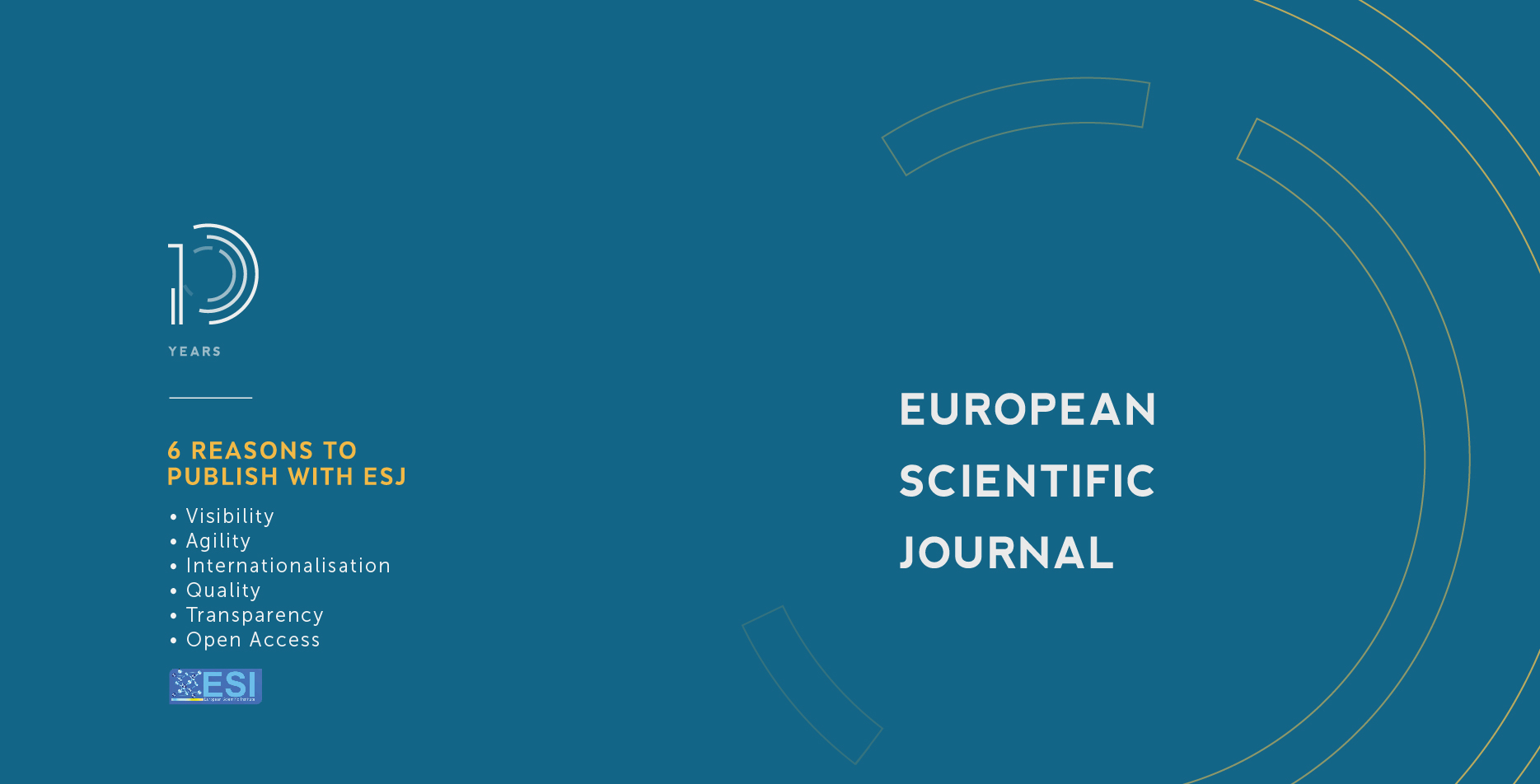 How to Cite
Tevzadze, V., & Nanobashvili, K. (2021). Evaluation of the Opportunities for Prevention of the Periodontal Diseases Among the Pregnant Women in Tbilisi. European Scientific Journal, ESJ, 17(17), 1. https://doi.org/10.19044/esj.2021.v17n17p1
Section
ESJ Natural/Life/Medical Sciences
Copyright (c) 2021 Veriko Tevzadze, Ketevan Nanobashvili
This work is licensed under a Creative Commons Attribution-NonCommercial-NoDerivatives 4.0 International License.