Evaluation des effets des doses de mycorhizes sur les paramètres de croissance et de la production de trois variétés de Voandzou dans la localité de Dschang, Ouest Cameroun
Wang-Bara Bertrand

Institut de Recherche Agricole pour le Développement (IRAD), Station Polyvalente de Recherche Agricole de Garoua SPRA-Garoua, Cameroun. Université de Dschang, Faculté d'Agronomie et des Sciences Agricoles, Dschang, Cameroun

Amedep David

Département des Sciences Biologiques, Université de Ngaoundéré, Cameroun

Housseini Djida Jacques

Institut de Recherche Agricole pour le Développement (IRAD), Station Polyvalente de Recherche Agricole de Garoua SPRA-Garoua, Cameroun. Département des Sciences Biologiques, Université de Ngaoundéré, Cameroun

Mana Gaston Guiwa

Institut de Recherche Agricole pour le Développement (IRAD), Station Polyvalente de Recherche Agricole de Garoua SPRA-Garoua, Cameroun
Keywords:
Inoculation, Voandzou, Doses de mycorhizes, Variétés, Rendement, Ouest Cameroun
Abstract
Cette étude a pour objectif d'évaluer l'effet des doses d'un biofertilisant sur la croissance et la production du Voandzou à l'Ouest Cameroun. Elle a été menée à la Ferme d'Application et de la Recherche (FAR) et au Laboratoire de Phytopathologie et de Zoologie Appliquée de la FASA (Dschang) de Décembre 2017 à Juillet 2018. Pour cette étude trois variétés de Voandzou ont été utilisées, une variété locale de Dschang (VL) et deux autres variétés du Nord Cameroun (Mendéo V1M et Mendéo V2M). Deux doses de mycorhizes (D1 = 10g et D2 = 20g) ont été inoculées et comparées au témoin (D0 = 0 g) dans un dispositif en split-plot combinant deux facteurs (doses et variétés) avec 3 répétitions. Après avoir évalué le taux de germination des graines des différentes variétés, nous avons évalué les paramètres de croissance, la précocité variétale et la productivité en gousse des différentes variétés. Nos résultats ont montré que les variétés Mendéo 1 et 2 du Nord sont précoces avec une floraison débutant à partir de 40e JAS et une maturité dès le 122e JAS. La variété VL est tardive avec une floraison dès le 58e JAS et une maturité à 160e JAS. En général, les deux doses de mycorhize inoculées augmentent la croissance des plants de voandzou. Cependant la dose D2 (20g) semble être efficace pour les variétés Mendéo V1M et Mendéo V2M, par apport à la variété local VL qui préfère la dose D1 (10g). Le nombre de feuilles des trois variétés de Voandzou a été plus prononcé pour les plantes inoculées par rapport à celles non inoculées. La dose D2 (20g) d'inoculum a eu un effet positif sur la densité du feuillage des plantes des variétés V1M et V2M. Par contre, la variété locale (VL) de l'Ouest Cameroun parait plus favorable aux deux différentes doses (D1 et D2) de mycorhizes. Cette étude a montré que l'inoculation directe des CMA pendant le semis entraine une augmentation du rendement en gousse de la VL et améliore la production de la variété introduite V1M. L'étude permet de conclure que la variété améliorée V1M et locale VL sont potentiellement aptes dans la zone à dose 20 g.
Aim of this study is to evaluate the effect of bio-fertilizers on growth and production of Bambara groundnut in West Cameroon. The study was carried in the Experimental and Research Farm and in the Phytopathology Laboratory and Applied Zoology of FAAS. For this study, 3 varieties of Bambara groundnuts have been used, the Local varieties of Dschang (VL) and two varieties of North Cameroon (Mendéo V1M et Mendéo V2M). Two doses of mycorrhiza at 10 and 20 g were compared with the control (0 g) in a splitplot design combining two factors (doses and varieties) with 3 repetitions. After determination of germination rate of seeds for each different variety, we had determined agronomic performances such as the growth of plants, precocity and yield pods. The results were proved that the two varieties of North Cameroon are early varieties with an average flowering of 40 DAS and a maturity of 122 DAS. The local variety VL is a late variety with a flowering of 58 DAS and a maturity of 160 DAS. The two doses of mycorrhiza at 10 (D1) and 20 g (D2) increases plants growth of Bambara groundnuts. However, the doses of mycorrhiza at 20 g appear favorable for the two varieties of North (Mendéo V1M and Mendéo V2M) compared to the variety of West which is favorable at the dose of 10 g. The number of leaves from the three varieties of Bambara groundnuts had been improved from inoculated plants compared to non inoculated plants. The dose of 20 g has a positive effect on leaves density of varieties V1M and V2M. In contrast, the Local variety of West Cameroon appear favorable both two different doses (D1 and D2) of mycorrhiza. This study had showed that the direct inoculation with Fungi Arbuscular Mycorrhiza increase yield pods of Local variety (VL) of West Cameroon and improve the production of variety V1M of Nord Cameroon. Study permits to conclude that the variety V2M of North and V1L of West Cameroon are able potentially on the study zone at 20 g.
Downloads
Download data is not yet available.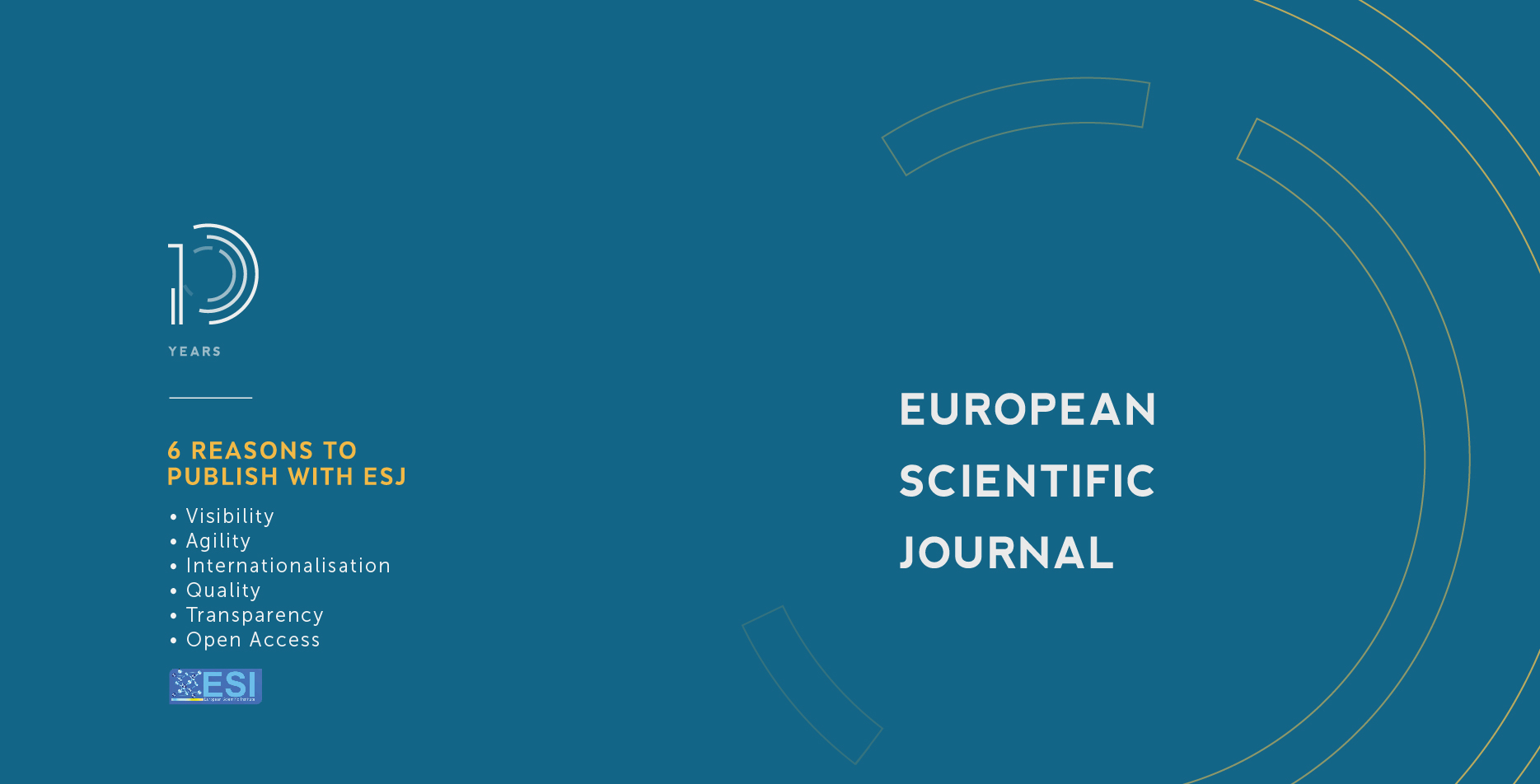 How to Cite
Bertrand, W.-B., David, A., Jacques, H. D., & Guiwa, M. G. (2021). Evaluation des effets des doses de mycorhizes sur les paramètres de croissance et de la production de trois variétés de Voandzou dans la localité de Dschang, Ouest Cameroun. European Scientific Journal, ESJ, 17(17), 213. https://doi.org/10.19044/esj.2021.v17n17p213
Section
ESJ Natural/Life/Medical Sciences
Copyright (c) 2021 Wang-Bara Bertrand, Amedep David, Housseini Djida Jacques, Mana Gaston Guiwa
This work is licensed under a Creative Commons Attribution-NonCommercial-NoDerivatives 4.0 International License.