Aspects Tomodensitometriques des Infections Rachidiennes dans le Service d'Imagerie Medicale du CNHU-HKM a Cotonou (Benin)
Sonia, Bignon Mahussi Gwladys Adjadohoun

Université d'Abomey-Calavi, Faculté des Sciences de la Santé de Cotonou, Bénin

Patricia Yekpe Ahouansou

Université d'Abomey-Calavi, Faculté des Sciences de la Santé de Cotonou, Bénin

Gabriel Ngamo

Université d'Abomey-Calavi, Faculté des Sciences de la Santé de Cotonou, Bénin

Kuye-Ndongo Brigitte

Université d'Abomey-Calavi, Faculté des Sciences de la Santé de Cotonou, Bénin

Baglo Anita

Université d'Abomey-Calavi, Faculté des Sciences de la Santé de Cotonou, Bénin

Savi De Tove Kofi-Mensa

Université de Parakou, Faculté des Sciences de la santé de Parakou, Bénin

Zomalheto Zavier

Université d'Abomey-Calavi, Faculté des Sciences de la Santé de Cotonou, Bénin

Biaou Olivier

Université d'Abomey-Calavi, Faculté des Sciences de la Santé de Cotonou, Bénin
Keywords:
Rachis, infections, scanner Cotonou
Abstract
Introduction : Les atteintes infectieuses du rachis (AIR) sont rares, mais en recrudescence en raison des affections immunodépressives et immunosuppressives. Elles représentent 4 à 7 % de toutes les ostéomyélites. Au Centre National Hospitalier Universitaire Hubert Koutoukou Maga (CNHU HKM) de Cotonou (Bénin), elles constituent 2,31% des hospitalisations. L'objectif de ce travail était de décrire leurs caractéristiques tomodensitométriques. Matériels et méthode : Étude transversale descriptive à collecte rétrospective menée dans le service d'imagerie médicale du CNHUHKM sur une période de six (06) ans allant du 1er Janvier 2012 au 31 Décembre 2017. Portant sur les comptes rendus de scanner où le diagnostic d'AIR avait été retenu. Les examens tomodensitométriques avaient été réalisés à l'aide d'un Scanner Siemens Somatom Emotion (16 barrettes modèle 2011). Résultats : Sur 2797 scanners du rachis, 140 AIR (3,5%) avaient été suspectées et 72 (2.6%) avaient été confirmées sur les images scanographiques. L'âge moyen était de 49,98 ans ± 15,5 ans avec une prédominance masculine (sex ratio= 1,2). Le segment de prédilection était lombaire (77,8%) avec des érosions en miroir (11,12 %) principalement au niveau de l'étage L3-L4 (12.5%). Une hypodensité́discale était retrouvée dans 16.7% des cas. L'atteinte somatique la plus fréquente était l'ostéocondensation (20,8%). Les tassements vertébraux étaient observés dans 9.72% et les listhésis dans 11.11% des cas. Les diagnostics de discite, de spondylite, et de spondylodiscite avaient été retenus respectivement dans 6,94%, 8,33% et 84,72 % des cas. Une extension aux parties molles était retrouvée dans 27,8 % des cas dont un abcès des parties molles dans 22,22% des cas. Conclusion : Au décours de cette étude, le diagnostic des AIR bien que tardif, a majoritairement été posé au scanner avant la survenue de complications. Les érosions en miroir des spondyles étaient fortement évocatrices en dehors de toute hypodensité́ discale.
Introduction: Infections of the spine (AIR) are rare but increase because of immunosuppressive and immunosuppressive disorders. They represent 4 to 7% of all osteomyelitis. At the Hubert Koutoukou Maga National University Hospital Center (CNHU HKM), they constitute 2.31% of hospitalizations. The aim of this work is to describe their CT characteristics at the CNHU-HKM in Cotonou. Material and method: Retrospective descriptive cross-sectional study conducted of the CNHU-HKM medical imaging department over a period of 06 years from January 1, 2012 to December 31, 2017. Included were all CT scan reports where the diagnosis was made AIR had been retained. Computed tomographic examinations were performed using a Siemens Somatom Emotion® Scanner (16 slices model 2011). Results: Of 2,797 spine scans, 140 IRAs were suspected and 72 (2.6%) were diagnosed on the scanographic images. The average age was 49.98 ± 15.5 years with a male predominance (sex ratio = 1.2). The preferred segment was lumbar (77.8%) with mirror erosions (11.12%) mainly at the L3-L4 stage (12.5%). A disc hypodensity was found in 16.7% of cases. The most common somatic involvement was osteocondensation (20.8%). Vertebral compression was observed in 9.72% and listhesis in 11.11% of cases. Diagnoses of discitis, spondylitis, and spondylodiscitis were retained in 6.94%, 8.33% and 84.72% of cases, respectively. Soft tissue extension was found in 27.8% of cases including soft tissue abscess in 22.22% of cases. Conclusion: During the course of this study, the diagnosis of RIA, although late, was mainly performed on CT before the occurrence of complications. The mirrored erosions of the spondyls were strongly evocative outside of any disc hypodensity.
Downloads
Download data is not yet available.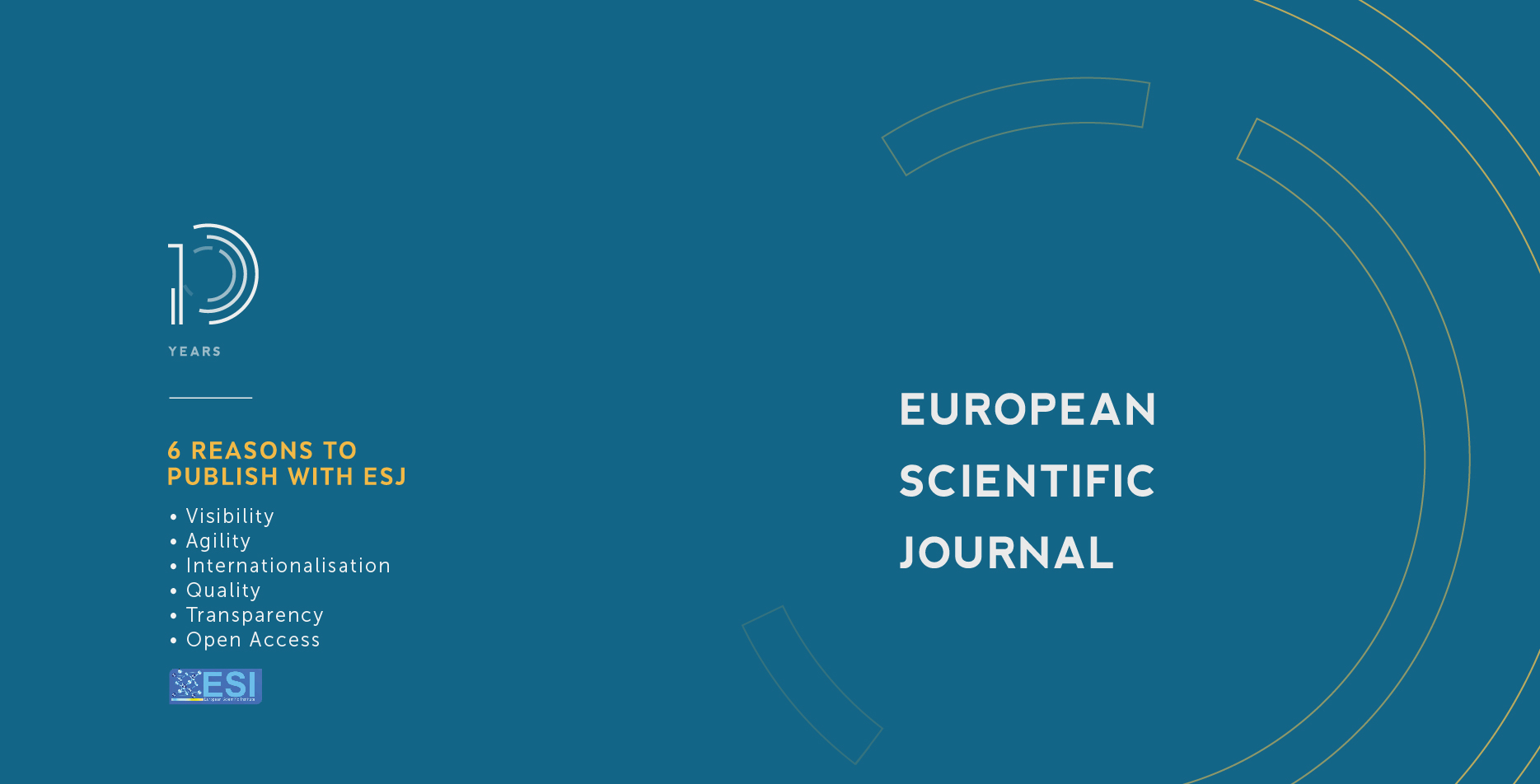 How to Cite
Adjadohoun, S. B. M. G., Yekpe Ahouansou, P., Ngamo, G., Brigitte, K.-N., Anita, B., Kofi-Mensa, S. D. T., Zavier, Z., & Olivier, B. (2021). Aspects Tomodensitometriques des Infections Rachidiennes dans le Service d'Imagerie Medicale du CNHU-HKM a Cotonou (Benin). European Scientific Journal, ESJ, 17(17), 350. https://doi.org/10.19044/esj.2021.v17n17p350
Section
ESJ Natural/Life/Medical Sciences
Copyright (c) 2021 Sonia, Bignon Mahussi Gwladys Adjadohoun, Patricia Yekpe Ahouansou, Gabriel Ngamo, Kuye-Ndongo Brigitte, Baglo Anita, Savi De Tove Kofi-Mensa, Zomalheto Zavier, Biaou Olivier
This work is licensed under a Creative Commons Attribution-NonCommercial-NoDerivatives 4.0 International License.