Screening phytochimique, dosage des polyphénols et détermination de l'activité antioxydante de deux plantes antihypertensives du Niger
Zakari Seybou Djamilatou

Laboratoire des Substances Naturelles et de Synthèse Organique (LASNASO), Université Abdou Moumouni de Niamey, Niger

Alfa Keita Djibo

Laboratoire des Substances Naturelles et de Synthèse Organique (LASNASO), Université Abdou Moumouni de Niamey, Niger

Bakasso Sahabi

Laboratoire des Substances Naturelles et de Synthèse Organique (LASNASO), Université Abdou Moumouni de Niamey, Niger

Sabo Haoua Seini

Laboratoire des Substances Naturelles et de Synthèse Organique (LASNASO), Université Abdou Moumouni de Niamey, Niger
Keywords:
A. hispidum, X. americana, polyphénols, activité antioxydante, hypertension, Niger
Abstract
Acanthospermum hispidum Dc. et Ximenia americana L. sont largement utilisées en Afrique subsaharienne pour le traitement traditionnel de plusieurs pathologies, dont l'hypertension artérielle. L'objectif du présent travail est de déterminer l'activité antioxydante des extraits bruts de ces plantes, ainsi que les molécules qui leurs confèrent ces propriétés. A cet effet, les parties aériennes d'A. hispidum récoltées à Niamey et l'écorce de tronc de X. americana récoltée à Gaya ont été extraites avec des solvants de polarité croissante, respectivement l'hexane, l'acétate d'éthyle, l'éthanol et le méthanol. Il s'en est suivi le screening phytochimique, le dosage des polyphénols, des flavonoïdes et la détermination des activités antioxydantes. Il est ressorti des résultats du screening phytochimique par des réactions en tubes, la présence des coumarines, des tanins, des flavonoïdes, des stérols et triterpènes, des saponosides, des oses et holosides dans les deux plantes. Le dosage des polyphénols totaux par la méthode du Folin- Ciocalteu a montré que les teneurs en polyphénols totaux varient de 0,627 à 1,583 mg d'équivalent acide gallique (EqAG) pour A. hispidum et de 0,036 à 1,645 mg d'EqAG pour X. americana. Le dosage des flavonoïdes avec AlCl3 a montré que tous les extraits contiennent des flavonoïdes mais que c'est particulièrement les extraits AcOEt d' A. hispidum et EtOH de X. americana quisont les plus riches avec des taux respectifs de 0,089 mg et 0,069 mg EqQ. L'extrait EtOH de l'écorce de tronc de X. americana a montré la plus grande capacité antiradicalaire (129,56%). Cette activité élevée pourrait être due aux teneurs élevées en flavonoïdes et en polyphénols totaux. L'effet de ces molécules sur les radicaux libres semblerait être à l'origine de l'activité antihypertentive des plantes étudiées.
Acanthospermum hispidum Dc. and Ximenia americana L. are widely used in sub-Saharan Africa in the traditional treatment of several pathologies, including hypertension. The main objective of this work is to determine the antioxidant activity of the crude extracts of these plants, as well as the molecules that confer these properties. For this purpose, the aerial parts of A. hispidum from Niamey and the stem bark of X. americana from Gaya were extracted with solvents of increasing polarity, respectively hexane, ethyl acetate, ethanol and methanol. Phytochemical screening, dosage of polyphenols and flavonoids, and the determination of the antioxidant activities of these extracts followed. The results of the preliminary phytochemical screening showed the presence of coumarins, tannins, flavonoids, sterols and triterpens, saponosides, oses and holosides in both plants. The Folin ciocalteu method showed that the total polyphenol contents of these same extracts ranged from 0.627 to 1.583 mg of gallic acid equivalent (AG/Eq) for A. hispidum and from 0.036 to 1.645 AG/Eq for X. americana. Total flavonoid assay with AlCl3 showed that all extracts contain flavonoids but that it is particularly the extracts ethyl acetate (AcOEt) of A. hispidum and ethanol (EtOH) extract of X. americana that are the richest with respective levels of 0.089 mg and 0.069 mg EqQ. The EtOH extract of the trunk bark of X. americana showed the greatest antiradical capacity (129.56%). This high activity could be due to the high content of flavanoids and total polyphenols. The effect of these molecules on free radicals seems to be at the origin of the antihypertensive activity of the plants studied.
Downloads
Download data is not yet available.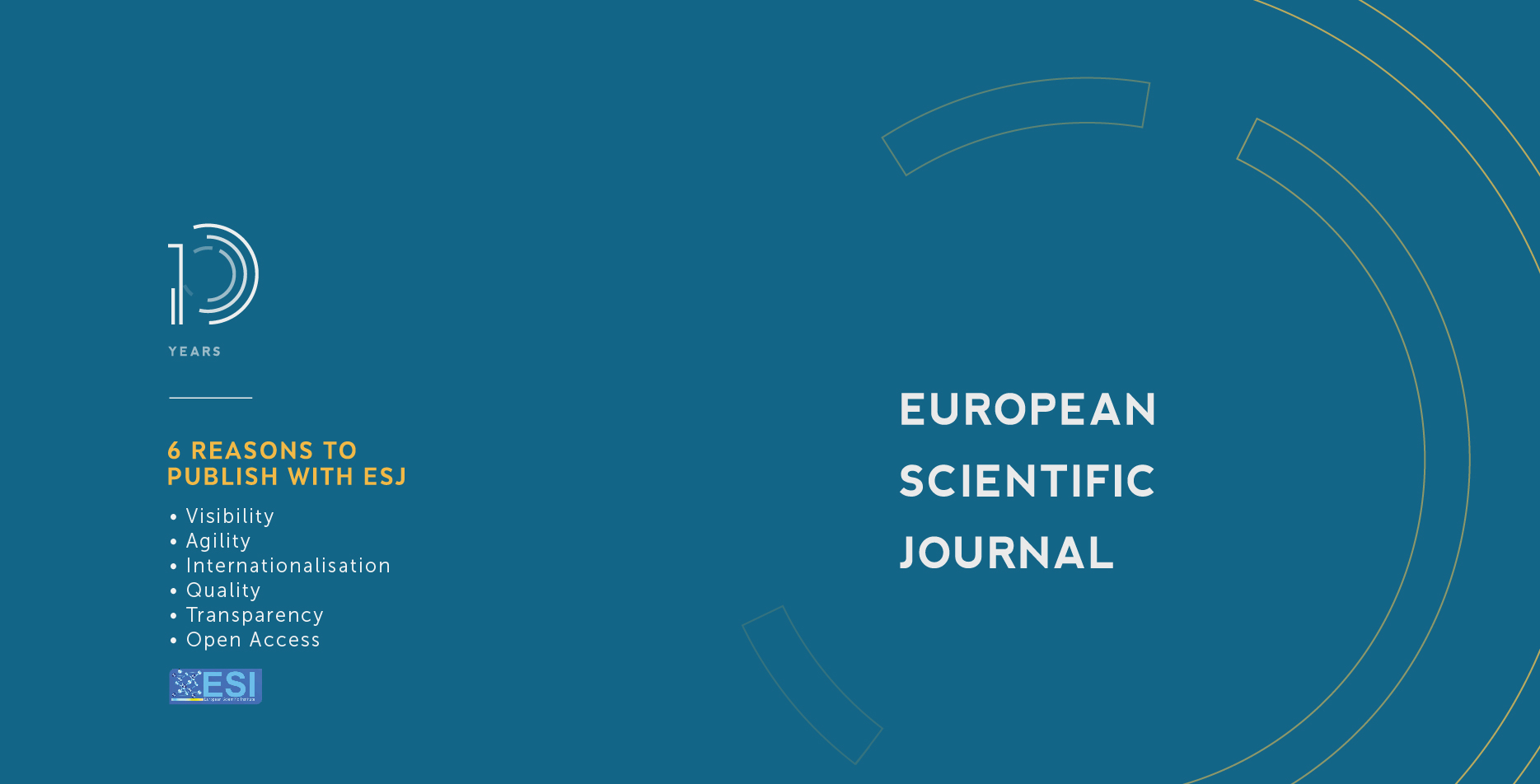 How to Cite
Djamilatou, Z. S., Djibo, A. K., Sahabi, B., & Seini, S. H. (2021). Screening phytochimique, dosage des polyphénols et détermination de l'activité antioxydante de deux plantes antihypertensives du Niger. European Scientific Journal, ESJ, 17(17), 335. https://doi.org/10.19044/esj.2021.v17n17p335
Section
ESJ Natural/Life/Medical Sciences
Copyright (c) 2021 Zakari Seybou Djamilatou, Alfa Keita Djibo, Bakasso Sahabi, Sabo Haoua Seini
This work is licensed under a Creative Commons Attribution-NonCommercial-NoDerivatives 4.0 International License.