Evaluation of Ischemic Heart Disease in the Young Population of Georgia
Gogishvili Giorgi

David Aghmashenebeli University of Georgia, Georgia. Medical Director, St.John The Merciful Private Clinic, Tbilisi, Georgia
Keywords:
Young adults, IHD, risk factors
Abstract
Objective: Study of risk factors (RF) for ischemic heart disease (IHD) in young people is a significant problem in cardiology. Aims: Study and prognosis of ischemic heart disease in Georgian population under 45 years of age. Methods: The study included 107 young patients with coronary heart disease (from 18 to 44 years old), who were treated in the cardiology department of the St. John the Merciful Private Clinic. The average age was (34.68 ± 6.2) years. The control group consisted of 199 healthy volunteers without cardiovascular diseases at the age from 18 to 44 years, the average age was (35.9 ± 5.2) years. In all patients, traditional risk factors were assessed. Results: Regression analysis has shown that it increases the risk of ischemic heart disease:
living in the city - OR=6.90(95%CI:1.28-37.18);
sleep disturbance - OR=45.62(95%CI:3.52-590.64);
obesity -OR=24.56(95%CI:4.14-145.66);
hypertension - OR=40.76(95%CI:8.07-205.92); 
excess intake of saturated fats - OR=79.94(95%CI:10.93-584.43); 
night shift - OR=39.01(95%CI:3.75-405.75);
early detection of ischemic disease in grade I-II relatives - OR=44.22(95%CI:8.07-242.17);
decrease - female gender - OR=0.14 (95%CI:0.03-0.70) and married - OR=0.01(95%CI:0.00-0.08); 
Conclusion: The ability to predict the risk of developing IHD in young people on the basis of traditional RFs, most of which are modifiable, as well as the study of "new" RFs opens up new perspectives in the formation of a strategic approach to the management of young patients in the presence of high risk.
Downloads
Download data is not yet available.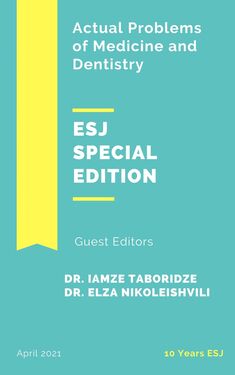 How to Cite
Giorgi, G. (2021). Evaluation of Ischemic Heart Disease in the Young Population of Georgia. European Scientific Journal, ESJ, 17(18), 33. https://doi.org/10.19044/esj.2021.v17n18p33
Copyright (c) 2021 Gogishvili Giorgi
This work is licensed under a Creative Commons Attribution-NonCommercial-NoDerivatives 4.0 International License.