Análisis De Las Variables Físico-Químicas Y Microbiológicas De Las Lagunas Del Municipio De Escárcega, Campeche, México
Blanca del Rosario Martín Canché

Instituto Tecnológico Superior de Escárcega

Maximiliano Vanoye Eligio

Instituto Tecnológico Superior de Escárcega

Martín Gabriel Chan Palomo

Instituto Tecnológico Superior de Escárcega

José Luis Guillen Taje

Instituto Tecnológico Superior de Escárcega

José de los Ángeles Aguilar Sánchez

Instituto Tecnológico Superior de Escárcega
Keywords:
Medio Rural, Calidad Del Agua, Lagunas, Parámetros Fisicoquímicos, Microbiológicos, Calentador Solar, Energías Limpias
Abstract
La seguridad hídrica en México enfrenta problemas de contaminación, escases, deterioro ambiental de las cuencas, de las cuales son el resultado del mal uso y aprovechamiento de la población en sus distintas actividades económicas y de uso doméstico. Por tal motivo, el presente trabajo tiene como objetivo principal evaluar la calidad del agua en los principales cuerpos de agua lénticos (lagunas) que abastece a las comunidades del municipio de Escárcega, utilizando energías limpias. Para el logro de este trabajo se muestrearon cinco puntos en distintas lagunas de la mencionada región, para determinar los parámetros físico-químicos (Nitrógeno, Cloruros, pH y Dureza) y microbiológicos (organismos Coliformes Totales, y Fecales (E. coli). Los resultados indican que la calidad del agua en las distintas lagunas del municipio cumple con los límites máximos permisibles (LMP) conforme a la modificación de la NOM-127-SSA1-2000. En relación a los análisis microbiológicos en la etapa confirmatoria se observó la presencia de Coliformes fecales (E. coli), en todos los puntos de muestreo de las lagunas. Por otro lado, las pruebas confirmatorias indicaron la presencia de esta bacteria en las distintas diluciones; 1:10, 1:100 y 1:1000 respectivamente, contrastando los resultados conforme a los parámetros de la NMX-AA-042-SCFI-2015, demostrando la presencia significativa de Escherichia coli. en las pruebas. Por lo tanto, se concluye que emplear tratamientos térmicos contribuye a la eliminación o desactivación parcial principalmente de bacterias E. coli así como otras bacterias termotolerantes, además este procedimiento combinado con un sistema de recirculación (SRA) y los tratamientos convencionales (Plantas de Tratamientos de Aguas (PTAR), resulta una alternativa sustentable de potabilización del agua de forma eficiente debido a que interviene en el proceso especies bioindicadores ecológicas que permiten la remoción de los microrganismos para el uso doméstico de la población local.
Water security in Mexico faces problems of contamination, shortages, and environmental deterioration of the basins, of which are the result of the misuse and exploitation of the population in their different economic and domestic activities. For this reason, the main objective of this work is to evaluate the quality of the water in the main bodies of water (lagoons) that supply the communities of the municipality of Escárcega, using clean energy To achieve this work, five points were sampled in different lagoons of the aforementioned region, to determine the physical-chemical parameters (Nitrogen, Chlorides, pH and Hardness) and microbiological (Total Coliform organisms, and Fecal (E. coli). The results indicate that the water quality in the different lagoons of the municipality complies with the maximum permissible limits (LMP) according to the modification of NOM-127-SSA1-2000. In relation to the microbiological analysis in the confirmatory stage, the presence of fecal coliforms (E. coli) was observed in all the sampling points of the lagoons. On the other hand, the confirmatory tests indicated the presence of this bacterium in the different dilutions; 1:10, 1: 100 and 1: 1000 respectively, contrasting the results according to the parameters of the NMX-AA-042-SCFI-2015, demonstrating the significant presence of Escherichia coli. in tests. Therefore, it is concluded that using heat treatments contributes to the partial elimination or deactivation, mainly of E. coli bacteria as well as other thermotolerant bacteria, in addition to this procedure combined with a recirculation system (SRA) and conventional treatments (Treatment Plants of Waters (WWTP), is a sustainable alternative for water purification in an efficient way because ecological bioindicator species intervene in the process that allow the removal of microorganisms for the domestic use of the local population.
Downloads
Download data is not yet available.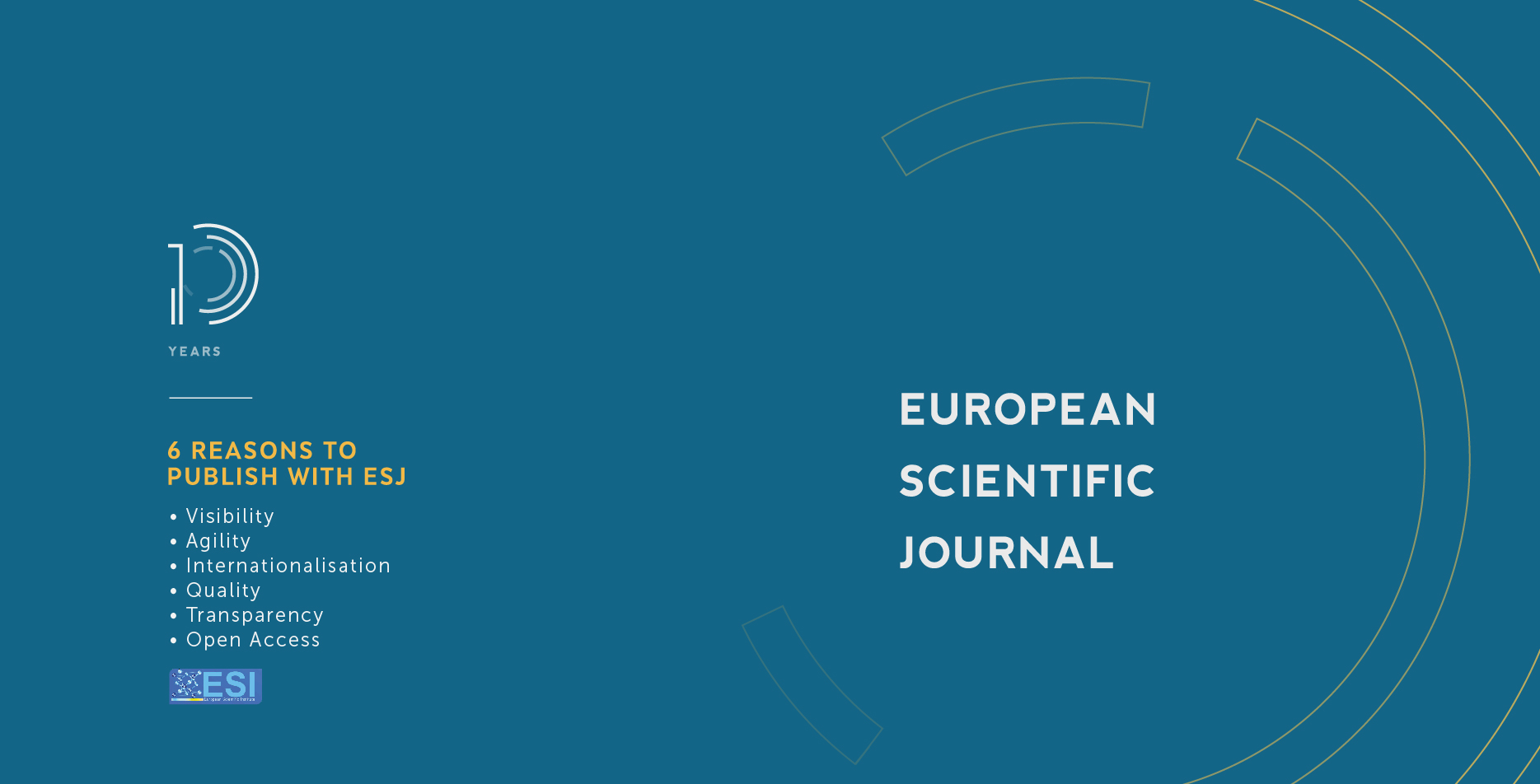 How to Cite
Martín Canché, B. del R., Vanoye Eligio, M., Chan Palomo, M. G., Guillen Taje, J. L., & Aguilar Sánchez, J. de los Ángeles. (2021). Análisis De Las Variables Físico-Químicas Y Microbiológicas De Las Lagunas Del Municipio De Escárcega, Campeche, México. European Scientific Journal, ESJ, 17(25), 116. https://doi.org/10.19044/esj.2021.v17n25p116
Section
ESJ Natural/Life/Medical Sciences
Copyright (c) 2021 Blanca del Rosario Martín Canché, Maximiliano Vanoye Eligio, Martín Gabriel Chan Palomo, José Luis Guillen Taje, José de los Ángeles Aguilar Sánchez
This work is licensed under a Creative Commons Attribution-NonCommercial-NoDerivatives 4.0 International License.