Local Population's Knowledge And Perceptions On The Biodiversity And Conservation Status Of Land Snails In The Region Of Lamto Reserve At The Centre Of Ivory Coast
Konan Pacôme Pokou

Training and Research Unit of Natural Sciences, Nangui Abrogoua University, Ivory Coast

Nygblé Angèle Sika Piba

Lecturer, Training and Research Unit of Natural Sciences, Nangui Abrogoua University, Ivory Coast

N'Golo Abdoulaye Kone

Assistant Lecturer, Training and Research Unit of Natural Sciences, Nangui Abrogoua University, Ivory Coast

Abel Valery Bosso

Training and Research Unit of Natural Sciences, Nangui Abrogoua University, Ivory Coast
Keywords:
Land Snail Knowledge, Lamto Reserve, Local Population Perception, Biodiversity Conservation
Abstract
Local population can play an important role in the sustainable management of biodiversity in protected area. This paper focuses on investigating local population's knowledge and perceptions on land snail's biodiversity and conservation status, by (1) testing their ability to recognize different species of land snails, (2) examining the factors involved in the reduction of land snail's biodiversity, and (3) collecting their points of view on land snail's biodiversity conservation status. Two hundred and sixty (260) people from four villages around Lamto Reserve were interviewed using structured questionnaire with six land snails supporting photos (three macro snails and three micro snails). The results showed that all the respondents had at least once seen the macro snails selected. More than 78% were able to recognize them without the pictures and more than 88% with the pictures. More than 85% of respondents had at least once seen the selected micro snails. Only less than 25% were able to recognize them with the pictures and less than 8% without the pictures. The considered socio-demographic variables were significantly associated with knowledge of the selected land snails. Climate change and human activities (pesticides overuse, edible land snail's consumption and selling and forest fires) have been mentioned by local population as the fundamental causes involved in land snail's biodiversity reduction in this region. The number of respondents with positive attitude (62.91%) towards land snail's biodiversity conservation in Lamto Reserve was significantly higher than the one with negative attitude (37.69%) (P<0.001). Lamto Reserve management staff must increase the consciousness raising campaign in rural communities close to the Reserve in order to reduce the number of people who do not support biodiversity conservation.
Downloads
Download data is not yet available.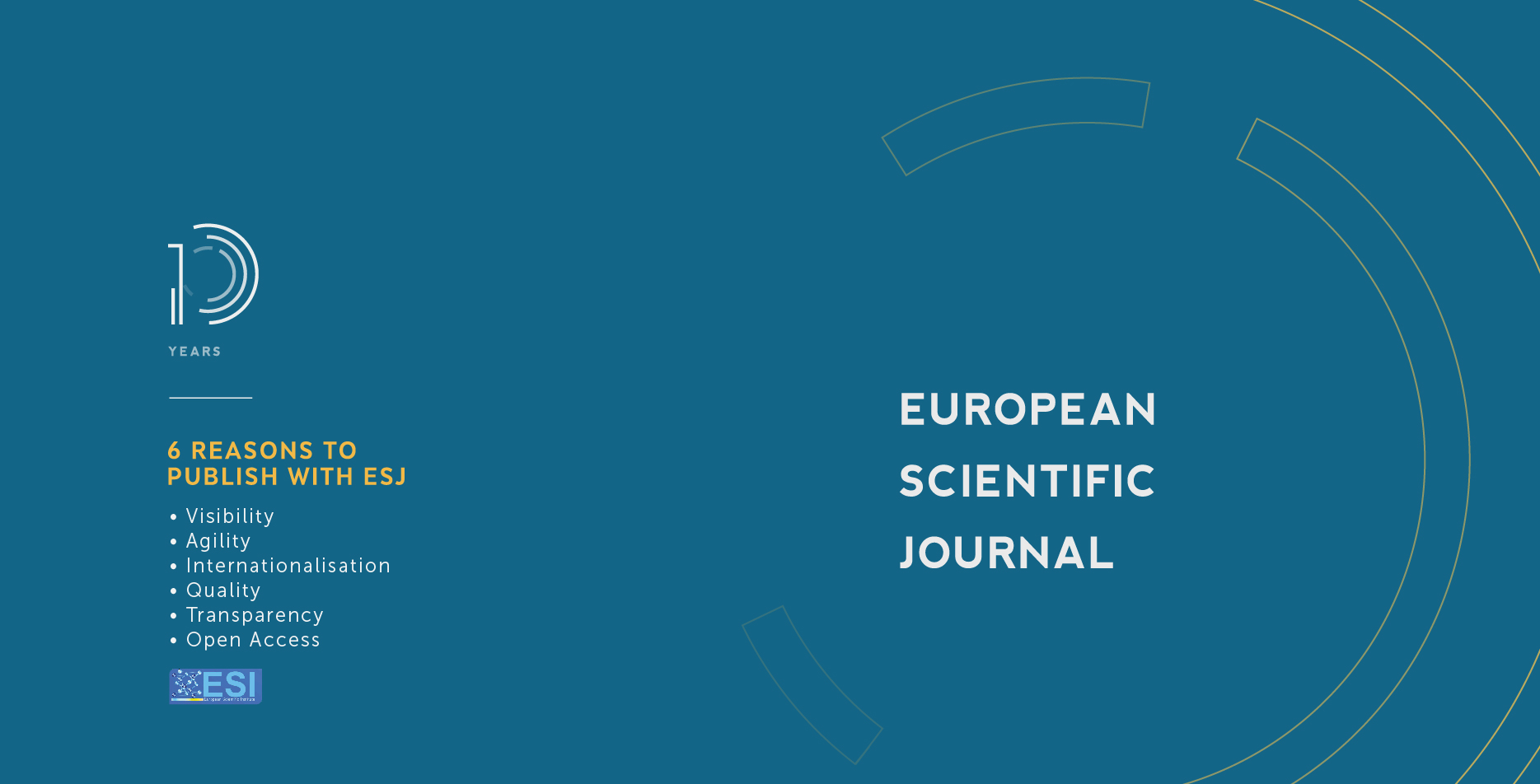 How to Cite
Pacôme Pokou, K., Sika Piba, N. A., Kone, N. A., & Bosso, A. V. (2021). Local Population's Knowledge And Perceptions On The Biodiversity And Conservation Status Of Land Snails In The Region Of Lamto Reserve At The Centre Of Ivory Coast. European Scientific Journal, ESJ, 17(25), 241. https://doi.org/10.19044/esj.2021.v17n25p241
Section
ESJ Natural/Life/Medical Sciences
Copyright (c) 2021 Konan Pacôme Pokou, Nygblé Angèle Sika Piba, N'Golo Abdoulaye Kone, Abel Valery Bosso
This work is licensed under a Creative Commons Attribution-NonCommercial-NoDerivatives 4.0 International License.