Effet Bio-Insecticide De L'huile Essentielle Et De La Poudre De Chenopodium Ambrosioides L. Sur Les Imagos De Bruches De Haricots En Stockage
Mboussy Tsoungould Feldane Gladrich

Laboratoire de biotechnologie et production végétale, Faculté des Sciences et Techniques, Université Marien Ngouabi, Brazzaville, République du Congo

Mpika Joseph

Laboratoire de biotechnologie et production végétale, Faculté des Sciences et Techniques, Université Marien Ngouabi, Brazzaville, République du Congo

Mbuntcha Gueaba Hélène

Unité de Recherche de Chimie Appliquée et Environnementale (URCAPE), Faculté des Sciences, Université de Dschang, Dschang, Cameroun

Tapondjou Azefack Léon

Unité de Recherche de Chimie Appliquée et Environnementale (URCAPE), Faculté des Sciences, Université de Dschang, Dschang, Cameroun

Attibayeba

Laboratoire de biotechnologie et production végétale, Faculté des Sciences et Techniques, Université Marien Ngouabi, Brazzaville, République du Congo
Keywords:
Insectifuge, Insecticide, Chromatographie En Phase Gazeuse, Spectrométrie De Masse, Tests De Toxicité, Acanthoscelides Obtectus
Abstract
Le but de l'étude est d'évaluer l'effet d'insecticide et d'insectifuge de l'huile essentielle et de la poudre de Chenopodium ambrosioides L. contre Acanthoscelides obtectus Say, bruches de haricots. Après séchage de la partie terminale de C. ambrosioides, une aliquote de la matière sèche a été utilisée pour extraire par hydro-distillation de l'huile essentielle et une autre partie broyée pour produire une poudre fine après tamisage. L'analyse de l'huile extraite a été réalisée par chromatographie en phase gazeuse à ionisation de flamme couplée à la spectrométrie de masse. La toxicité de cette huile contre les bruches a été évaluée par fumigation avec ou sans graines, répulsion, contact sur papier filtre avec graines et contact avec graines. Il a été prouvé la toxicité de la poudre vis à vis des bruches de haricots. Le taux de répulsion (%) ou la mortalité des bruches a été déterminée par test. La DL50 a été calculée après que les bruches A. obtectus ont été exposées à l'huile essentielle et à la poudre à la moitié de la durée totale de l'expérience. L'huile essentielle extraite est composée d'hydrocarbures monoterpéniques (52,14 %) avec 37,15 % de α-terpinène et 13,55 % de p-cymène. Elle est riche en monoterpènes oxygénés (6,26 %) dont l'isoascaridole représente 5,43 %. La DL50 de l'huile essentielle est de 0,0017 μl/cm3, 0,017 μl/cm2, 0,0127 μl/g, 0,0032 μl/g respectivement pour le test de fumigation sans graines, de contact avec papier filtre, de fumigation avec graines et de contact avec graines. Avec la poudre, DL50 est de 19,5 g/kg. L'huile a montré un effet attractif pour le test de répulsion. Cette huile et la poudre ont influencé le cycle de développement des bruches en réduisant leur nombre des imagos émergées en F1. Cette huile a été plus efficace que la poudre. Le test in planta confirmera l'efficacité de l'huile essentielle extraite de C. ambrosioides contre les bruches A. obtectus.
The aim of this study is to evaluate the insecticide and insectifuge effect of Chenopodium ambrosioides L. essential oil and powder against Acanthoscelides obtectus Say which are beans' weevil. After drying the terminal part of C. ambrosioides, a certain quantity of dried latter was used for extraction by hydro-distillation of essential oil and the other part was grounded to produce a thin powder sifting. Analysis of the extracted oil was done by chromatography in gaseous phase at flame ionization coupled with mass spectrometry. Toxicity of the oil on weevil was evaluated by fumigation with or without seeds, repulsion, contact on filter paper with seeds and contact with seeds. It was proven the toxicity of the powder face to beans' weevil. Repulsion rate (%) or mortality of the weevils was determined by test. DL50 was calculated after weevil A. obtectus have been exposed to essential oil and powder at half time of the total duration of the experimentation. The extracted essential oil is composed of monoterpenic hydrocarbons (52.14 %) with 37.15 % of α-terpinen and 13.55 % of p-cymene. The oil is rich in oxygenated monoterpenes (6.26 %) of which the isoascaridol represents 5.43 %. The DL50 of the essential oil equals 0.0017 μl/cm3, 0.017 μl/cm2, 0.0127 μl/g, 0.0032 μl/g for the fumigation without seeds test, the contact with filter paper, fumigation with seeds and contact with seeds respectively. With the powder, the DL50 equals 19.5 g/kg. The oil showed an attractive effect for the test of repulsion. That oil and the powder influenced the development cycle of the weevils by reducing the number of images emerged in F1. That oil was more efficient than the powder. The test in planta will confirm the efficiency of the extracted essential oil from C. ambrosioides against the weevils A. obtectus.
Downloads
Download data is not yet available.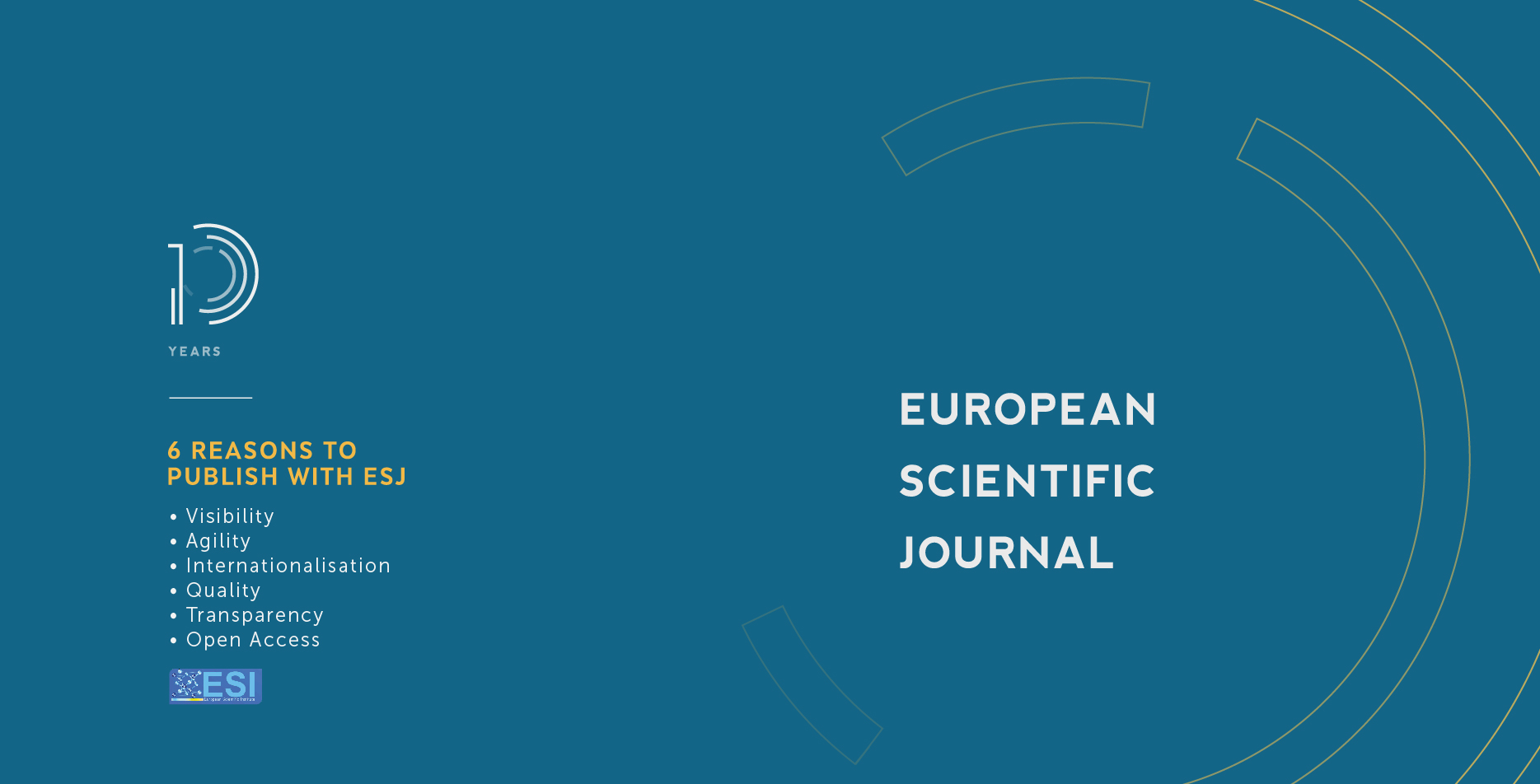 How to Cite
Feldane Gladrich, M. T., Joseph, M., Hélène, M. G., Azefack Léon, T., & Attibayeba. (2021). Effet Bio-Insecticide De L'huile Essentielle Et De La Poudre De Chenopodium Ambrosioides L. Sur Les Imagos De Bruches De Haricots En Stockage. European Scientific Journal, ESJ, 17(25), 267. https://doi.org/10.19044/esj.2021.v17n25p267
Section
ESJ Natural/Life/Medical Sciences
Copyright (c) 2021 Mboussy Tsoungould Feldane Gladrich, Mpika Joseph, Mbuntcha Gueaba Hélène, Tapondjou Azefack Léon, Attibayeba
This work is licensed under a Creative Commons Attribution-NonCommercial-NoDerivatives 4.0 International License.