Connaissances, Attitudes Et Pratiques En Matiere De Cancer Du Col De L'uterus (Ccu) Chez Les Professionnels De Sante A Parakou Au Benin En 2016
Achille Awadé Afoukou Obossou

UER en gynécologie Obstétrique, Faculté de Médecine, Université de Parakou, Bénin

Moufalilou Aboubakar

UER en Gynécologie Obstétrique, Faculté des sciences de la Santé, Université d'Abomey Calavi, Bénin

Mathieu Ogoudjobi

UER en Gynécologie Obstétrique, Faculté des sciences de la Santé, Université d'Abomey Calavi, Bénin

Sedjro Raoul Atade

UER en gynécologie Obstétrique, Faculté de Médecine, Université de Parakou, Bénin

Mahublo Vinadou Vodouhe

UER en gynécologie Obstétrique, Faculté de Médecine, Université de Parakou, Bénin

Rachidi Imorou Sidi

UER en gynécologie Obstétrique, Faculté de Médecine, Université de Parakou, Bénin

Nicephore Dagan

UER en gynécologie Obstétrique, Faculté de Médecine, Université de Parakou, Bénin

Fanny Maryline Nouessèwa Hounkponou Ahouingnan

UER en gynécologie Obstétrique, Faculté de Médecine, Université de Parakou, Bénin

Kabibou Salifou

UER en gynécologie Obstétrique, Faculté de Médecine, Université de Parakou, Bénin

Perrin René Xavier

UER en Gynécologie Obstétrique, Faculté des sciences de la Santé, Université d'Abomey Calavi, Bénin
Keywords:
Cancer Du Col De L'utérus, Connaissance, Attitudes, Pratiques
Abstract
Introduction: En Afrique et dans les pays en développement, le cancer du col de l'utérus représente le 1er cancer chez la femme. Objectifs: Evaluer les connaissances, attitudes et pratiques des professionnels de santé en matière de cancer du col de l'utérus à Parakou en 2016. Cadre et méthode d'étude: Il s'est agi d'une étude transversale descriptive de type connaissance, attitude et pratique (CAP) chez les agents de santé de la ville de Parakou au Nord du Bénin. Elle a couvert une période de 3 mois allant du 1ermars 2016 au 1er juin 2016. Résultats: Au total 133 agents de santé avaient participé à l'étude. L'âge moyen était de 36 ans ± 8 ans avec des extrêmes de 19 ans et 70 ans. Les facteurs de risque étaient connus par 1,5% de la population d'étude. Soixante-six virgule deux pour cent (66,2%) des enquêtés méconnaissaient l'existence de vaccins contre le HPV. La connaissance sur le cancer du col de l'utérus était 71,4%. Pour 98,5% le cancer du col de l'utérus est une affection grave et 81,2% trouvent que le dépistage de ce cancer est mal organisé au Bénin. De façon globale, 27,8% des agents avaient une attitude juste en matière de cancer du col de l'utérus. Soixante-dix-huit virgule neuf pour cent (78,9%) des enquêtés pratiquaient le dépistage de ce cancer. Parmi eux 71,4% pratiquent l'IVA/IVL et 14,3% le FCV mais seulement 1,5% des enquêtés avaient une pratique adéquate face au cancer du col de l'utérus. Au total 5 agents sur les 133 (3,8%) avaient un bon score CAP global. Conclusion: Ces résultats mettent en évidence la nécessité d'une formation continue des professionnels de santé y compris les paramédicaux en matière du cancer du col.
Introduction: in Africa and developing countries, cervical cancer is the leading cancer in women. Objectives: Assess knowledge, attitudes and practices of health care professionals as regards cervical cancer in Parakou in 2016. Framework and methodology: This was a descriptive cross-sectional knowledge, attitude and practice (KAP) study among health workers in the city of Parakou in northern Benin. It covered a period of 3 months from March 1, 2016 to June 1, 2016. Results: In total 133 health workers were involved in the survey. The average age was 36 years ± 8 years with extremes of 19 years and 70 years. The risk factors were known by 1.5% of the study population. Sixty-six-point two percent (66.2%) of respondents were unaware of the existence of HPV vaccines. On the whole, they had average knowledge of cervical cancer (71.4%). For 98.5% cervical cancer is a severe disease and 81.2% think that the screening of this cancer is poorly organized in Benin. Overall, only 27.8% of the workers had a right attitude as regards cervical cancer. Seventy-eight-point nine percent (78.9%) of respondents practiced screening for this cancer; 71.4% among them performed VIA/ VILI and 14.3% cervical smear but only 1.5% of the surveyed had a suitable attitude as regards cervical cancer. In total, only 5 workers out of 133 (3.8%) had a good overall KAP score. Conclusion: These results bring to the fore the need for continuing training for healthcare professionals including paramedics as regards cervical cancer.
Downloads
Download data is not yet available.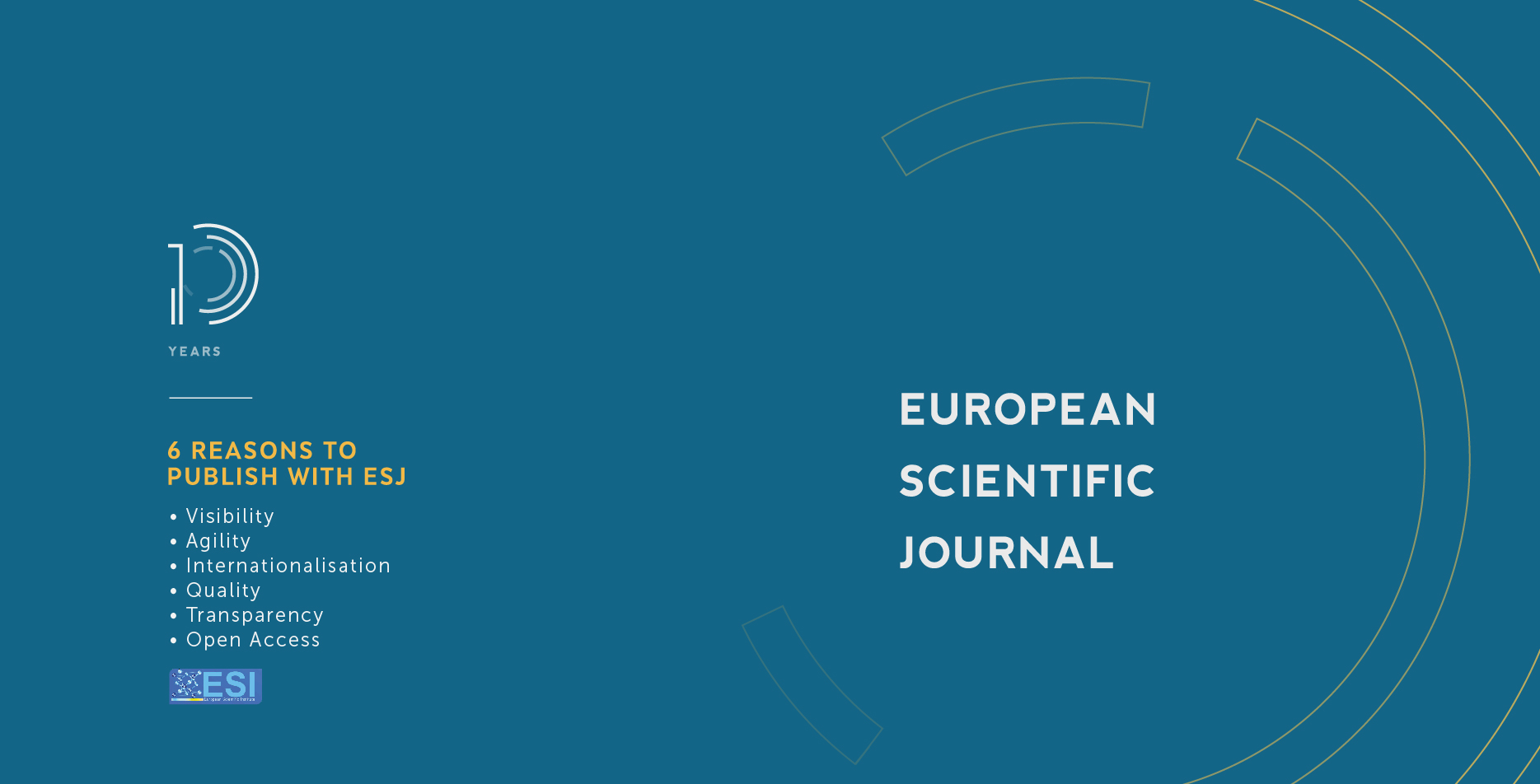 How to Cite
Afoukou Obossou, A. A., Aboubakar, M., Ogoudjobi, M., Atade, S. R., Vinadou Vodouhe, M., Imorou Sidi, R., Dagan, N., Hounkponou Ahouingnan, F. M. N., Salifou, K., & Xavier, P. R. (2021). Connaissances, Attitudes Et Pratiques En Matiere De Cancer Du Col De L'uterus (Ccu) Chez Les Professionnels De Sante A Parakou Au Benin En 2016. European Scientific Journal, ESJ, 17(25), 290. https://doi.org/10.19044/esj.2021.v17n25p290
Section
ESJ Natural/Life/Medical Sciences
Copyright (c) 2021 Achille Awadé Afoukou Obossou, Moufalilou Aboubakar, Mathieu Ogoudjobi, Sedjro Raoul Atade, Mahublo Vinadou Vodouhe, Rachidi Imorou Sidi, Nicephore Dagan, Fanny Maryline Nouessèwa Hounkponou Ahouingnan, Kabibou Salifou, Perrin René Xavier
This work is licensed under a Creative Commons Attribution-NonCommercial-NoDerivatives 4.0 International License.