Aspects Epidemiologiques Des Traumatismes Lies Aux Accidents De La Voie Publique Chez Les Adultes Au Centre Hospitalier Universitaire De Reference Nationale De N'Djamena (Chu-Rn), Tchad
Moussa Kalli

Service de Chirurgie générale, CHU de Référence Nationale, N'Djaména (CHU-RN)

Andjeffa Valentin

Service d'Orthopédie et Traumatologie au CHU-RN, N'Djaména (CHU-RN)

Seid Younous

Service de Chirurgie générale, CHU de Référence Nationale, N'Djaména (CHU-RN)

Adjougoulta Bonté

Service d'Anesthésie et de Réanimation, au CHU-RN, N'Djaména (CHU-RN)

Bruno Mantou

Service de Chirurgie générale, CHU de Référence Nationale, N'Djaména (CHU-RN)

Kambel Djibdouna

Service de Chirurgie générale, CHU de Référence Nationale, N'Djaména (CHU-RN)

Sadié Ismael Guire

Service de Chirurgie générale, CHU de Référence Nationale, N'Djaména (CHU-RN)

Yasmine Abdoulaye

Service de Chirurgie générale, CHU de Référence Nationale, N'Djaména (CHU-RN)

Abdelaziz Wiché

Service de Chirurgie générale, CHU de Référence Nationale, N'Djaména (CHU-RN)

Choua Ouchemi

Service de Chirurgie générale, Centre Hospitalier Universitaire de Référence Nationale, N'Djaména (CHU-RN), Faculté de sciences de la Santé Humaine de Ndjamena (FSSH)
Keywords:
Accident De La Voie Publique, Polytraumatisme, Traumatisme Crânien, Covid-19, Tchad
Abstract
Introduction: les accidents de trafic routier constituent un problème de santé publique. Objectif: décrire le profil épidémiologique, les circonstances de survenues et les facteurs associés aux accidents de la route dans la ville de N'Djaména. Méthodes: il s'agissait d'une étude transversale et descriptive ayant inclus tous les accidentés de la voie publique admis au service des urgences chirurgicales du centre hospitalier universitaire de référence nationale de N'Djaména (CHU-RN) durant une période de six mois. Les paramètres sociodémographiques, cliniques et thérapeutiques étaient décrits et confrontés à la littérature. Résultats: en tout, 5772 patients étaient admis aux urgences chirurgicales dont 2575 étaient victimes d'AVP soit une fréquence de 44,6 %. L'âge moyen était de 28,5 ans avec des extrêmes de 16 et 75 ans. Le sexe masculin représentait 77% et le sex ratio était de 3,4. Une moto était impliquée chez 70,3% des cas. Les motocyclistes étaient les victimes les plus concernées (76%). Les principaux facteurs associés aux accidents de la voie publique étaient l'excès de vitesse et la transgression du code de la route dans respectivement 23% et 21% des cas. La moitié des patients étaient emmenés aux urgences à bord d'un véhicule personnel. Le transport en ambulance concernait 4% des cas. Les lésions de moindre gravité (écorchures, plaies superficielles) étaient les plus nombreuses (52%). Les lésions principales étaient surtout localisées au crane (21%). Le casque n'était pas utilisé par les victimes. La mortalité hospitalière était de 4,1%. Conclusion: les accidents de la circulation demeurent un véritable problème de santé publique même en période de restriction sanitaire. L'utilisation de casques et de couloirs cyclistes devrait contribuer à la réduction des accidents et de leur gravité, particulièrement à la baisse des traumatismes crâniens.
Introduction: Road traffic accidents are a public health problem. Objective: To describe the epidemiological profile, circumstances of occurrence and factors associated with road traffic accidents in the city of N'Djamena during COVID-19 pandemic. Methods: This was a cross-sectional and descriptive study that included all road traffic accidents admitted to the surgical emergency department of the national reference university hospital of N'Djaména (CHU-RN) during a six-month period. Sociodemographic, clinic and therapeutic aspects were described and compared to the literature. Results: A total of 5,772 patients were admitted to the surgical emergency department, of whom 2,575 were victims of MVA, i.e. a frequency of 44.6%. The mean age was 28.5 years with extremes of 16 and 75 years. Males accounted for 77% and the sex ratio was 3.4. A motorbike was involved in 70.3% of the cases. Motorcyclists were the most affected victims (76%). The main factors associated with the road accidents were speeding and traffic violations in 23% and 21% of cases respectively. Half of the patients were taken to the emergency room in a private vehicle. Transport by ambulance concerned 4% of cases. Less serious injuries (abrasions, superficial wounds) were the most numerous (52%). The main injuries were mainly located in the skull (21%). Helmets were not used by the victims. Hospital mortality was 4.1%. Conclusion: Traffic accidents remain a real public health problem. The use of helmets and bicycle lanes should contribute to the reduction of accidents and their severity, particularly to the reduction of head injuries.
Downloads
Download data is not yet available.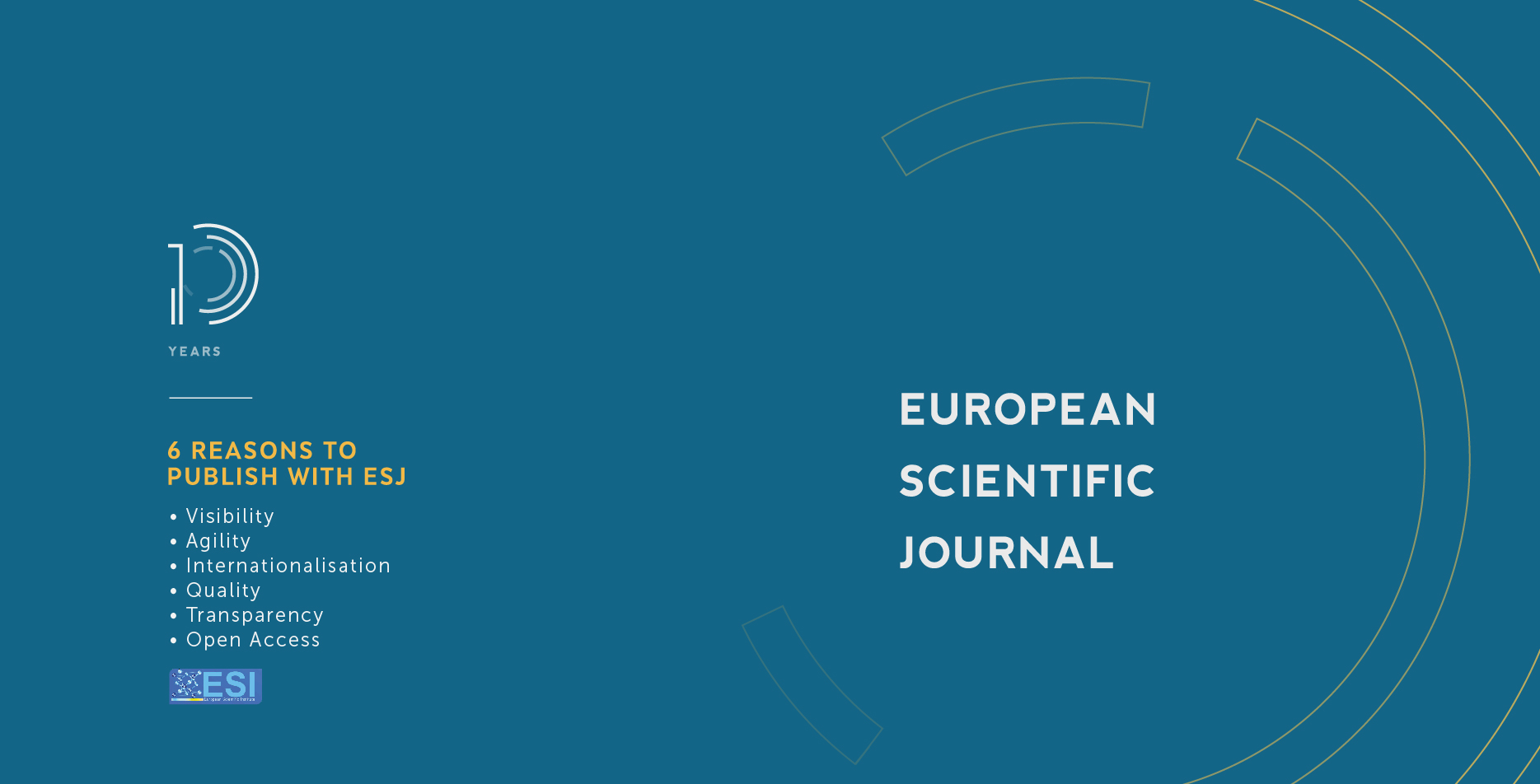 How to Cite
Kalli, M., Valentin, A., Younous, S., Bonté, A., Mantou, B., Djibdouna, K., Guire, S. I., Abdoulaye, Y., Wiché, A., & Ouchemi, C. (2021). Aspects Epidemiologiques Des Traumatismes Lies Aux Accidents De La Voie Publique Chez Les Adultes Au Centre Hospitalier Universitaire De Reference Nationale De N'Djamena (Chu-Rn), Tchad. European Scientific Journal, ESJ, 17(25), 396. https://doi.org/10.19044/esj.2021.v17n25p396
Section
ESJ Natural/Life/Medical Sciences
Copyright (c) 2021 Moussa Kalli, Andjeffa Valentin, Seid Younous, Adjougoulta Bonté, Bruno Mantou, Kambel Djibdouna, Sadié Ismael Guire, Yasmine Abdoulaye, Abdelaziz Wiché, Choua Ouchemi
This work is licensed under a Creative Commons Attribution-NonCommercial-NoDerivatives 4.0 International License.