Pratiques Endogènes De La Culture Des Mangues Locales (Mangifera Indica L, Anacardiaceae) Dans Les Départements Du Noun Et De La Lékié Au Cameroun
Christelle Flavie Mbieji Kemayou

Chercheur, Institut de Recherche Agricole pour le Développement (IRAD), Station Polyvalente de Foumbot, Cameroun Département de Biologie Végétale, Faculté des Sciences, Université de Dschang, Cameroun

Grâce Annih Mbong

Maître de conférences, Département de Biologie Végétale, Faculté des Sciences, Université de Dschang, Cameroun

Marie Caroline Momo Solefack

Maître de conférences, Département de Biologie Végétale, Faculté des Sciences, Université de Dschang, Cameroun

Jean Kuate

PhD, Chercheur, Institut de Recherche Agricole pour le Développement (IRAD), Direction Générale, Yaoundé, Cameroun
Keywords:
Mangue Locale, Enquête, Itinéraire Technique, Système De Production, Cameroun
Abstract
La présente étude s'inscrit dans le cadre de la valorisation des mangues locales et de la perception endogène des pratiques culturales associées. Cette étude a été menée entre mars et juin 2020, dans les Départements du Noun et de la Lékié, dans onze (11) villages à fort potentiel de manguiers. L'enquête s'est faite par administration des questionnaires et par des observations directes auprès de 300 producteurs de mangues locales. Il en ressort que les producteurs sont en majorité des hommes (82,66%) mariés, de plus de 50 ans (59,3%), de niveau primaire (60%) pour le Noun et secondaire (59,3%) pour la Lékié. Les surfaces exploitées sont de moins de 1000 m2, localisées au bord de leurs concessions. Dans les deux Départements, l'itinéraire technique telle que recommandée par les experts n'est pas respecté et les techniques de récolte pratiquées sont inappropriées. Elles se font soit par la grimpe, la secousse de l'arbre ou l'utilisation des crochets. Les fruits récoltés sont mal conditionnés et vendus dans les différents contenants. L'anthracnose (Colletotrichum gloeosporiodes) et la chute de fruits immatures sévissent dans les vergers. Huit variétés locales ont été identifiées. Pour une bonne production des mangues locales dans le Noun et la Lékié il est important pour les producteurs d'améliorer leur capacité, d'utiliser les variétés locales greffées et de se former en techniques de conservation des mangues. 
This study is part of the valorisation of local mangoes and the endogenous perception of associated cultivation practices. This study was carried out between March and June 2020, in the Noun and Lékié Divisions, in eleven (11) villages with high potential for mango trees. The survey was carried out by administering questionnaires and by direct observations with 300 local mango producers. It appears that the majority of producers are married men (82.66%), over 50 (59.3%), primary (60%) for the Noun and secondary (59.3%) for the Lékié. The areas exploited are less than 1000 m2, located at the edge of their concessions. In both Divisions, the technical itinerary as recommended by the experts is not followed and the harvesting techniques practiced are inappropriate. They are done either by climbing, shaking the tree or using the hooks. The harvested fruits are poorly packaged and sold in the various containers. Anthracnose (Colletotrichum gloeosporiodes) and immature fruit drop are rampant in orchards. Eight local varieties have been identified. For a good production of local mangoes in Noun and Lékié it is important for producers to improve their capacity, to use grafted local varieties and to be trained in mango conservation techniques.
Downloads
Download data is not yet available.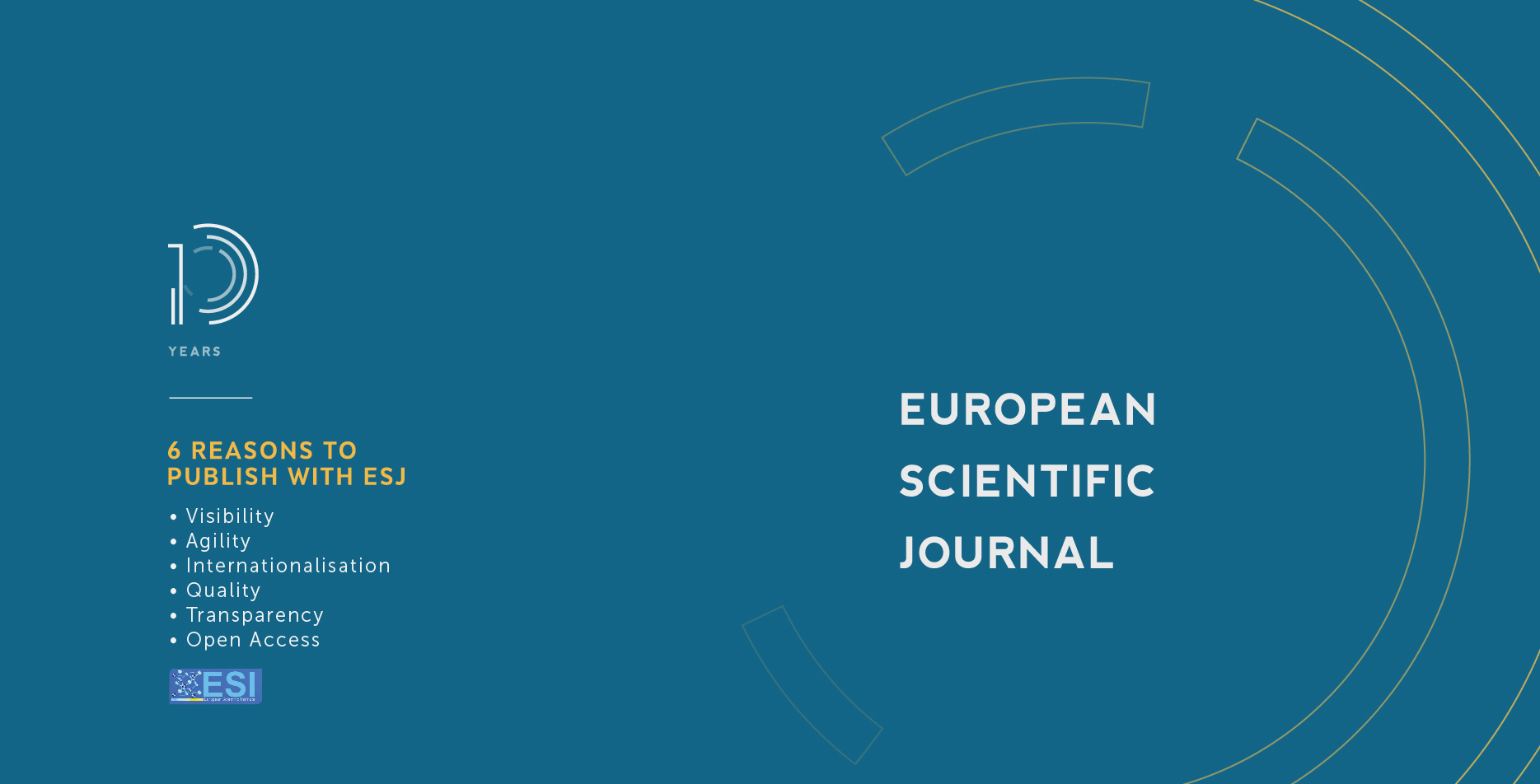 How to Cite
Mbieji Kemayou, C. F., Mbong, G. A., Momo Solefack, M. C., & Kuate, J. (2021). Pratiques Endogènes De La Culture Des Mangues Locales (Mangifera Indica L, Anacardiaceae) Dans Les Départements Du Noun Et De La Lékié Au Cameroun. European Scientific Journal, ESJ, 17(29), 128. https://doi.org/10.19044/esj.2021.v17n29p128
Section
ESJ Natural/Life/Medical Sciences
Copyright (c) 2021 Christelle Flavie Mbieji Kemayo, Grâce Annih Mbong, Marie Caroline Momo Solefack, Jean Kuate
This work is licensed under a Creative Commons Attribution-NonCommercial-NoDerivatives 4.0 International License.