Représentations sociales et usages des jardins publics dans la commune de Treichville (Côte d'Ivoire)
Gueu Noël Igbou

Doctorant en sociologie, Université Félix Houphouët Boigny (Abidjan-Côte d'Ivoire)
Keywords:
Jardins publics, représentations sociales, usages, Treichville, Côte d'Ivoire
Abstract
Les jardins publics sont des espaces verts urbains qui ont pour vocation l'agrément et le loisir des citadins. Ces espaces assurent pleinement ces fonctions lorsque les usages dont ils font l'objet par les populations sont conformes à ceux assignés par les urbanistes. Dans l'agglomération abidjanaise en général, et particulièrement dans la commune de Treichville, les usages premiers auxquels les jardins publics étaient destinés sont détournés à d'autres fins par les populations. Les jardins existants font l'objet d'occupation anarchique. L'objectif de cette étude est d'analyser les pratiques liées aux représentations sociales que les populations ont des jardins publics à Treichville. Ces pratiques sont perceptibles à travers les usages de ces espaces verts. La démarche méthodologique a consisté à l'observation directe des jardins publics et à l'entretien semi-directif. Les résultats révèlent que les jardins font l'objet d'usage spontané et illégal par les populations. Ces espaces sont transformés d'une part en lieux de pratique d'activités lucratives, de dépotoir d'ordure et d'aisances, de séchage de linges et d'aliments. D'autre part, ils sont transformés en lieux de parcours d'animaux, d'habitation, de refuge des bandits et en terrains de jeux. Ces usages entrainent la dégradation de ces équipements urbains. L'éducation à l'environnement de la population, une importance accordée aux jardins publics dans toute politique environnementale et d'aménagement du cadre de vie des pouvoirs publics permettraient la préservation de ces infrastructures.
Public gardens are urban green spaces intended for the enjoyment and leisure of city dwellers. These spaces fully perform these functions when the uses to which they are subject by the populations comply with those assigned by town planners. In the Abidjan agglomeration in general, and particularly in the township of Treichville, the primary uses for which the public gardens were intended are being diverted to other ends by the population. The existing gardens are subject to anarchic occupation. The objective of this study is to analyse the practices linked to the social representations that the populations have of public gardens in Treichville. The practices are perceptible through the uses of these green spaces. The methodological approach consisted of direct observation of public gardens and semi-structured interview. The results reveal that the gardens are subject to spontaneous and illegal use by the populations. On the one hand, these spaces are transformed into places for practicing lucrative activities, dumping ground for garbage and toilets, drying clothes and food. On the other hand, they are transformed into places where animals can roam, dwellings, refuge for bandits and playgrounds. These uses lead to the degradation of these urban amenities. Environmental education of the population, an importance given to public gardens in any environmental policy and the development of the living environment of the public authorities would allow the preservation of these infrastructures.
Downloads
Download data is not yet available.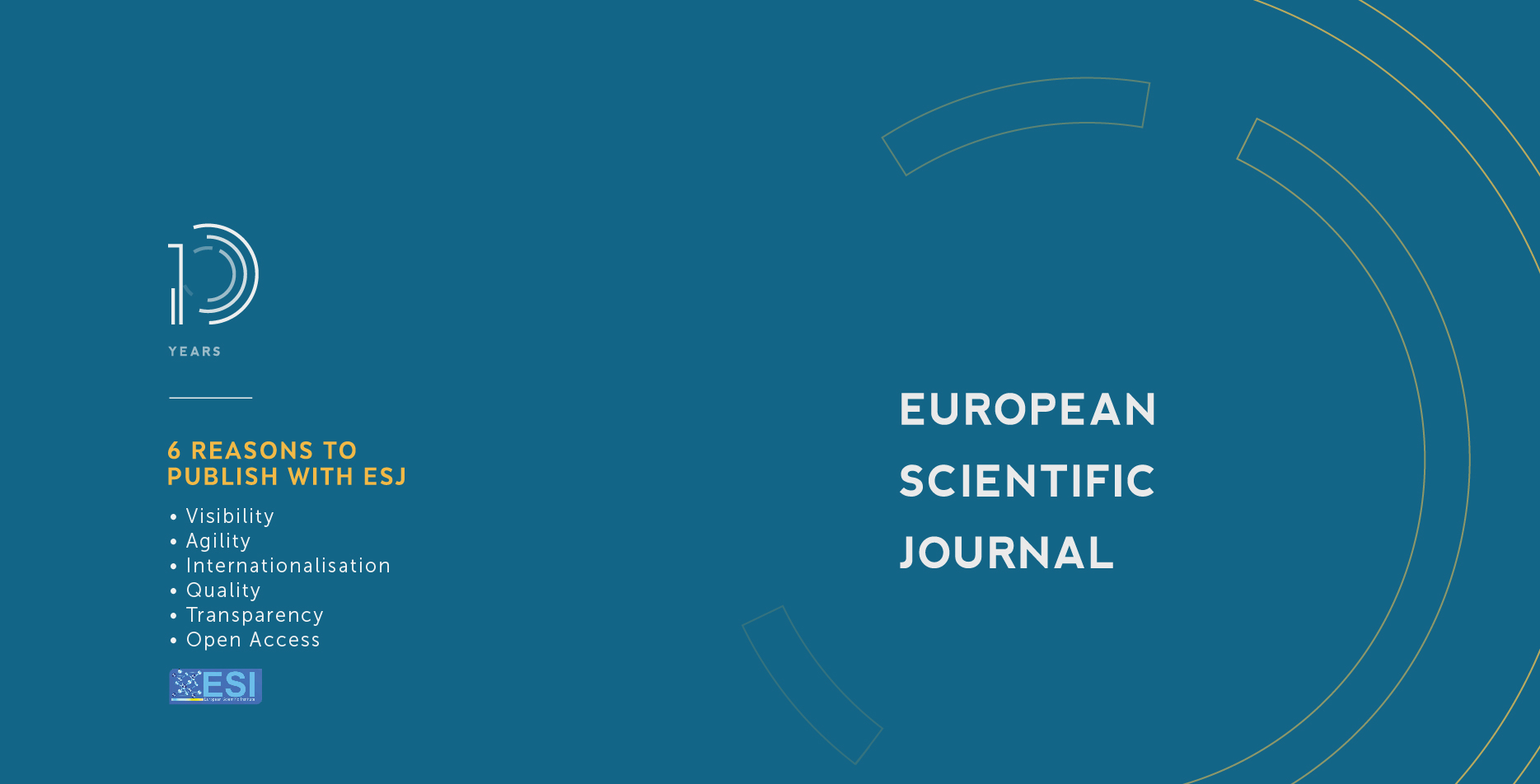 How to Cite
Igbou, G. N. (2021). Représentations sociales et usages des jardins publics dans la commune de Treichville (Côte d'Ivoire). European Scientific Journal, ESJ, 17(27), 149. https://doi.org/10.19044/esj.2021.v17n27p149
Section
ESJ Social Sciences
Copyright (c) 2021 Gueu Noël Igbou
This work is licensed under a Creative Commons Attribution-NonCommercial-NoDerivatives 4.0 International License.