Pitirim Sorokin and COVID-19
David Wilkinson

University of California, Los Angeles (UCLA), United States
Keywords:
Pandemics, COVID-19, Pitirim Sorokin
Abstract
In 1942, the sociologist Pitirim Sorokin, a survivor of the post-WorldWar I pandemic, published "Man and Society in Calamity," a comparative study of the human response (including political responses) to four recurrent mass-death events. One was "pestilence." Sorokin reached many general conclusions. In Fall of 2020, the author of this paper (Wilkinson) held a seminar whose students attempted to re-evaluate Sorokin's conclusions, based upon their own experiences, observations, and mutual dialogue. In general, the seminar found that Sorokin's conclusions were mostly still applicable, but that his social theory of pestilence needed drastic changes as concerned (a) the gendered, class-based, ethnic and national distribution of pestilence and its consequences of pestilence, (b) the much-changed capacity (from 1942) for the scientific and technological response to pestilence, and (c) the much changed capacity (again, since 1942) for international-organizational response to pestilence. With these updates, Sorokin's theory of the human social response to pestilence can serve as guidance both for study and for policy in regard not only to the current pandemic, but for epidemics and pandemics yet to come.
Downloads
Download data is not yet available.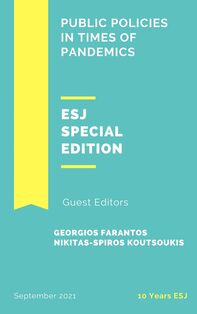 How to Cite
Wilkinson, D. (2021). Pitirim Sorokin and COVID-19. European Scientific Journal, ESJ, 17(31), 1. https://doi.org/10.19044/esj.2021.v17n31p1
Copyright (c) 2021 David Wilkinson
This work is licensed under a Creative Commons Attribution-NonCommercial-NoDerivatives 4.0 International License.