Global Governance V/S COVID-19 Pandemic: A Human Security Approach
Alain Akl

Lebanese University, Lebanon
Keywords:
COVID-19, Global governance, Human security, Pandemic
Abstract
After the Cold War, global governance emerged as an umbrella to address transnational challenges. However, this concept is still somewhat ambiguous, and so is the contemporary world order, where a significant power shift has occurred from the nation-State to the "new actors". On the other hand, it is now over a year since a global threat emerged, affecting millions of people. The COVID-19 challenge revealed several flaws in the contemporary world order, the United Nations system, and the international organizations' role. Therefore, it is imperative that we ask ourselves about the nation-State's ability to face the COVID-19 challenge on its own, as an introduction to raise the topic of facing future transnational challenges. In this setting, the objective of this study is to shed light on the aforementioned flaws, the contemporary challenges, and the way we tackle new threats as human beings. This article uses a qualitative methodological approach based on analysis of secondary data. Following deductive reasoning, it highlights the importance of global governance in facing contemporary challenges in general before addressing the COVID-19 issue in particular. Study findings show that states, international organizations, and unofficial actors need to update the traditional approach to transnational challenges towards global governance. In this context, international conferences are a necessary tool to tackle new challenges related to human security.
Downloads
Download data is not yet available.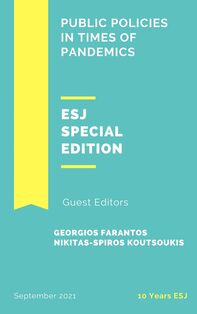 How to Cite
Akl, A. (2021). Global Governance V/S COVID-19 Pandemic: A Human Security Approach. European Scientific Journal, ESJ, 17(31), 17. https://doi.org/10.19044/esj.2021.v17n31p17
Copyright (c) 2021 Alain Akl
This work is licensed under a Creative Commons Attribution-NonCommercial-NoDerivatives 4.0 International License.