Reforms in Times of Crisis: Notes on the Greek Policy Making from Bankruptcy to COVID-19
Ioannis Balampanidis

Centre for Political Research / Department of Political Science and History, Panteion University of Social and Political Sciences, Greece

Sotiria Liakaki

Independent Researcher
Keywords:
Evidence-based policymaking, public policy, Better Regulation, Core of Government, reforms, economic crisis, COVID-19
Abstract
In this paper, an in-depth quantitative and qualitative analysis of the "emergency" regulation in Greece over the years of acute economic crisis and up to the COVID-19 public health crisis is performed, to examine if this kind of regulation has been too extended and whether it undermined any effective policy design. According to our working hypothesis, the "fast-track" legislation highlights the fragmented and somewhat erratic way of policymaking in Greece, while it also affirms the country's limited capacity to properly initiate and implement reforms. Thus, the paper focuses on the collection and evaluation of the legislative corpus during the 2009-2021 period; its objective being, on the one hand, to evaluate whether and how much each government resorted to the invocation of urgency and on the other hand to examine the documentation and description of the legislative process vis-àvis the imperatives and quality criteria of Better Regulation and EvidenceBased Policy Making. At the same time, the article focuses on legislative texts of the 2020-2021 COVID-19 health crisis period. It will showcase the latter as an additional trigger aggravating the "urgency" element of regulation, transforming it into a persistent feature of Greek policymaking. Ergo, we examine methods and practices at the international level, focusing especially on the Evidence-Based Policy Making paradigm. Based on the analysis of the crisis regulation and international EBPM best practices, the paper concludes with key recommendations for an effective policymaking procedure, dependent on the establishment of an integrated Center of Government in Greece.
Downloads
Download data is not yet available.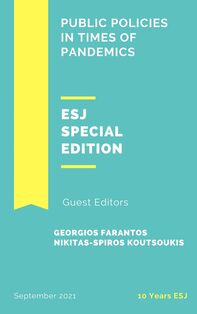 How to Cite
Balampanidis, I., & Liakaki, S. (2021). Reforms in Times of Crisis: Notes on the Greek Policy Making from Bankruptcy to COVID-19. European Scientific Journal, ESJ, 17(31), 33. https://doi.org/10.19044/esj.2021.v17n31p33
Copyright (c) 2021 Ioannis Balampanidis, Sotiria Liakaki
This work is licensed under a Creative Commons Attribution-NonCommercial-NoDerivatives 4.0 International License.