Utilisation et Gestion des Pesticides dans les Zones Agricoles Urbaines, Périurbaines et Rurales de la Préfecture de Meknès, Maroc
Ibrahim El Ghazi

Université Moulay Ismail, Cluster des Compétences Environnement et santé, Meknès, Maroc Université Catholique de Louvain, Belgique

Janvier Egah

Université Catholique de Louvain, Belgique Laboratoire Société- Environnement (LaSEn), Faculté d'Agronomie, Université de Parakou, Bénin

Berni Imane

Université Moulay Ismail, Cluster des Compétences Environnement et santé, Meknès, Maroc

Aziza Menouni

Université Moulay Ismail, Cluster des Compétences Environnement et santé, Meknès, Maroc

Mohammed Amane

Université Moulay Ismail, Cluster des Compétences Environnement et santé, Meknès, Maroc

Marie-Paule Kestemont

Université Catholique de Louvain, Belgique

Samir El Jaafari

Université Moulay Ismail, Cluster des Compétences Environnement et santé, Meknès, Maroc
Keywords:
Pesticides, Herbicides, Glyphosate, Enquête, Meknès, Maroc, Morocco, Survey
Abstract
L'utilisation inappropriée des pesticides a des effets négatifs sur l'Homme, la faune et la flore. Le manque d'une base de données sur l'utilisation des pesticides dans la Préfecture de Meknès (Maroc), nous a conduit à réaliser des enquêtes auprès de 120 agriculteurs choisis de façon aléatoire stratifiée dans cette localité. Le questionnaire a porté sur les pesticides utilisés, les moyens de protection des agriculteurs pendant la préparation de la bouillie et l'usage des pesticides, la gestion des emballages des pesticides, le rinçage des pulvérisateurs et l'élimination de la bouillie restante. Les résultats de l'enquête auprès des enquêtés ont montré que les pesticides les plus fréquemment utilisés sont essentiellement des herbicides et des fongicides à des taux respectifs de 44% et 29%. Les familles chimiques des pesticides les plus recensées durant cette enquête sont celles des triazoles (21%) et des organophosphorés (17%). Le glyphosate a été la matière active la plus utilisée (13%). Les 120 agriculteurs interrogés traitaient sans protection et vivaient à côté des parcelles. Il est essentiel donc d'accentuer la sensibilisation des agriculteurs sur l'utilisation rationnelle des pesticides et l'adoption des techniques alternatives pour diminuer les impacts sur la santé et l'environnement.
The inappropriate use of pesticides has negative impact on humans, fauna and flora. The lack of a database on pesticides use in the Prefecture of Meknes (Morocco), led us to conduct surveys in this locality. A stratified of 120 farmers was randomly selected. The questionnaire focused on pesticides used, farmers' protective measures during the slurry preparation and pesticides use, management of pesticide packaging, sprayers rinsing and disposal of leftover slurry. The results of this survey show that the herbicides and fungicides were the main pesticides used at 44% and 29% respectively. The chemical families of pesticides most frequently identified during this survey were triazoles (21%) and organophosphates (17%). Glyphosate is the most consumed active ingredient (13%). The 120 farmers interviewed treated without protection and lived next to the plots. It is therefore essential to accentuate farmers' awareness of the rational use of pesticides and the adoption of alternative techniques to reduce the impact on health and environment.
Downloads
Download data is not yet available.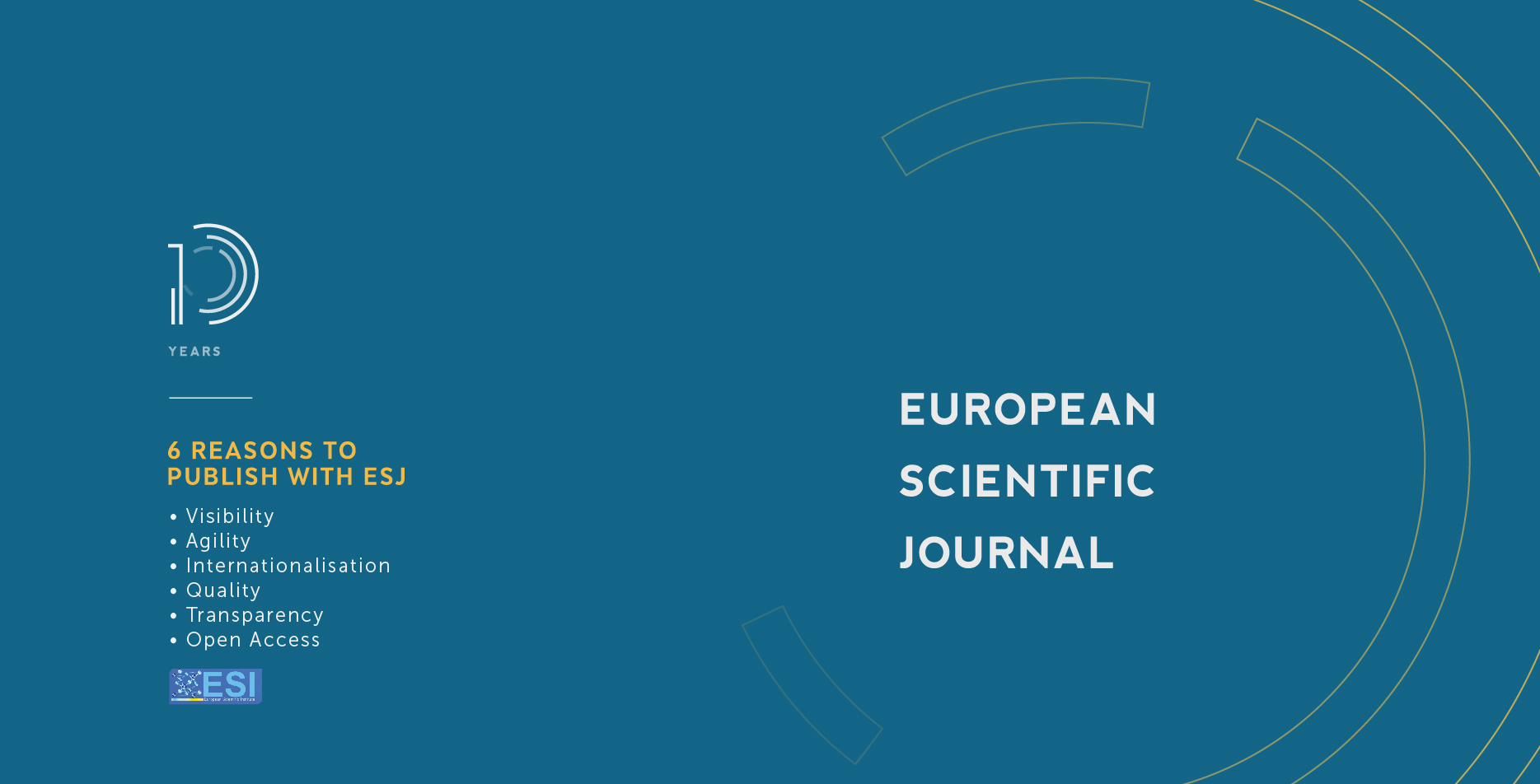 How to Cite
El Ghazi, I., Egah, J., Imane, B., Menouni, A., Amane, M., Kestemont, M.-P., & El Jaafari, S. (2021). Utilisation et Gestion des Pesticides dans les Zones Agricoles Urbaines, Périurbaines et Rurales de la Préfecture de Meknès, Maroc. European Scientific Journal, ESJ, 17(34), 94. https://doi.org/10.19044/esj.2021.v17n34p94
Section
ESJ Natural/Life/Medical Sciences
Copyright (c) 2021 Ibrahim El Ghazi, Janvier Egah, Berni Imane, Aziza Menouni, Mohammed Amane, Marie-Paule Kestemont, Samir El Jaafari
This work is licensed under a Creative Commons Attribution-NonCommercial-NoDerivatives 4.0 International License.