Effectiveness of Teaching Program on Critical Care Nurses' Performance during Endotracheal Suctioning in the Intensive Care Units in Syria
Yaser Adnan Abo Jeesh

College of Applied Medical Sciences, Alzaiem Alazhari University, Sudan

Elham Fath-Elalium Mohammed Khalid

College of Medicine, Alzaiem Alazhari University, Sudan

Ishraqa Mohammed Ahmed Elbashier

College of Applied Medical Sciences, Alzaiem Alazhari University, Sudan
Keywords:
Intensive Care Unit, Patient, Quality
Abstract
Background: The Intensive Care Unit (ICU) is a unit in the hospital which provides intensive care for critically ill or injured patients and is staffed with specially trained medical personnel and has equipment that allows for continuous monitoring and life support. Moreover, critical care nurses (CCNs) should have strong analytical, interpersonal, and decision-making skills. Also they need to continuously improve their knowledge, skills, and safe practice to deliver safe and effective care to their patients. Objectives: This study aimed to assess the effect of the teaching program on CCNs performance during endotracheal suctioning. Design: The quasi-experimental design was used in this study. Methods: The study was conducted from June to September 2020. This study was conducted to assess the effect of the teaching program on nurse's performance during endotracheal suctioning in the critical care units at Al-Assad University Hospital, Damascus. All available registered nurses (48 nurses) who were working in the previous ICUs during the period of data collection were included in this study. An observational checklist sheet was developed by the researcher after reviewing the related literature. The duration of data collection was about three months, and each nurse was observed once for each procedure during different shifts. Based on the nurses' need according to their performance during the initial assessment, the researcher developed and designed the teaching program. This program continued for two weeks consisting of four phases and contains workshop-practices (8hours) per day and educational pamphlet handout. The workshop practice consists of lectures, group discussion, and training scenarios. Every nurse must attend the training sessions daily, at least one hour. Results: The results showed that the level of knowledge and practice of the studied nurses in endotracheal suction was average and poor before the teaching program and the nurse's level improved after the program. There was a variation of improvement regarding the nurses age, qualification, and experience. The best performance was for nurses with age group between 20-24 years, nurses with a master degree, and nurses with less than five years of experience. Overall, this study found a statistically significant relationship before and after the implementation of the educational program (p<0.001). Conclusion: There has been an obvious improvement of nurses' knowledge and performance after the teaching program in relation to age, qualifications, and experience in all selective procedures. It is essential to help the nurses to expand their knowledge and practices to provide a high quality of care and promote patient safety.
Downloads
Download data is not yet available.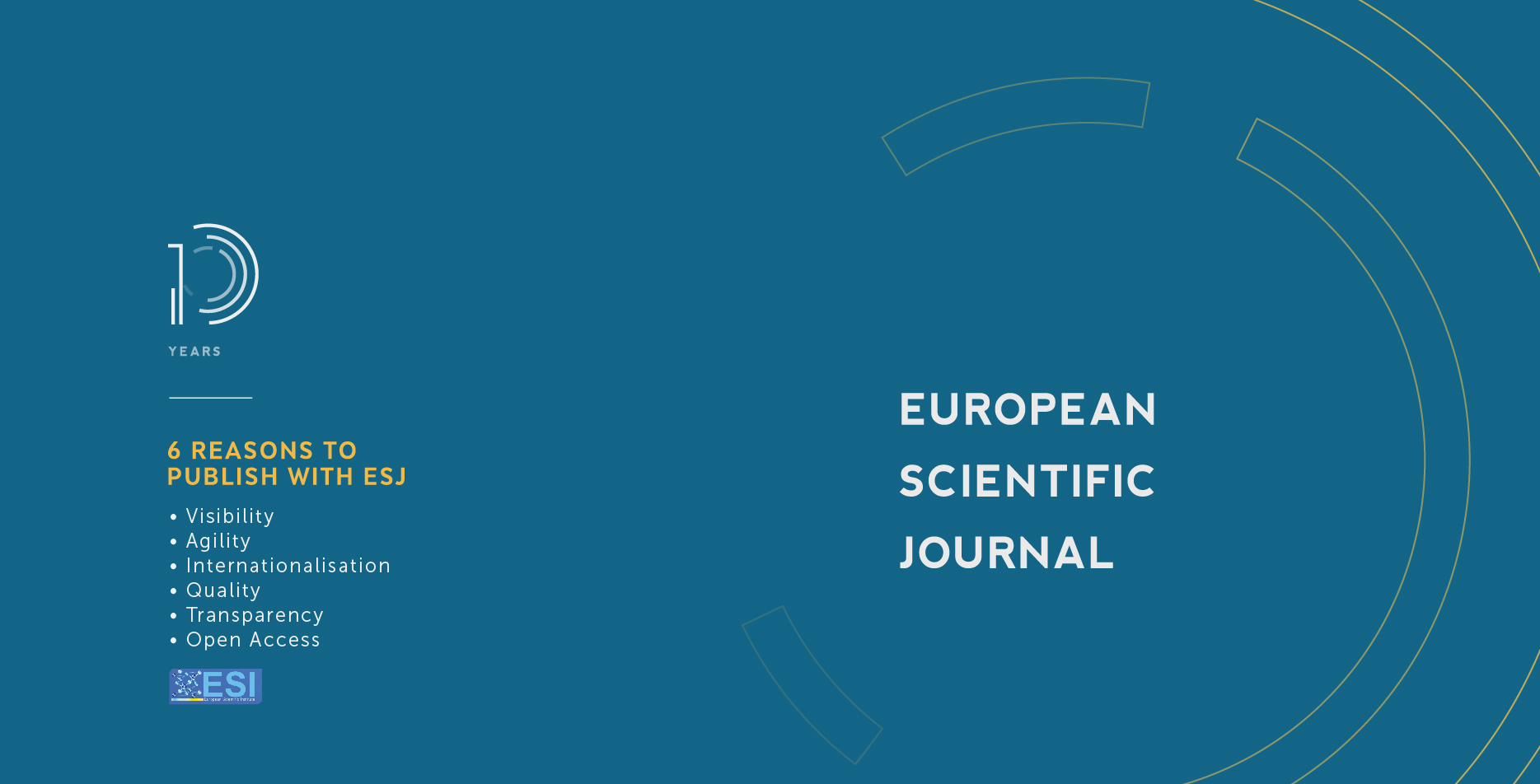 How to Cite
Abo Jeesh, Y. A., Mohammed Khalid, E. F.-E., & Elbashier, I. M. A. (2021). Effectiveness of Teaching Program on Critical Care Nurses' Performance during Endotracheal Suctioning in the Intensive Care Units in Syria. European Scientific Journal, ESJ, 17(34), 190. https://doi.org/10.19044/esj.2021.v17n34p190
Section
ESJ Natural/Life/Medical Sciences
Copyright (c) 2021 Yaser Adnan Abo Jeesh, Elham Fath-Elalium Mohammed Khalid, Ishraqa Mohammed Ahmed Elbashier
This work is licensed under a Creative Commons Attribution-NonCommercial-NoDerivatives 4.0 International License.