Etude Phytochimique et Activité Antioxydante des Extraits D'écorces de Tiges de Vitellaria Paradoxa C.F.Gaertn, Une Plante Médicinale Utilisée au Nord de la Côte d'Ivoire
Kamagaté Tidiane

Laboratoire de Biotechnologie et Valorisation des Agroressources, UFR des Sciences Biologiques, Université Peleforo Gon Coulibaly de Korhogo, Korhogo, Côte d'Ivoire

Gboko Abiba Ouattara

Laboratoire de Biotechnologie et Valorisation des Agroressources, UFR des Sciences Biologiques, Université Peleforo Gon Coulibaly de Korhogo, Korhogo, Côte d'Ivoire

Koné Monon

Laboratoire de Biotechnologie et Valorisation des Agroressources, UFR des Sciences Biologiques, Université Peleforo Gon Coulibaly de Korhogo, Korhogo, Côte d'Ivoire

Touré Abdoulaye

Laboratoire de Biotechnologie et Valorisation des Agroressources, UFR des Sciences Biologiques, Université Peleforo Gon Coulibaly de Korhogo, Korhogo, Côte d'Ivoire

Ouattara Karamoko

Laboratoire de Pharmacodynamie Biochimique, UFR Biosciences, Université Félix Houphouet-Boigny de Cocody, Abidjan, Côte d'Ivoire
Keywords:
Vitellaria Paradoxa, Constituants Phytochimiques, Actitivité Antioxydante, Phytochemical Constituents, Antioxidant Activity
Abstract
Au Nord de la Côte d'Ivoire, Vitellaria paradoxa (karité) est une plante médicinale couramment utilisée contre de nombreuses pathologies. Le présent travail a pour objectif de déterminer les principaux constituants chimiques et d'évaluer l'activité antioxydante des extraits aqueux et hydro-éthanolique (70 %) d'écorces de tiges de cette plante. Les différents groupes chimiques ont été mis en évidence par la technique de coloration et de précipitation en tubes. La méthode de réduction du radical 2,2'-diphényl-1-picrylhydrazyle (DPPH) a permis d'évaluer le pouvoir antioxydant des extraits. Le criblage phytochimique a révélé la présence de principaux groupes chimiques suivants: alcaloïdes, anthraquinones, polyphénols totaux, terpènes et stérols, saponines et tanins. Le test de DPPH a montré une activité antioxydante importante des deux extraits, comparée à celle de la Vitamine C (CI50 =0,80±0,7 μg/mL) avec des CI50 respectives de 0,42±0,3 μg/mL pour l'extrait aqueux et 0,87±0,7 μg/mL pour l'extrait hydro-éthanolique. Ces résultats pourraient justifier l'utilisation traditionnelle de V. paradoxa pour le traitement de diverses pathologies dans de nombreuses régions de l'Afrique de l'Ouest. 
In North of Côte d 'Ivoire, Vitellaria paradoxa (Shea tree) is a medicinal plant commonly used against many pathologies. The objective of this work is to determine phytochemical constituents and to evaluate antioxidant activity of aqueous and hydro-ethanolic extracts (70%) of Vitellaria paradoxa. Different chemical groups were highlighted by the tube staining and precipitation technique and the 2, 2'-diphényl-1-picrylhydrazyl (DPPH) method allowed the evaluation of the antioxidant power of the extracts. Phytochemical tests revealed the following chemical groups: alkaloids, anthraquinones, total polyphenols, terpenes and sterols, saponins and tannins. The DPPH test showed significant antioxidant activity of the two extracts compared to Vitamin C (IC50 = 0.80 ± 0.7 μg/mL) with IC50 respectively 0.42 ± 0.3 μg/mL for the aqueous extract and 0.87 ± 0.7 μg/mL for the hydro-ethanolic extract. These results could justify the traditional use of V. paradoxa in the treatment of various pathologies in many parts of West Africa.
Downloads
Download data is not yet available.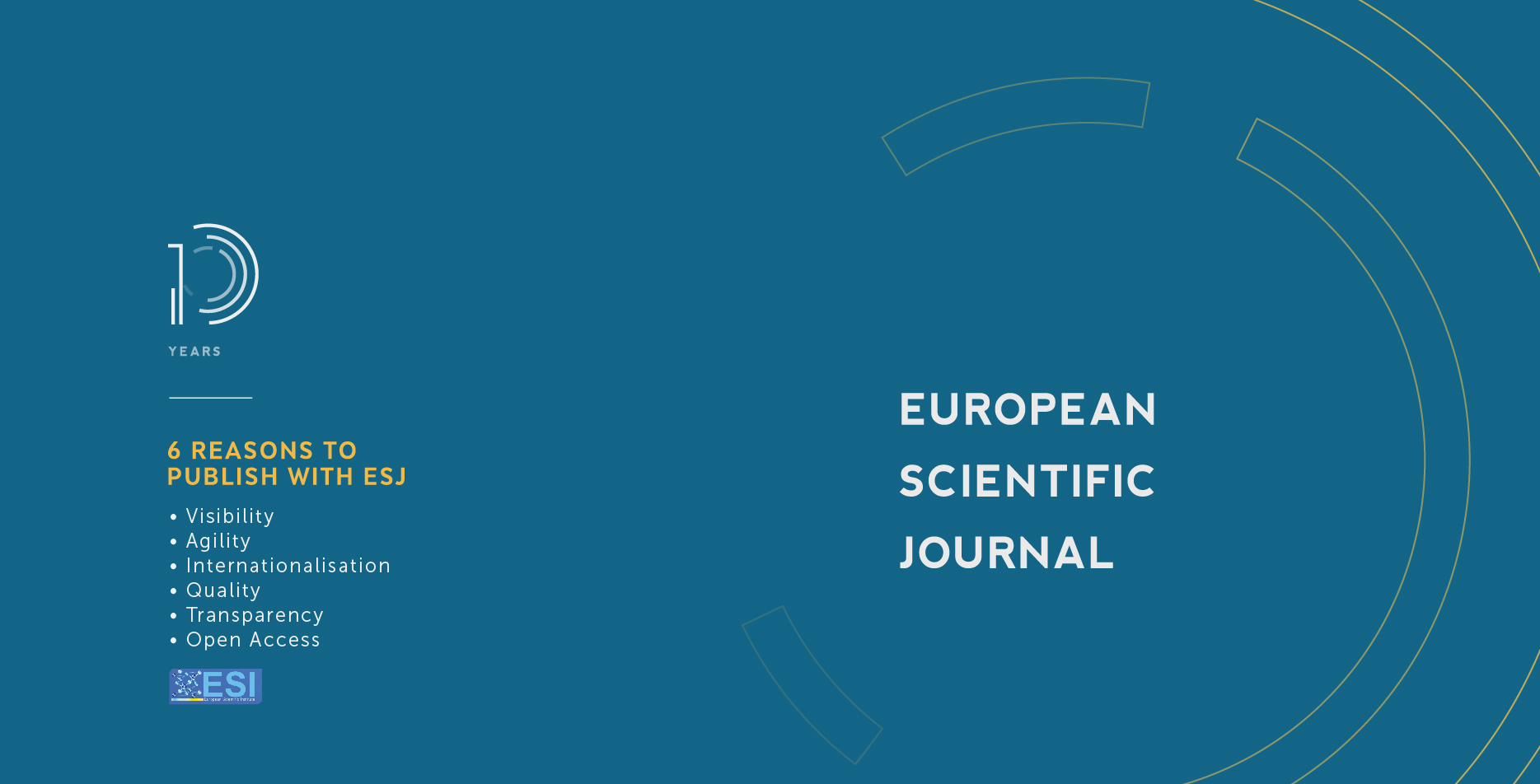 How to Cite
Tidiane, K., Ouattara, G. A., Monon, K., Abdoulaye, T., & Karamoko, O. (2021). Etude Phytochimique et Activité Antioxydante des Extraits D'écorces de Tiges de Vitellaria Paradoxa C.F.Gaertn, Une Plante Médicinale Utilisée au Nord de la Côte d'Ivoire. European Scientific Journal, ESJ, 17(34), 241. https://doi.org/10.19044/esj.2021.v17n34p241
Section
ESJ Natural/Life/Medical Sciences
Copyright (c) 2021 Kamagaté Tidiane, Gboko Abiba Ouattara, Koné Monon, Touré Abdoulaye, Ouattara Karamoko
This work is licensed under a Creative Commons Attribution-NonCommercial-NoDerivatives 4.0 International License.