Effets du Précédent Cultural de L'arachide (Arachis Hypogaea L.) et de la Fumure Minérale sur la Production du Coton (Gossypium Hirsutum L.)
N'Goran Kouadio Emmanuel

Centre National de Recherche Agronomique (CNRA), Abidjan, Côte d'Ivoire

Ama Tamia Joséphine Epse Abina

Université Nangui Abrogoua (UNA) Abidjan, Côte d'Ivoire, UFR Sciences et Gestion de l'Environnement, Abidjan

Yoboue Ahou Natachat Epse Kouakou

Université Nangui Abrogoua (UNA) Abidjan,Côte d'Ivoire, UFR Sciences et Gestion de l'Environnement, Abidjan
Keywords:
Coton, Arachide, Biomasse, Fumure Minérale, Rendement
Abstract
Pour restaurer et améliorer la fertilité des sols en culture de coton, l'arachide (Arachis hypogaea L) a été utilisée comme précédent cultural. L'expérimentation a été faite suivant un dispositif en blocs de Fisher avec quatre (4) répétitions et cinq (5) traitements, sur deux années (2018 et 2019). Les résultats ont montré que l'arrière effet de l'arachide (la biomasse et l'azote résiduel issue de la symbiose entre la légumineuse et les bactéries) a amélioré la croissance et le développement végétatif des plants de cotonnier. L'impact de cet apport organique s'est traduit par des plants de cotonniers statistiquement plus grand, (hauteur supérieur à 100 cm) pour le traitement T5 (précédent arachide + dose complet d'engrais). Le traitement T4 (précédent arachide + ½ dose d'engrais) quant à lui a généré un nombre moyen de capsules supérieur à 8 à la seconde campagne. Il ressort également que le précédent arachide associé à la dose complète et à la demi dose de fumure minérale améliore mieux le rendement du coton-graine. Des gains de 3 à 14 % à la 1ère campagne et 19 à 58 % à la deuxième campagne ont été enregistrés. Ainsi, la rotation arachide/coton est une bonne pratique, à encourager.
To restore and improve soil fertility in cotton cultivation, peanut (Arachis hypogaea L) was used as a previous crop. The experimentation was done in a Fisher block design with four (4) replications and five (5) treatments, over two years (2018 and 2019). The results showed that the after-effect of the peanut (biomass and residual nitrogen from the symbiosis between the legume and the bacteria) improved the growth and vegetative development of the cotton plants. The impact of this organic fertilizer resulted in statistically larger cotton plants (height greater than 100 cm) for treatment T5 (previous groundnut + full dose of fertilizer). Treatment T4 (previous groundnut + ½ dose of fertilizer) generated an average number of bolls greater than 8 in the second season. It also appears that the groundnut precedent associated with different doses of mineral fertilizer improves seed cotton yields. Gains of 3 to 14% in the first season and 19 to 58% in the second season were recorded. Thus, the groundnut/cotton rotation is a good practice that should be encouraged.
Downloads
Download data is not yet available.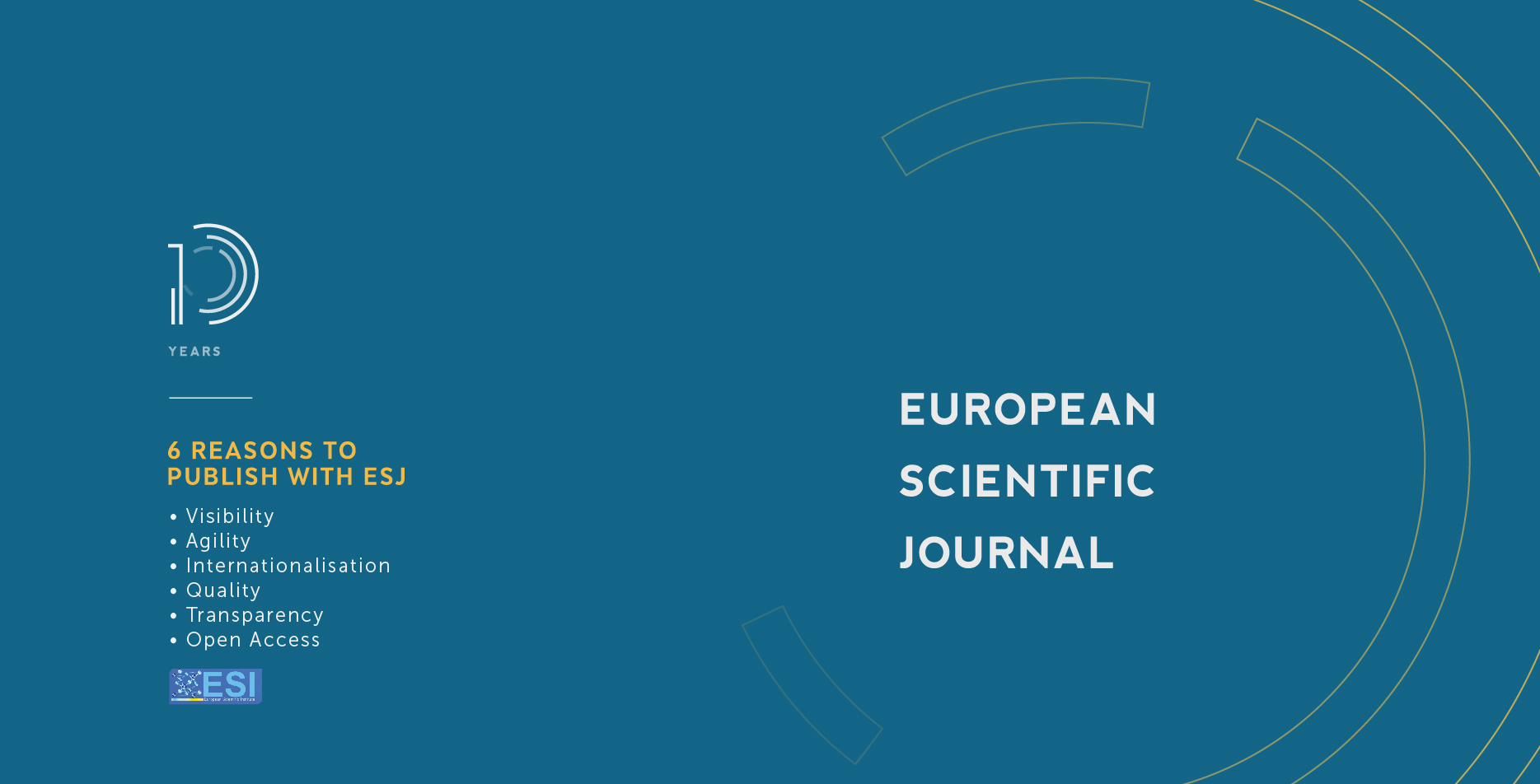 How to Cite
Emmanuel, N. K., Abina, A. T. J. E., & Kouakou, Y. A. N. E. (2021). Effets du Précédent Cultural de L'arachide (Arachis Hypogaea L.) et de la Fumure Minérale sur la Production du Coton (Gossypium Hirsutum L.). European Scientific Journal, ESJ, 17(34), 260. https://doi.org/10.19044/esj.2021.v17n34p260
Section
ESJ Natural/Life/Medical Sciences
Copyright (c) 2021 N'Goran Kouadio Emmanuel, Ama Tamia Joséphine Epse Abina, Yoboue Ahou Natachat Epse Kouakou
This work is licensed under a Creative Commons Attribution-NonCommercial-NoDerivatives 4.0 International License.