Prolapsus Muqueux de L'urètre au Centre Hospitalo-Universitaire Départemental de Borgou -Parakou, Bénin
Hadonou Ayaovi Armel

Chirurgien général et pédiatre au Centre Hospitalo-Universitaire, Départemental de Borgou, Assistant à l'Université de Parakou, Bénin

Sade Sabi Rachid

Médecin Résident en Urologie-Andrologie CNHU-HKM, Faculté des Sciences de la Santé -Cotonou, Université d'Abomey Calavi, Bénin

Gandaho Kokou Isidore

Chrirurgien Urologue au Centre Hospitalo-Universitaire, Départemental de Borgou, Assistant à l'Université de Parakou, Bénin

Tore Sanni Rafiou

Chirurgien Urologue au Centre Hospitalo-Universitaire Départemental de Borgou

Muhindo Lutegha

Médecin Résident en Urologie-Andrologie CNHU-HKM, Faculté des Sciences de la Santé -Cotonou, Université d'Abomey Calavi, Bénin

Muhindo Valimungighe Moïse

Médecin Résident en chirurgie générale, Faculté des Sciences de la Santé -Cotonou,Université d'Abomey Calavi et Faculté de Médecine de l'Université Catholique du Graben, RDC

Tamou Sambo Bio

Chrirurgien Général au Centre hospitalo-universitaire départemental de Borgou, Maitre de conférence Agrégé à l'Université de Parakou, Bénin

Allode Alexandre Salako

Chrirurgien Général au Centre Hospitalo-Universitaire Départemental de Borgou, Professeur Titulaire à l'Université de Parakou, Bénin
Keywords:
Prolapsus Muqueux, Urètre, Parakou, Mucosal Prolapse
Abstract
Introduction: Le prolapsus muqueux de l'urètre est l'éversion circonférentielle de l'épithélium de la muqueuse urétrale congestive à travers le méat urinaire. L'objectif de cette étude était de rapporter la prise en charge des prolapsus muqueux de l'urètre. Méthodes: Il s'est agi de 7 dossiers de patientes prise en charge pour de prolapsus muqueux de l'urètre colligés rétrospectivement sur 4 ans dans le service de chirurgie du centre hospitalier universitaire départemental de Borgou à Parakou, au Nord du Bénin Résultats: L'âge moyen des patients, tous de sexe féminin, était de 4±0,8 ans avec des extrêmes de 2 ans et de 08 ans. Le principal motif de la consultation a été l'hémorragie génitale. A l'examen physique on retrouvait une tuméfaction sous-clitoridienne centrée par le méat urétral. La prise en charge a été chirurgicale. Nous avons procédé dans tous les cas en une excision de la muqueuse prolabée suivie d'une suture muco-muqueuse sur une sonde de Foley pour 48 heures. Les suites opératoires étaient simples et aucune récidive n'est observée après un recul moyen de 7 mois. Conclusion: Le prolapsus urétral est une affection rare qui se rencontre chez les fillettes prépubères. Le traitement chirurgical donne de résultats cliniques et esthétiques satisfaisants. 
Background: Mucosal prolapse of the urethra is the circumferential eversion of the epithelium of the congestive urethral mucosa across the urinary meatus. The objective of this study was to report our experience in the management of mucosal prolapse of the urethra. Methods: We reviewed 7 cases of patients treated for mucosal prolapse of the urethra, collected retrospectively over 4 years in the surgical department of the departmental university hospital of Borgou in Parakou, northern Benin. Results: The mean age of the patients, all female, was 4±0.8 years with extremes of 2 years and 08 years. The main reason for consultation was genital hemorrhage. Physical examination revealed a subclitoral swelling centered on the urethral meatus. The management was surgical. We proceeded in all cases with an excision of the prolapsed mucosa followed by a muco-mucosal suture on a Foley catheter for 48 hours. The postoperative course was simple and no recurrence was observed after a mean follow-up of 7 months. Conclusion: Urethral prolapse is a rare condition that occurs in prepubertal girls. The surgical treatment gives satisfactory clinical and aesthetic results.
Downloads
Download data is not yet available.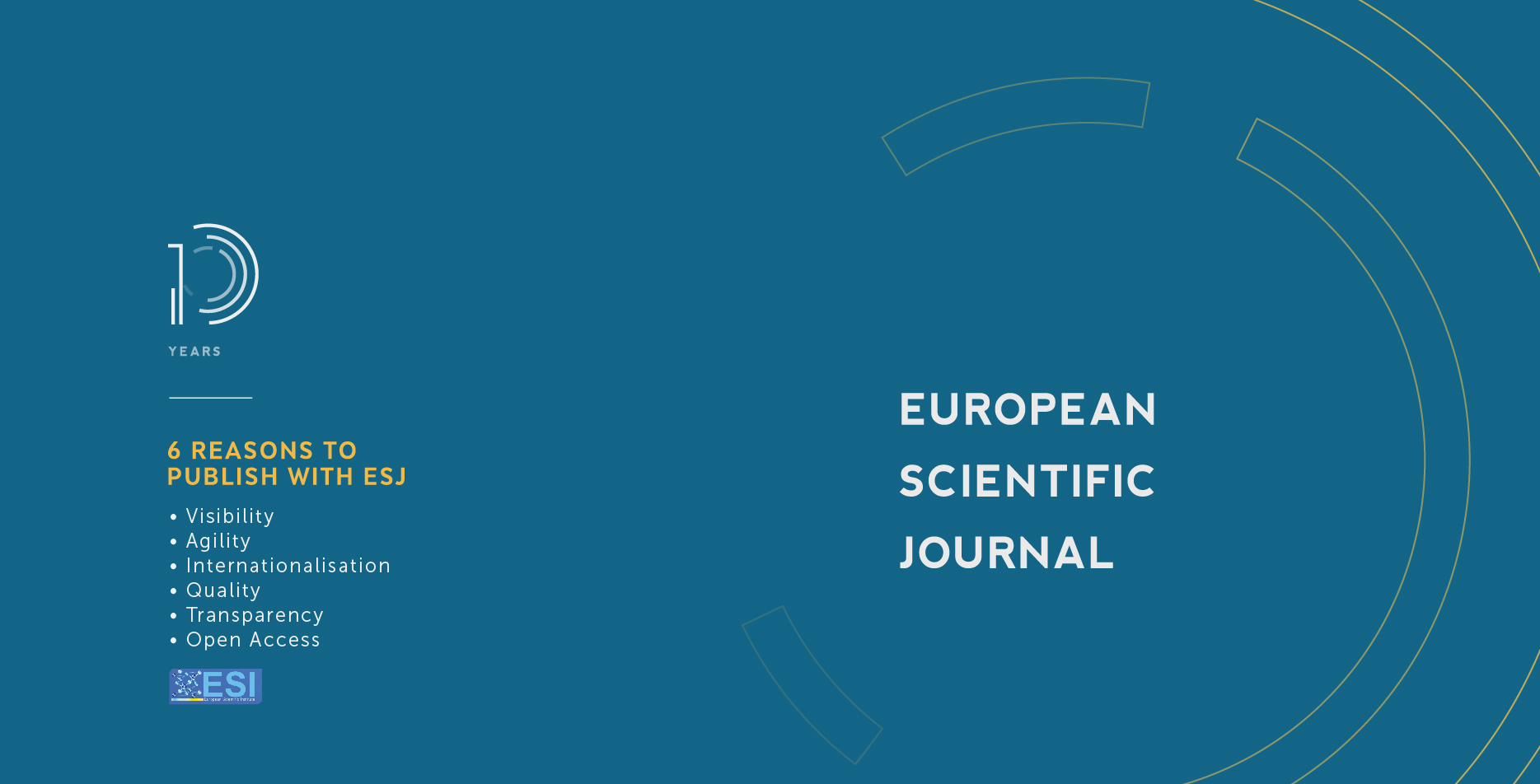 How to Cite
Armel, H. A., Rachid, S. S., Isidore, G. K., Rafiou, T. S., Lutegha, M., Moïse, M. V., Bio, T. S., & Salako, A. A. (2021). Prolapsus Muqueux de L'urètre au Centre Hospitalo-Universitaire Départemental de Borgou -Parakou, Bénin. European Scientific Journal, ESJ, 17(34), 278. https://doi.org/10.19044/esj.2021.v17n34p278
Section
ESJ Natural/Life/Medical Sciences
Copyright (c) 2021 Hadonou Ayaovi Armel, Sade Sabi Rachid, Gandaho Kokou Isidore, Tore Sanni Rafiou, Muhindo Lutegha, Muhindo Valimungighe Moïse, Tamou Sambo Bio, Allode Alexandre Salako
This work is licensed under a Creative Commons Attribution-NonCommercial-NoDerivatives 4.0 International License.