Caractéristiques Physicochimiques Récoltés des Miels de la Sous-Préfecture de Cechi (Dans le Département D'Agboville, Côte D'Ivoire)
Kouamé Koffi Félix

Doctorant au Laboratoire des Milieux Naturels et Conservation de la Biodiversité, UFR Biosciences, Université Félix Houphouët-Boigny, Côte d'Ivoire

Gbouhoury Eric-Kevin Bolou

Chargé de recherche au Centre National de Floristique, UFR Biosciences, Université Félix Houphouët-Boigny, Côte d'Ivoire

Fofié N'Guessan Bra Yvette

Enseignant-chercheur au Laboratoire de Pharmacognosie Botanique et Cryptogamie, UFR Sciences Pharmaceutiques et Biologiques, Université Félix Houphouët-Boigny, Côte d'Ivoire

Kassi N'Dja Justin

Professeur Titulaire au Laboratoire des Milieux Naturels et Conservation de la Biodiversité, UFR Biosciences, Université Félix Houphouët-Boigny, Côte d'Ivoire
Keywords:
Miel, Analyse Physicochimique, Codex Alimentarius, Zone Forestière, Côte d'Ivoire, Honey, Physicochemical Analysis, Forest Area, Ivory Coast
Abstract
La caractérisation des miels en développement d'un pays est nécessaire pour leur valorisation. Cette étude est une contribution à la connaissance de la qualité des miels des forêts de la Côte d'Ivoire. Des échantillons de miel de cinq localités de la Sous-Préfecture de Cechi (Agboville) ont été étudiés. Les paramètres physicochimiques des miels ont été analysés pour vérifier leur conformité aux normes du Codex alimentarius. Ces analyses ont donné les valeurs moyennes suivantes : le pH est 3,55±0,46; la conductivité électrique (σ) est 98,01±31 μS/cm, l'acidité libre est 19,50±4,47 mEq/Kg ; la densité relative est 1,42±0,07 ; la teneur en eau est de 20,2±3,11%, les cendres représentent 0,18±0,11% et la teneur en sucre totale est de 78,31±0,19%. La plupart de ces paramètres sont conformes au Codex alimentarius, à l'exception des teneurs en sucres qui dépasse la limite maximale accepté. Cela traduit que les miels analysés sont issus de nectar trop sucrés.
The characterisation of a country's developing honeys is necessary for their valorisation. This study is a contribution of the knowledge of the Ivory Coast forests honeys quality. Honey samples from five localities of the Sub-Prefecture of Cechi (Agboville) were studied. The physicochemical parameters of the honeys were analyzed to verify their conformity to the standards of the Codex alimentarius. These analyses yielded the following average values: pH is 3.55±0.46; electrical conductivity (σ) is 98.01±31 μS/cm, free acidity is 19.50±4.47 mEq/Kg ; relative density is 1.42±0.07 ; water content is 20.2±3.11%, ash represents 0.18±0.11% and total sugar content is 78.31±0.19%. Most of these parameters are in conformity with the Codex Alimentarius, except for the sugar content which exceeds the maximum accepted limit. This means that the analyzed honeys are made from nectar with too much sugar.
Downloads
Download data is not yet available.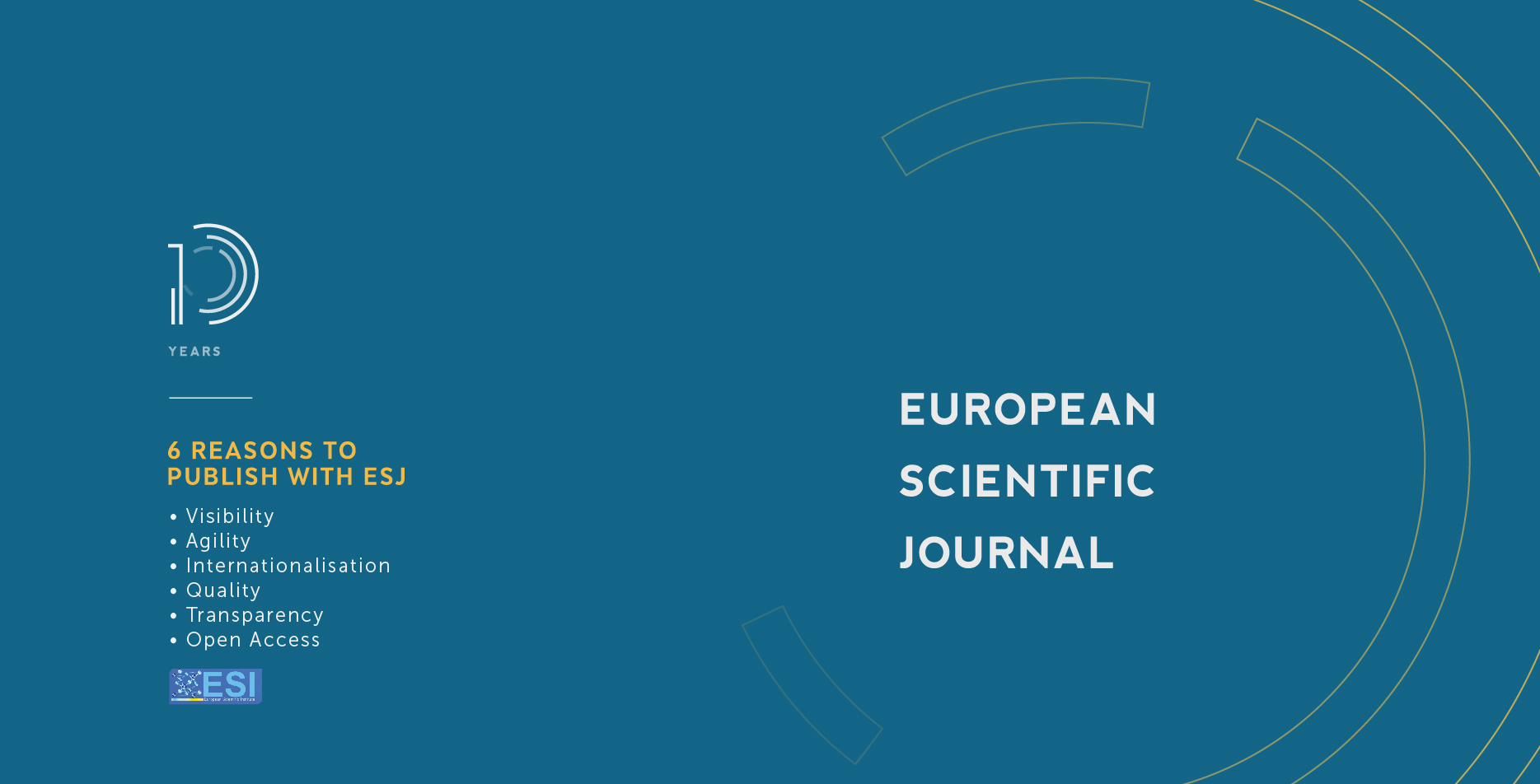 How to Cite
Koffi Félix, K., Bolou, G. E.-K., Bra Yvette, F. N., & Justin, K. N. (2021). Caractéristiques Physicochimiques Récoltés des Miels de la Sous-Préfecture de Cechi (Dans le Département D'Agboville, Côte D'Ivoire). European Scientific Journal, ESJ, 17(34), 286. https://doi.org/10.19044/esj.2021.v17n34p286
Section
ESJ Natural/Life/Medical Sciences
Copyright (c) 2021 Kouamé Koffi Félix, Gbouhoury Eric-Kevin Bolou, Fofié N'Guessan Bra Yvette, Kassi N'Dja Justin
This work is licensed under a Creative Commons Attribution-NonCommercial-NoDerivatives 4.0 International License.