Metodología para Evaluación y Actualización de los Contenidos del Syllabus
Marcel Oswaldo Méndez-Mantuano

Magíster en Gestión Ambiental Instituto Superior Tecnológico Juan Bautista Aguirre, Ecuador

Mariuxi Yomaira Olvera Morán

Magíster en Sistemas Integrados de Gestión Instituto Superior Tecnológico Juan Bautista Aguirre, Ecuador

Evelyn Carolina Egüez Caviedes

Magíster en Dirección del Talento Humano Instituto Superior Tecnológico Juan Bautista Aguirre, Ecuador

Keyla Ximena Bodero Jiménez

Magíster en Estadística Mención en Gestión de la Calidad y Productividad Instituto Superior Tecnológico Juan Bautista Aguirre, Ecuador

Darwin Vicente Apolo Robles

Ingeniero Agroindustrial Instituto Superior Tecnológico Juan Bautista Aguirre, Ecuador
Keywords:
Evaluación, metodología, syllabus
Abstract
Un buen contenido de Syllabus es una promesa que realiza el docente en beneficio de sus estudiantes. Por ello, existe la necesidad de valorar los temas que son expuestos en las diferentes cátedras, ya que los contextos sociales, económicos y productivos son dinámicos y evolucionan de manera constante y sostenida. La investigación propone una metodología para la evaluación y actualización de los contenidos de los Syllabus, a través de 4 diferentes perspectivas: docente, estudiantil, empresarial y tendencial, por medio del análisis de un estudio de caso aplicado para la asignatura de Matemática Aplicada de la carrera de Tecnología en Administración y dictada durante el segundo período académico 2020 – 2021 (diciembre a mayo). La propuesta metodológica se desarrolló por medio de encuestas a los grupos focales determinados (docentes, estudiantes y delegados empresariales), también se realizó un análisis del Syllabus de la asignatura de Matemática Aplicada a la Administración de la carrera de Licenciatura en Administración del Tecnológico Nacional de México y se contrastaron los contenidos del Syllabus en análisis y el perteneciente a la institución mexicana. Cada una de las 4 perspectivas tiene una valoración porcentual del 25 % en relación con el promedio de los promedios en cada uno de los ítems. La semaforización de los resultados finales del estudio de caso determinó que el 65 % de los contenidos (ítems) se deben mantener dentro de los Syllabus de Matemática Aplicada de la carrera de Tecnología en Administración, mientras que el 35 % de dichos contenidos se tienen que reestructurar, de tal manera, que se fomente el desarrollo aplicativo de los contenidos dentro de un contexto laboralproductivo. También existen contenidos temáticos que deben ser incorporados dentro del documento pedagógico. La propuesta es flexible, donde se posibilita la incorporación de otros elementos que ayuden a esclarecer y fortalecer la metodología.
Good Syllabus content is a promise made by the teacher for the benefit of their students. For this reason, there is a need to assess the topics that are exposed in the different chairs, since the social, economic, and productive contexts are dynamic and evolve in a constant and sustained way. The research proposes a methodology for the evaluation and updating of the contents of the Syllabus, through 4 different perspectives: teacher, student, business, and trend, through the analysis of a case study applied to the subject of Applied Mathematics of the Technology in Administration degree and dictated during the II academic period 2020 – 2021 (December to May). The methodological proposal was developed by means of surveys to the specific focus groups (teachers, students, and business delegates), an analysis of the Syllabus of the subject of Mathematics Applied to Administration of the Bachelor of Administration of the National Technological Administration of Mexico and the contents of the Syllabus under analysis and that belonging to the Mexican institution were contrasted. Each of the 4 perspectives has a 25% percentage valuation in relation to the average of the averages in each of the items. The traffic lights of the results of the case study determined that 65% of the contents (items) should be kept within the Syllabus of Applied Mathematics of the Technology in Administration career, while 35% of said contents must be restructure, in such a way as to promote the application development of the contents within a labor-productive context. There are also thematic contents that must be incorporated into the pedagogical document. The proposal is flexible, where the incorporation of other elements that help clarify and strengthen the methodology is possible.
Downloads
Download data is not yet available.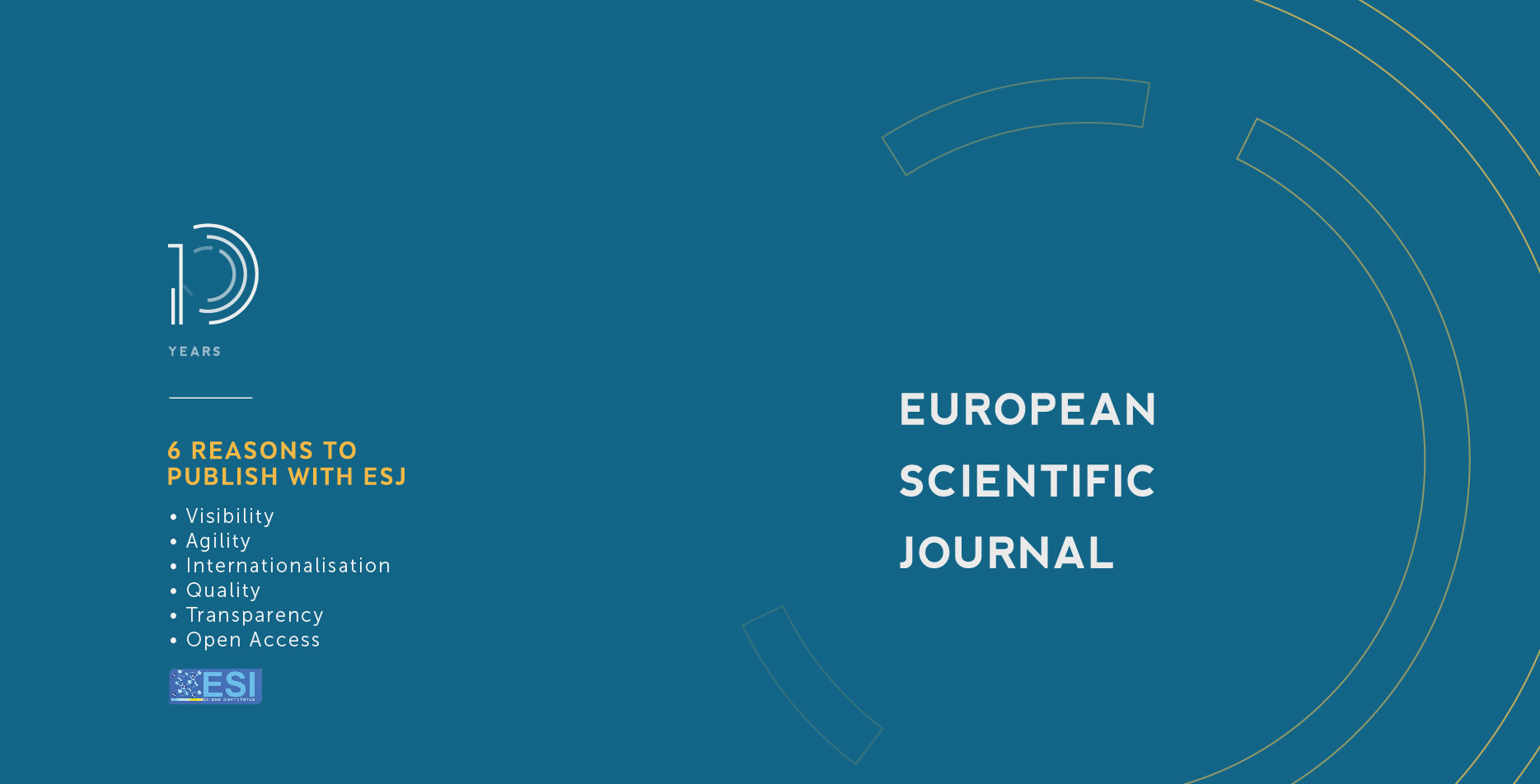 How to Cite
Méndez-Mantuano, M. O., Morán, M. Y. O., Caviedes, E. C. E., Jiménez, K. X. B., & Robles, D. V. A. (2021). Metodología para Evaluación y Actualización de los Contenidos del Syllabus. European Scientific Journal, ESJ, 17(32), 90. https://doi.org/10.19044/esj.2021.v17n32p90
Section
ESJ Social Sciences
Copyright (c) 2021 Marcel Oswaldo Méndez-Mantuano, Mariuxi Yomaira Olvera Morán, Evelyn Carolina Egüez Caviedes, Keyla Ximena Bodero Jiménez, Darwin Vicente Apolo Robles
This work is licensed under a Creative Commons Attribution-NonCommercial-NoDerivatives 4.0 International License.