Análisis de la Actitud Emprendedora de los Estudiantes Varones del Tecnológico Nacional de México Campus Tepeaca
María Luisa Juárez Hernández

Tecnológico Nacional de México campus Tepeaca, Puebla, México

Manuel González Pérez

Tecnológico Nacional de México campus Tepeaca, Puebla, México

Rafael Tovany-León

Tecnológico Nacional de México campus Tepeaca, Puebla, México

José Atonaltzin Maldonado-Ortiz

Tecnológico Nacional de México campus Tepeaca, Puebla, México
Keywords:
Espíritu emprendedor, Estudiantes, Tecnológico nacional de México, Tepeaca Puebla
Abstract
El espíritu juvenil de los estudiantes de convertirse en emprendedores es notorio a simple vista. Sin embargo, el objetivo general de esta investigación fue analizar la actitud emprendedora de los estudiantes varones del Tecnológico Nacional de México campus Tepeaca. Se encuestó a ciento setenta y dos estudiantes varones. El cuestionario fue diseñado y validado por expertos en el área. La validación se llevó a cabo por un método nuevo; éste consiste en aplicar un análisis factorial de Pearson para las correlaciones lineales y chi cuadrado para las asociaciones no lineales. Se le aplican cinco postulados para depurar y validar cada ítem. Los ítems se toman como factores o variables independientes para contrastar las hipótesis de trabajo. El muestreo fue aleatorio. La matriz de resultados obtenida después de aplicar la correlación de Pearson arrojó tres correlaciones por encima de 0.7. Con estas correlaciones se validaron seis hipótesis lineales. Solo se seleccionaron ocho hipótesis no lineales validadas por chi cuadrado debido al espacio limitado de un artículo científico. En general, se diseñaron 400 hipótesis de trabajo en el orden de 20 ítems tomados en orden de dos a dos. Se concluye que los estudiantes encuestados poseen amplio conocimiento del emprendimiento. Éstos están preparados para la innovación, creación y éxito en las empresas tanto de su propiedad como las empresas donde presten sus servicios.
The youthful spirit of students to become entrepreneurs is apparent to the naked eye. However, the general objective of this research was to analyze the entrepreneurial attitude of male students from the Tecnológico Nacional de México campus, Tepeaca. One hundred and seventy-two male students were surveyed. The questionnaire was designed and validated by experts in the area. The validation was carried out by a new method; This consists of applying a Pearson factorial analysis for linear correlations and chi-square for nonlinear associations. Five postulates are applied to debug and validate each item. The items are taken as factors or independent variables to contrast the working hypotheses. The sampling was random. The results matrix obtained after applying Pearson's correlation yielded three correlations above 0.7. With these correlations, six linear hypotheses were validated. Only eight chi-squarevalidated nonlinear hypotheses were selected due to the limited space of a scientific article. In general, 400 working hypotheses were designed in the order of 20 items taken in two to two. It is concluded that the surveyed students have extensive knowledge of entrepreneurship. They are prepared for innovation, creation, and success in the companies they own and the companies where they provide their services.
Downloads
Download data is not yet available.
PlumX Statistics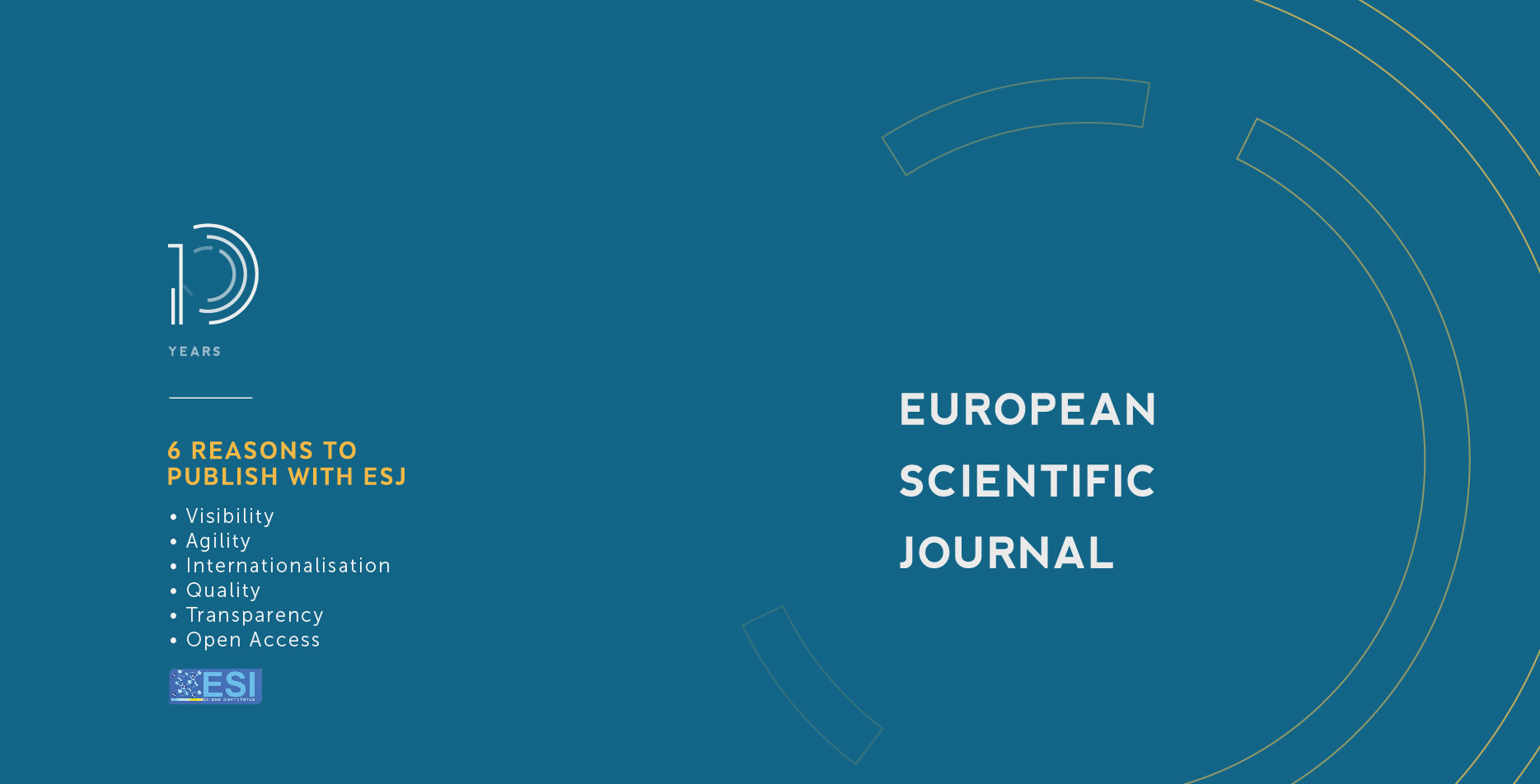 How to Cite
Hernández, M. L. J., Pérez, M. G., Tovany-León, R., & Maldonado-Ortiz, J. A. (2021). Análisis de la Actitud Emprendedora de los Estudiantes Varones del Tecnológico Nacional de México Campus Tepeaca. European Scientific Journal, ESJ, 17(32), 112. https://doi.org/10.19044/esj.2021.v17n32p112
Section
ESJ Social Sciences
Copyright (c) 2021 María Luisa Juárez Hernández, Manuel González Pérez, Rafael Tovany-León, José Atonaltzin Maldonado-Ortiz
This work is licensed under a Creative Commons Attribution-NonCommercial-NoDerivatives 4.0 International License.