Modelling Macroeconomic and Bank-Specific Determinants of Credit Risk in the Nigerian Banking Sector: Evidence from Bounds Test Approach to Co-Integration
Stanley C. Duruibe

Department of Financial Management Technology, Federal University of Technology, Owerri, Imo State, Nigeria

Nathaniel C. Nwezeaku

Department of Financial Management Technology, Federal University of Technology, Owerri, Imo State, Nigeria

Aghalugbulam B.C. Akujuobi

Department of Financial Management Technology, Federal University of Technology, Owerri, Imo State, Nigeria

Sampson Ikenna Ogoke

Department of Financial Management Technology, Federal University of Technology, Owerri, Imo State, Nigeria

Chidinma Elizabeth Nwabeke

Department of Financial Management Technology, Federal University of Technology, Owerri, Imo State, Nigeria
Keywords:
Credit Risk, Bounds test, Wald test, Nigerian Banking sector
Abstract
Credit risk, represented in this study by the ratio of non-performing loans to total loan (NPL), is considered as one of the critical factors that causes bank distress and failure. This study examines the macroeconomic and bankspecific determinants of credit risk in the Nigerian Banking sector from the period 1998Q1 to 2018Q4 using the bounds test approach to co-integration. Literature survey in this subject area using Google Scholar resources reveals that there seems to be a consensus of findings in terms of the negative relationship between credit risk and Gross Domestic Product (GDP) growth rate, while other macroeconomic and bank-specific factors tend to have a random pattern relationship with credit risk attributable to various countries' economic peculiarities. This study shows that GDP growth rate, return on asset, return on equity, interest rate, unemployment rate, and real exchange rate have a negative relationship with NPL. On the other hand, inflation rate, loan deposit ratio, and ratio of bank capital to asset have positive relationship with NPL. The relationships between the three variables and NPL were found to be individually insignificant to explain credit risk trends in the long run. Moreover, the Wald short-run causality test reveals that the macroeconomic and bank specific indicators jointly influence credit risk in the Nigeria banking sector in the short run. This study, however, recommends that since the macroeconomic and bank specific factors were found to be individually insignificant to explain credit risk trend in the long run, consideration should be accorded to some psychological, political, and socioeconomic factors such as the borrower's attitude, business climate, social dislocations and distortions, availability of good infrastructural facilities, and the direction of government policies. These factors can affect borrowers' ability to honor their debt obligations and, thus, determine the level of credit risk in the Nigerian economy.
Downloads
Download data is not yet available.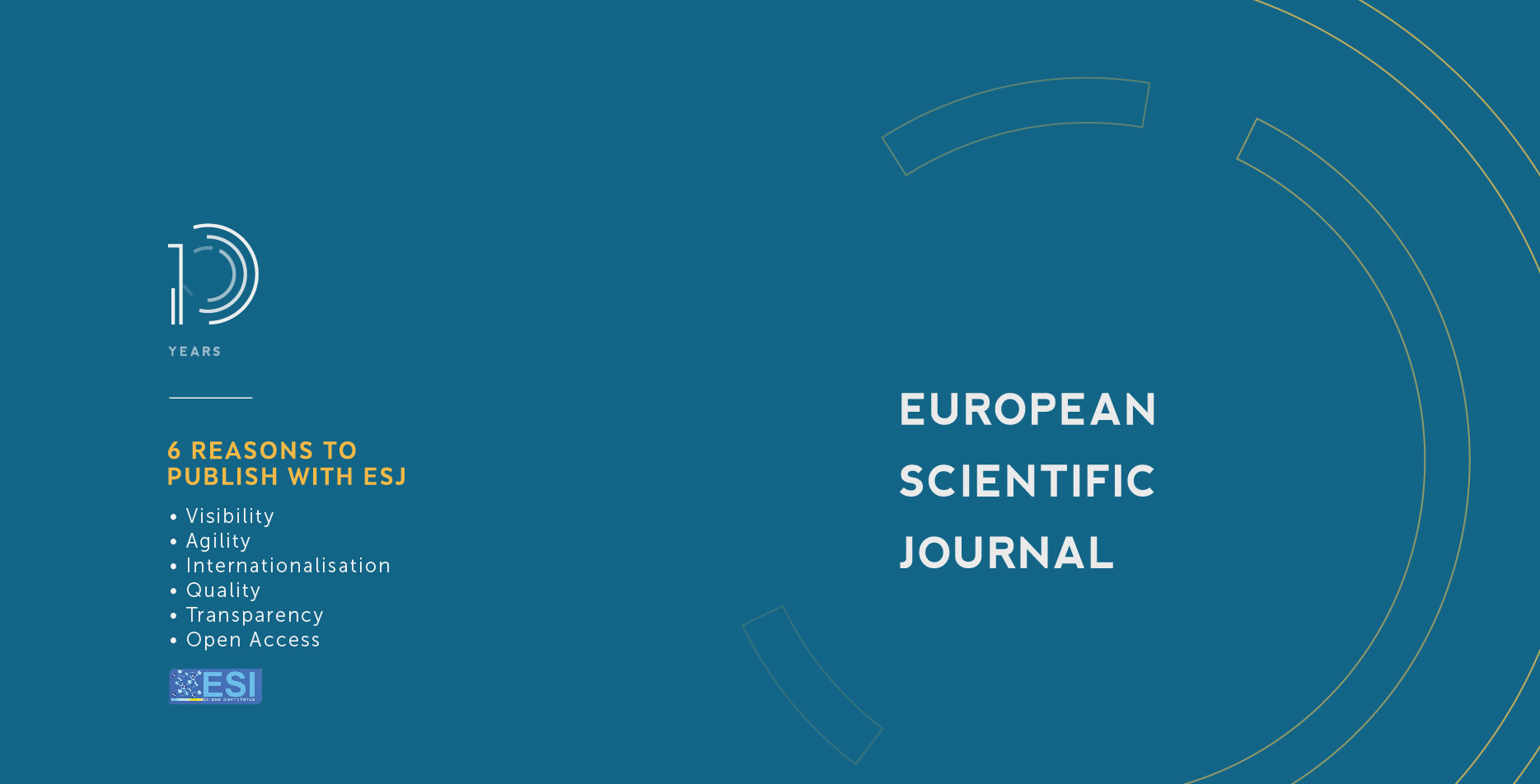 How to Cite
Duruibe, S. C., Nwezeaku, N. C., Akujuobi, A. B., Ogoke, S. I., & Nwabeke, C. E. (2021). Modelling Macroeconomic and Bank-Specific Determinants of Credit Risk in the Nigerian Banking Sector: Evidence from Bounds Test Approach to Co-Integration. European Scientific Journal, ESJ, 17(32), 221. https://doi.org/10.19044/esj.2021.v17n32p221
Section
ESJ Social Sciences
Copyright (c) 2021 Stanley C. Duruibe, Nathaniel C. Nwezeaku, Aghalugbulam B.C. Akujuobi, Sampson Ikenna Ogoke, Chidinma Elizabeth Nwabeke
This work is licensed under a Creative Commons Attribution-NonCommercial-NoDerivatives 4.0 International License.