Retour d'emigration, Enjeux Fonciers et Defi de Developpement a Zoukougbeu et Gregbeu (Centre-Ouest, Côte d'Evoire)
Mlan Konan Séverin

Socio-anthropologue, Enseignant-chercheur, Université Jean Lorougnon Guédé, Daloa, Côte d'Ivoire, Président de l'ONG Foncier Rural pour tous, Environnement et Développement (FRED)

Yao Kouassi Ernest

Géographe, Enseignant-chercheur, Université Jean Lorougnon Guédé, Daloa, Côte d'Ivoire, Labo VST

Zamble Bi Zamblé Boris

Doctorant en Sociologie à l'Université Alassane Ouattara, Bouaké, Côte d'Ivoire
Keywords:
Zoukougbeu, Côte d'Ivoire, autochtonie, émigration de retour, enjeu foncier, défi de développement
Abstract
La crise politico-militaire de 2010 en Côte d'Ivoire a affecté les flux migratoires dans certaines régions du pays. On a assisté au retour massif de certaines populations dans leurs régions d'origine. Cette étude explore la question de la réinsertion des émigrants dans le jeu foncier de leur zone de départ, et met en exergue les enjeux sociaux liés à leur réintégration. L'étude vise à appréhender les stratégies développées par les populations résidentes et les émigrants dans la quête de ces derniers à intégrer l'arène foncière de leurs familles d'origine. La collecte des données a mobilisé la recherche documentaire, l'enquête par questionnaire, l'entretien et l'observation dans les sous-préfectures de Zoukougbeu et Gregbeu. L'étude relève que le retour définitif ou partiel des émigrants traduit un jeu de repositionnement, tant chez eux que chez les résidents. Le paradoxe de l'autochtone frustré par la raréfaction foncière mais qui constitue un acteur impulsant la dynamique sociale, politique et économique est expressif. En somme, cette étude invite à une politique de modernisation de l'agriculture afin que l'espoir des émigrants internes et externes (diaspora) débouche sur un retour partiel ou définitif réussi, avec des investissements productifs.
The politico-military crisis of 2010 in Ivory Coast has affected migratory flows in some regions of the country. We have seen the massive return of some populations to their regions of origin. This study explores the question of the reintegration of emigrants into the land game of their area of departure, and highlights the social issues linked to their reintegration. The study aims to understand the strategies developed by resident populations and emigrants in the latter's quest to integrate the land arena of their families of origin. Data collection involved documentary research, questionnaire survey, interview and observation in the sub-prefectures of Zoukougbeu and Gregbeu. The study notes that the final or partial return of emigrants reflects a repositioning game, both for them and for residents. The paradox of the native frustrated by land scarcity but who is an actor driving social, political and economic dynamics is expressive. In short, this study calls for a policy of modernizing agriculture so that the hope of internal and external emigrants (diaspora) leads to a successful partial or final return, with productive investments.
Downloads
Download data is not yet available.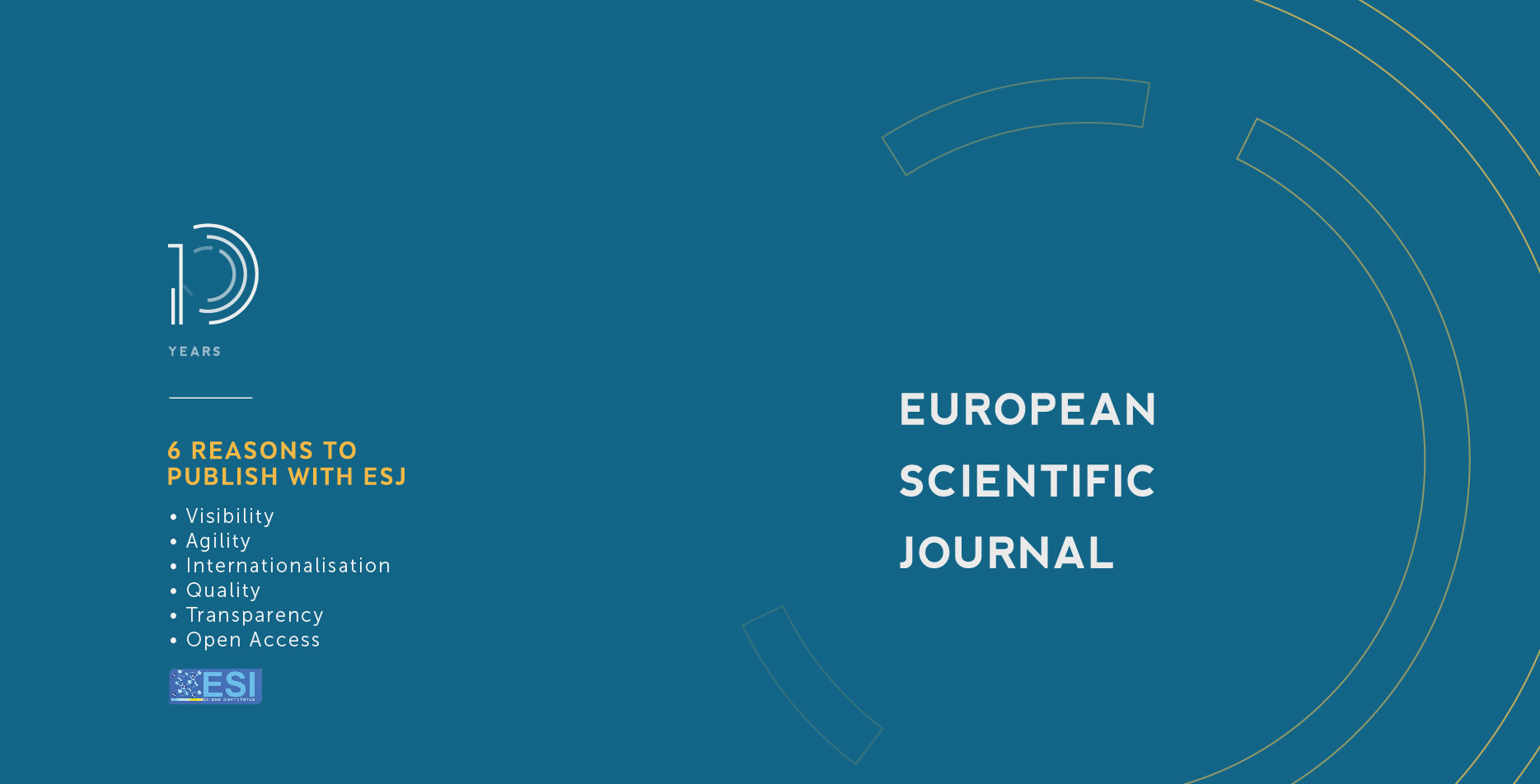 How to Cite
Séverin, M. K., Ernest, Y. K., & Boris, Z. B. Z. (2021). Retour d'emigration, Enjeux Fonciers et Defi de Developpement a Zoukougbeu et Gregbeu (Centre-Ouest, Côte d'Evoire). European Scientific Journal, ESJ, 17(32), 236. https://doi.org/10.19044/esj.2021.v17n32p236
Section
ESJ Social Sciences
Copyright (c) 2021 Mlan Konan Séverin, Yao Kouassi Ernest, Zamble Bi Zamblé Boris
This work is licensed under a Creative Commons Attribution-NonCommercial-NoDerivatives 4.0 International License.