Evaluation de L'entomophagie dans Quatre Grandes Villes de Côte d'Ivoire
Boko Adjoua Christiane Eunice

Doctorante en Biochimie et Nutrition à l'Université Jean Lorougnon Guédé, Côte d'Ivoire

Angaman Djédoux Maxime

Enseignant-Chercheur en Biochimie à l'Université Jean Lorougnon Guédé, Côte d'Ivoire
Keywords:
Field Survey, Insects, Entomophagy, Côte d'Ivoire
Abstract
L'entomophagie qui consiste à la consommation des insectes par l'Homme n'est pas un phénomène inaccoutumé. Elle est impulsée aujourd'hui par la FAO comme étant une source alternative durable de protéine animale pour la consommation humaine à cause de la forte croissance de la population mondiale d'ici à 2050 qui atteindra les 9 milliards d'habitants. Cependant, elle fait face à de nombreuses contraintes dues au manque d'information du secteur. Ainsi, dans l'intérêt de lever tout équivoque sur l'entomophagie, cette étude fut menée et dont l'objectif était d'identifier les différents types d'insectes et les stéereootypes liés à la consommation pour une meilleure valorisation afin de lutter contre l'insécurité alimentaire en Côte d'Ivoire. A cet effet, une enquête de terrain pilotée dans 4 villes différentes (Daloa, Man, Bouaké, Korhogo) auprès de la population a permis de mettre en lumière les freins et les motivations de sa consommation en Côte d'ivoire. En effet, 1806 personnes ont été interrogées et il en ressort que 60,46% sont entomophages et sont constitués de personnes de tout âge, de toutes les professions. La consommation de ces insectes était fortement motivée par l'arôme (38%). Par ailleurs, l'indisponibilité (42,51%), l'aspect (37%) et ajoutés à la méconnaissance (12%) sont autant de facteurs limitant la pratique de l'entomophagie en Côte d'Ivoire. A l'état actuel, 11 espèces sont identifiées comme comestibles dont la plus prisée est la larve du Rhynchophorus phoenicis et la plus consommée le termite ailé Macrotermes subhyalinus du fait de sa plus grande disponibilité.
Entomophagy which consists in the consumption of insects by humans is not an unusual phenomenon. It is promoted today by the FAO as a sustainable alternative source of animal protein for human consumption because of the strong growth of the world population by 2050 which will reach 9 billion inhabitants. However, it faces many constraints due to the lack of information in the sector. Thus, in the interest of clearing up any ambiguity on entomophagy, this study was carried out, the objective of which was to identify the different types of insects and the stereootypes linked to consumption for a better valuation in order to fight against the food insecurity in Côte d'Ivoire. To this end, a field survey piloted in 4 different towns (Daloa, Man, Bouaké, Korhogo) among the population shed light on the obstacles and motivations for their consumption in Côte d'Ivoire. Indeed, 1806 people were interviewed and it emerged that 60.46% are entomophagous made up of people of all ages, from all professions. Consumption of these insects was strongly motivated by aroma (38%). In addition, unavailability (42.51%), appearance (37%) and added to ignorance (12%) are all factors limiting the practice of entomophagy in Côte d'Ivoire. At present, 11 species are identified as edible, the most popular of which is the larva of Rhynchophorus phoenicis and the most consumed is the winged termite Macrotermes subhyalinus due to its greater availability.
Downloads
Download data is not yet available.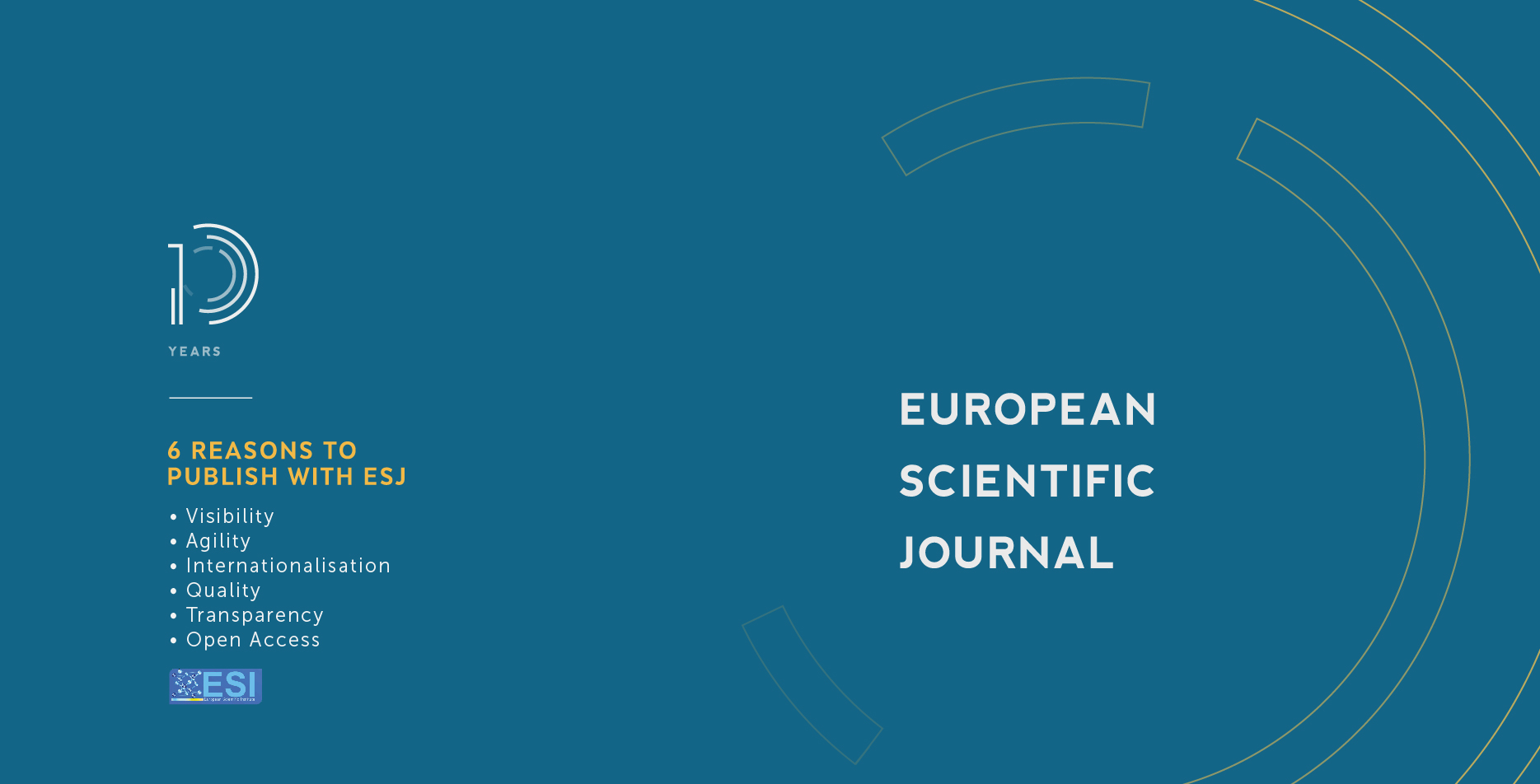 How to Cite
Christiane Eunice, B. A., & Djédoux Maxime, A. (2021). Evaluation de L'entomophagie dans Quatre Grandes Villes de Côte d'Ivoire. European Scientific Journal, ESJ, 17(37), 119. https://doi.org/10.19044/esj.2021.v17n37p119
Section
ESJ Natural/Life/Medical Sciences
Copyright (c) 2021 Boko Adjoua Christiane Eunice, Angaman Djédoux Maxime
This work is licensed under a Creative Commons Attribution-NonCommercial-NoDerivatives 4.0 International License.