Visites Touristiques et Comportements des Singes Sacrés de Gbetitapéa, Centre-Ouest de la Côte d'Ivoire
Célestin Yao Kouakou

Université Jean Lorougnon Guédé, Laboratoire de Biodiversité et Ecologie Tropicale, Côte d'Ivoire

Emilienne Ahou Kouadio

Université Jean Lorougnon Guédé, Laboratoire de Biodiversité et Ecologie Tropicale, Côte d'Ivoire

Didié Armand Zadou

Université Jean Lorougnon Guédé, UFR Sciences Sociales et Humaines, Côte d'Ivoire

Claude Victorien Kouakou

Université Jean Lorougnon Guédé, Laboratoire de Biodiversité et Ecologie Tropicale, Côte d'Ivoire

Béné Jean-Claude Koffi

Université Jean Lorougnon Guédé, Laboratoire de Biodiversité et Ecologie Tropicale, Côte d'Ivoire
Keywords:
Comportement, Touristes, Singes Sacrés, Gbetitapéa, Côte d'Ivoire
Abstract
La gestion du tourisme faunique nécessite la disponibilité d'informations sur les touristes et l'étho-écologie des animaux. Cette étude est une contribution à l'amélioration des connaissances sur les touristes et les comportements des singes sacrés de Gbetitapéa dans le centre-ouest ivoirien. Il s'est agi de déterminer les caractéristiques des touristes et d'identifier les comportements des singes en présence et en absence des touristes.
Des touristes ont été enquêtés et un échantillonnage par animal focal a été fait sur des cercopithèques de Campbell (Cercopithecus campbelli) en absence et en présence des touristes. Au total, 70 touristes provenant de 12 localités ont été interrogés. Parmi eux, des enseignants et des individus dont l'âge variait entre 21 et 45 ans visitent majoritairement les singes.
Lorsque la distance des provenances des touristes à Gbétitapéa augmente, il y a une faible tendance à l'observation de touristes (coefficient de corrélation = -0,0126). En absence des touristes, sept comportements (cri, jeux, repos, agression, déplacement, alimentation et toilettage) sont observés avec l'agression et le jeu, respectivement 0,74% et 2,42% des observations, étant les moins fréquents. Les déplacements (26,51%) et repos (25,09%) sont les plus observés. En présence des touristes, cinq comportements (cri, repos, déplacement, alimentation et toilettage) sont observés avec l'alimentation et le déplacement, respectivement 36,84% et 29,82% des observations, étant les plus fréquents. Le repos (5,26%) et le toilettage (7,2%) sont les moins fréquents. La conservation par la sacralisation de la faune doit être encouragée sans ignorer la sensibilisation des touristes pour réduire leurs impacts sur les animaux.
Managing wildlife tourism requires the availability of information about tourists and the etho-ecology of animals. This study is a contribution to the improvement of knowledge on tourists and the behaviors of the sacred monkeys of Gbetitapéa in the center-west of Ivory Coast by determining the characteristics of tourists and by identifying the behaviors of the monkeys in the presence and in the absence of tourists.
Tourists were surveyed and focal animal sampling was applied to Campbell's monkeys (Cercopithecus campbelli) in the absence and presence of tourists. In total, 70 tourists from 12 localities were interviewed. Among them, teachers and individuals between the ages of 21 and 45 years mostly visit monkeys.When the distance from the origins of tourists to Gbetitapéa increases, there is a weak tendency to have fewer tourists (correlation coefficient = -0.0126). In the absence of tourists, seven behaviors (screaming, games, rest, aggression, movement, eating and grooming) are observed with aggression and play, 0.82% and 2.68% respectively of observations, being the least frequent. Travel (26.99%) and rest (24.76%) are the most observed. In the presence of tourists, five behaviors (screaming, resting, moving, feeding and grooming) are observed with feeding and moving, respectively 36.84% and 29.82% of observations, being the most frequent. Rest (5.26%), and grooming (7.2%) are the least frequent. Wildlife conservation through sacred fauna must be encouraged without ignoring the awareness of tourist visitors in order to reduce their impact on animals.
Downloads
Download data is not yet available.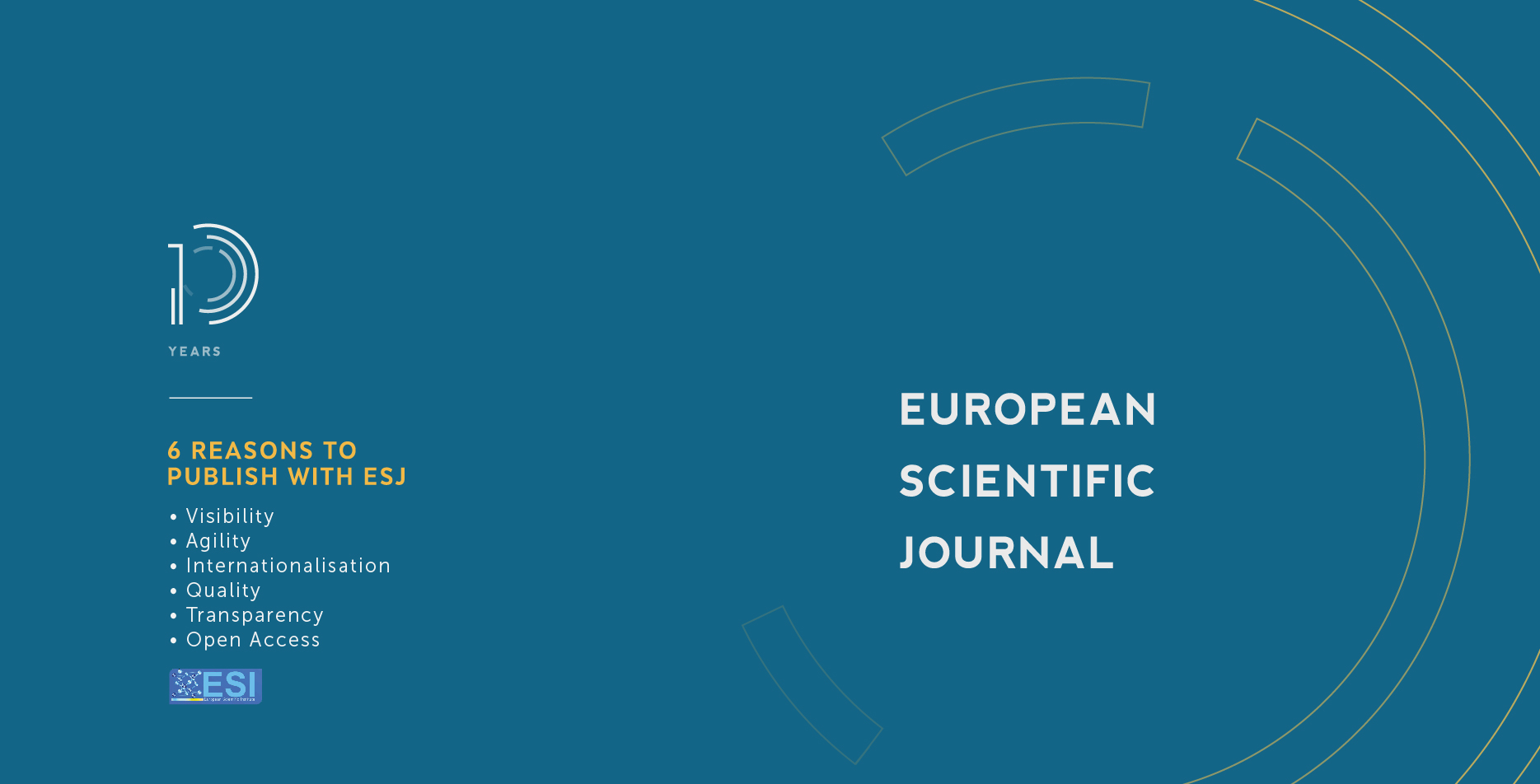 How to Cite
Yao Kouakou, C., Ahou Kouadio, E., Armand Zadou, D., Victorien Kouakou, C., & Koffi, B. J.-C. (2021). Visites Touristiques et Comportements des Singes Sacrés de Gbetitapéa, Centre-Ouest de la Côte d'Ivoire. European Scientific Journal, ESJ, 17(37), 181. Retrieved from https://eujournal.org/index.php/esj/article/view/14844
Section
ESJ Natural/Life/Medical Sciences
Copyright (c) 2021 Célestin Yao Kouakou, Emilienne Ahou Kouadio, Didié Armand Zadou, Claude Victorien Kouakou, Béné Jean-Claude Koffi
This work is licensed under a Creative Commons Attribution-NonCommercial-NoDerivatives 4.0 International License.