Efecto d Baño Químico Con Ácido Cítrico y Ascórbico, Temperatura y Tiempo de Almacenamiento Sobre el Pardeamiento Enzimático en Persea Americana Mínimamente Procesada
Lurys Ivette Martínez Marín

Departamento de Salud Pública, Universidad Especializada de las Américas, Panamá

Angie Macías

Departamento de Salud Pública, Universidad Especializada de las Américas, Panamá
Keywords:
Organic Acids, Minimally Processed Foods, Chemical Bath, Browning
Abstract
Se evaluó el efecto de los ácidos orgánicos sobre el pardeamiento enzimático de la Persea americana variedad Hass, mínimamente procesada, empacada al vacío y almacenada a distintas temperaturas. Las muestras de aguacate se trataron con un baño químico de ácidos orgánicos (ácido cítrico y ácido ascórbico) con tres concentraciones diferentes, luego se empacaron al vacío y fueron almacenadas a 4° y 8° C durante 12 días. Muestras sin tratamiento se emplearon como control y todas las muestras se evaluaron cada 0, 4, 8 y 12 días. Se concluye que a 8°C el color y el sabor del aguacate mejora. Durante cada observación no hubo pérdida significativa de masa. Estos resultados, aunque incipientes, son útiles porque pueden contribuir con la seguridad alimentaria, además de determinar nuevas formas de preservar Persea americana y poder comercializarla como un producto de cuarta gama.
The effect of organic acids on the enzymatic browning of Persea americana variety Hass, minimally processed, vacuum packed and stored at different temperatures, was evaluated. The avocado samples were treated with a chemical bath of organic acids (citric acid and ascorbic acid) with three different concentrations, then they were vacuum packed and stored at 4 ° and 8 ° C for 12 days. Untreated samples were used as control and all samples were evaluated at 0, 4, 8 and 12 days. It is concluded that at 8 ° C the color and flavor of the avocado improves; the chemical bath that obtained the best results was chemical bath 3 with respect to color and the samples are best preserved on day 8. During each observation there was no significant loss of mass. These results, although incipient, are useful because they can contribute to food safety, in addition to determining new ways of preserving Persea americana and being able to market it as a fourth-range product.
Downloads
Download data is not yet available.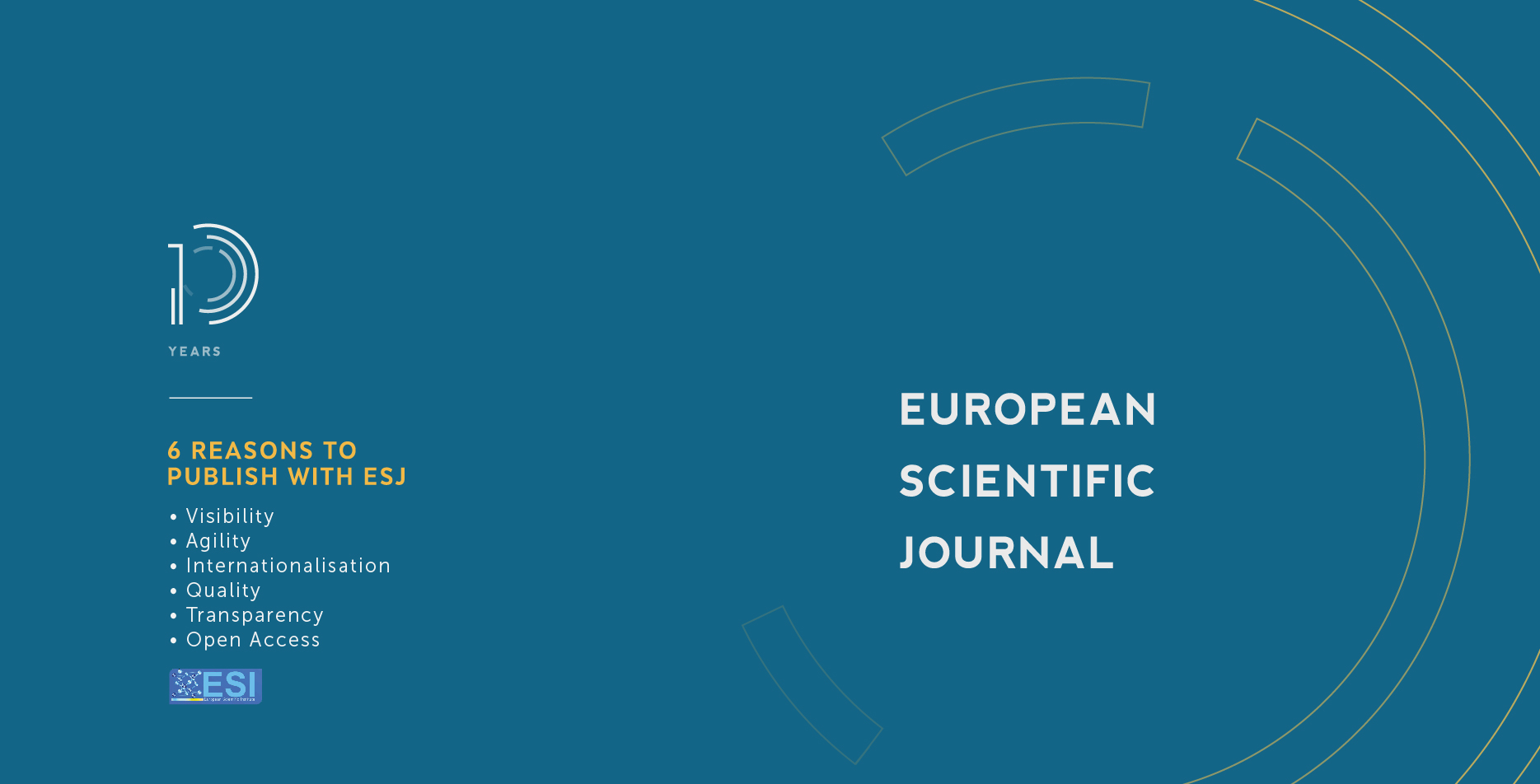 How to Cite
Marín, L. I. M., & Macías, A. (2021). Efecto d Baño Químico Con Ácido Cítrico y Ascórbico, Temperatura y Tiempo de Almacenamiento Sobre el Pardeamiento Enzimático en Persea Americana Mínimamente Procesada. European Scientific Journal, ESJ, 17(37), 247. https://doi.org/10.19044/esj.2021.v17n37p247
Section
ESJ Natural/Life/Medical Sciences
Copyright (c) 2021 Lurys Ivette Martínez Marín, Angie Macías
This work is licensed under a Creative Commons Attribution-NonCommercial-NoDerivatives 4.0 International License.