Cartographie de L'accessibilité et Gouvernance Locale des Infrastructures Hydrauliques dans la Commune D'avrankou Au Sud-Est du Benin
Zannou Sandé

Laboratoire de l'Aménagement du Territoire, de l'Environnement et de Développement Durable (LATEDD)

Dossou Guedegbe Odile

Département de Géographie et Aménagement du Territoire/ FASHS/ Université d'Abomey-Calavi (UAC)
Keywords:
Avrankou,, Cartography, Hydraulic Infrastructures, Accessibility, Local Governance
Abstract
In the Municipality of Avrankou, the populations experience enormous difficulties in obtaining water supplies despite the availability of a large number of water points. This work aims to analyze the distribution of hydraulic infrastructures and their mode of management in the said Municipality. To map the availability of water points and study their management method, 115 households and 17 resource people were interviewed. Arc GIS 10.5 software was used for the spatialization of the data. The results reveal that the Municipality of Avrankou has 301 hydraulic infrastructures, of which 83 are functional and 218 are non-functional. The functional water points are made up of 42 Boreholes equipped with Human Motricity Pumps and 41 Fountains supplied by 2 Village Water Adductions. Out of the 84 villages of the Commune, only 39 villages have access to functional water points, either 46.42% and among them, 12 villages have double access to it. Thus, 45 villages would have access if the authorities repaired non-functional water points and 15 villages if other structures were built. The management methods of the hydraulic infrastructures adopted are leasing and delegated management. These management methods have enabled the town hall to mobilize resources to finance development actions. The unequal distribution of hydraulic infrastructure is proof of the lack of a regular maintenance system and the absence of spatial planning tools in this sector. To remedy this, it is therefore necessary to involve the populations more and make them responsible for the management of water points and also to repair non-functional hydraulic structures.
Dans la Commune d'Avrankou, les populations éprouvent d'énormes difficultés pour s'approvisionner en eau malgré la disponibilité d'une importante quantité de points d'eau. Ce travail vise à analyser la répartition des infrastructures hydrauliques et leur mode de gestion dans ladite Commune. Pour cartographier la disponibilité des points d'eau et étudier leur mode de gestion, 115 ménages et 17 personnes ressources ont été interrogés. Le logiciel Arc GIS 10.5 a été utilisé pour la spatialisation des données. Les résultats révèlent que la Commune d'Avrankou dispose de 301 infrastructures hydrauliques dont 83 fonctionnelles et 218 non fonctionnelles. Les points d'eau fonctionnels sont constitués de 42 Forages équipés de Pompe à Motricité Humaine et 41 Bornes Fontaines alimentées par 2 Adductions d'Eau Villageoise. Sur les 84 villages de la Commune, seulement 39 villages ont accès aux points d'eau fonctionnels soit 46,42 % et parmi eux, 12 villages y ont doublement accès. Ainsi, 45 villages auraient accès si les autorités réparaient les points d'eau non fonctionnels et 15 villages si on construisait d'autres ouvrages. Les modes de gestion des infrastructures hydrauliques adoptées sont l'affermage et la gestion délégataire. Ces modes de gestion ont permis à la mairie de mobiliser des ressources pour financer les actions de développement. L'inégale répartition des infrastructures hydrauliques est la preuve de l'inexistence d'un système de maintenance régulier et de l'absence des outils de planification spatiale dans ce secteur. Pour y remédier, il faut donc impliquer davantage et responsabiliser les populations pour la gestion des points d'eau et réparer également les ouvrages hydrauliques non fonctionnels.
Downloads
Download data is not yet available.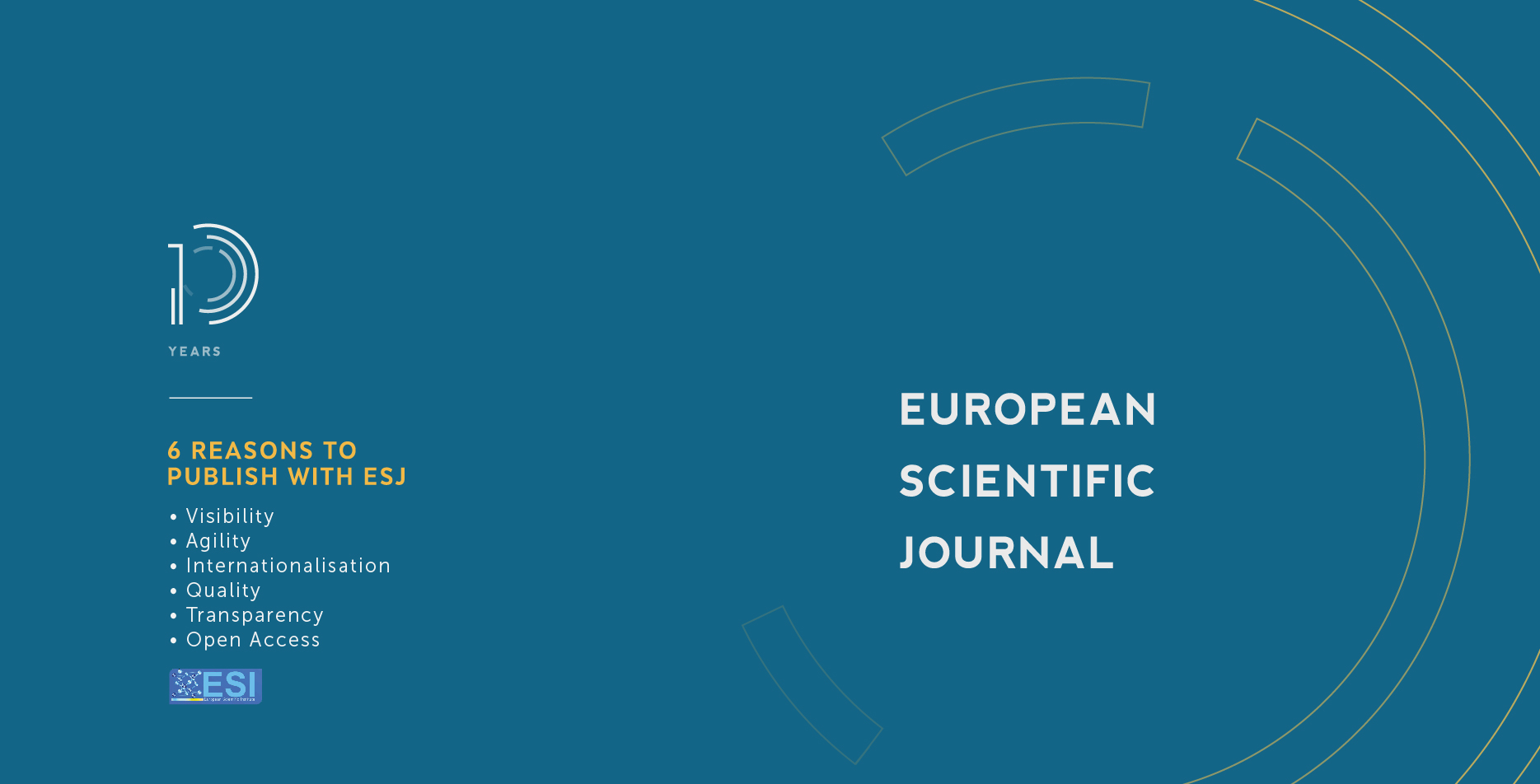 How to Cite
Sandé, Z., & Odile, D. G. (2021). Cartographie de L'accessibilité et Gouvernance Locale des Infrastructures Hydrauliques dans la Commune D'avrankou Au Sud-Est du Benin. European Scientific Journal, ESJ, 17(37), 269. https://doi.org/10.19044/esj.2021.v17n37p269
Section
ESJ Natural/Life/Medical Sciences
Copyright (c) 2021 Zannou Sandé, Dossou Guedegbe Odile
This work is licensed under a Creative Commons Attribution-NonCommercial-NoDerivatives 4.0 International License.