The Effect of B, Al, N, and P Impurities on the Electronic Structure of Si0.3Sn0.7Ge alloy: A First-Principles Approach
Collins E. Ouserigha

Ayibapreye K. Benjamin

Niger Delta University, Nigeria
Keywords:
First-principles, chemical disorders, thermopower, thermoelectric generator
Abstract
This study examines the effect of doping Si0.3Sn0.7Ge with an impurity element X (B, Al, N, or P) on the Sn site, using first-principle calculations based on the fully self-consistent Korringa-Kohn-Rostoker method with the coherent potential approximation (KKR-CPA). To treat several forms of chemical disorders of Si0.3Sn0.7Ge, X-doping was carried out by substituting small amounts of Sn with each element X, which gives rise to the alloy Si0.3Sn0.7-yXyGe. As the X content increases from y = 0.01 to 0.06, the Fermi level maintains its position in the conduction band edge. While the number of states at the Fermi level decreases. With 1% X impurity added to the alloy Si0.3Sn0.7-yXyGe, the number of carriers (electron and hole) states was generally enhanced. For the case of X = P, when compared to the parent material Si0.3Sn0.7Ge, an enhancement of 0.04 states/eV was observed. Due to the increase in the number of states, which indicates an improvement in thermopower, these alloys Si0.3Sn0.7-yXyGe are promising for application as n-type electrodes in a thermoelectric generator (TEG).
Downloads
Download data is not yet available.
References
1. Bhogra, A., Masarrat, A., Meena, R., Hasina, D., Bala, M., Dong, C. L., Chen C., Som T., Kumar A., & Kandasami, A. (2019). Tuning the electrical and thermoelectric properties of N ion implanted SrTiO3 thin films and their conduction mechanisms. Scientific Reports, 9(1), 1-11.
2. Chen, Z. G., Han, G., Yang, L., Cheng, L., & Zou, J. (2012). Nanostructured thermoelectric materials: Current research and future challenge. Progress in Natural Science: Materials International, 22(6), 535-549.
3. Ebert, H., Koedderitzsch, D., & Minar, J. (2011). Calculating condensed matter properties using the KKR-Green's function method—recent developments and applications. Reports on Progress in Physics, 74(9), 096501.
4. Francioso, L., De Pascali, C., Farella, I., Martucci, C., Cretì, P., Siciliano, P., & Perrone, A. (2011). Flexible thermoelectric generator for ambient assisted living wearable biometric sensors. Journal of Power Sources, 196(6), 3239-3243.
5. He, J., & Tritt, T. M. (2017). Advances in thermoelectric materials research: Looking back and moving forward. Science, 357(6358).
6. Ouserigha, C. E., & Ogobiri, G. E. (2021, April). First-principles investigation of the electronic and thermoelectric properties of SiGe doped with Sn and one percent B. In IOP Conference Series: Earth and Environmental Science (Vol. 730, No. 1, p. 012001). IOP Publishing.
7. Peng, Y., Miao, L., Gao, J., Liu, C., Kurosawa, M., Nakatsuka, O., & Zaima, S. (2019). Realizing High Thermoelectric Performance at Ambient Temperature by Ternary Alloying in Polycrystalline Si 1-xy Ge x Sn y Thin Films with Boron Ion Implantation. Scientific Reports, 9(1), 1-9.
8. Vosko, S. H., Wilk, L., & Nusair, M. (1980). Accurate spin-dependent electron liquid correlation energies for local spin density calculations: a critical analysis. Canadian Journal of Physics, 58(8), 1200-1211.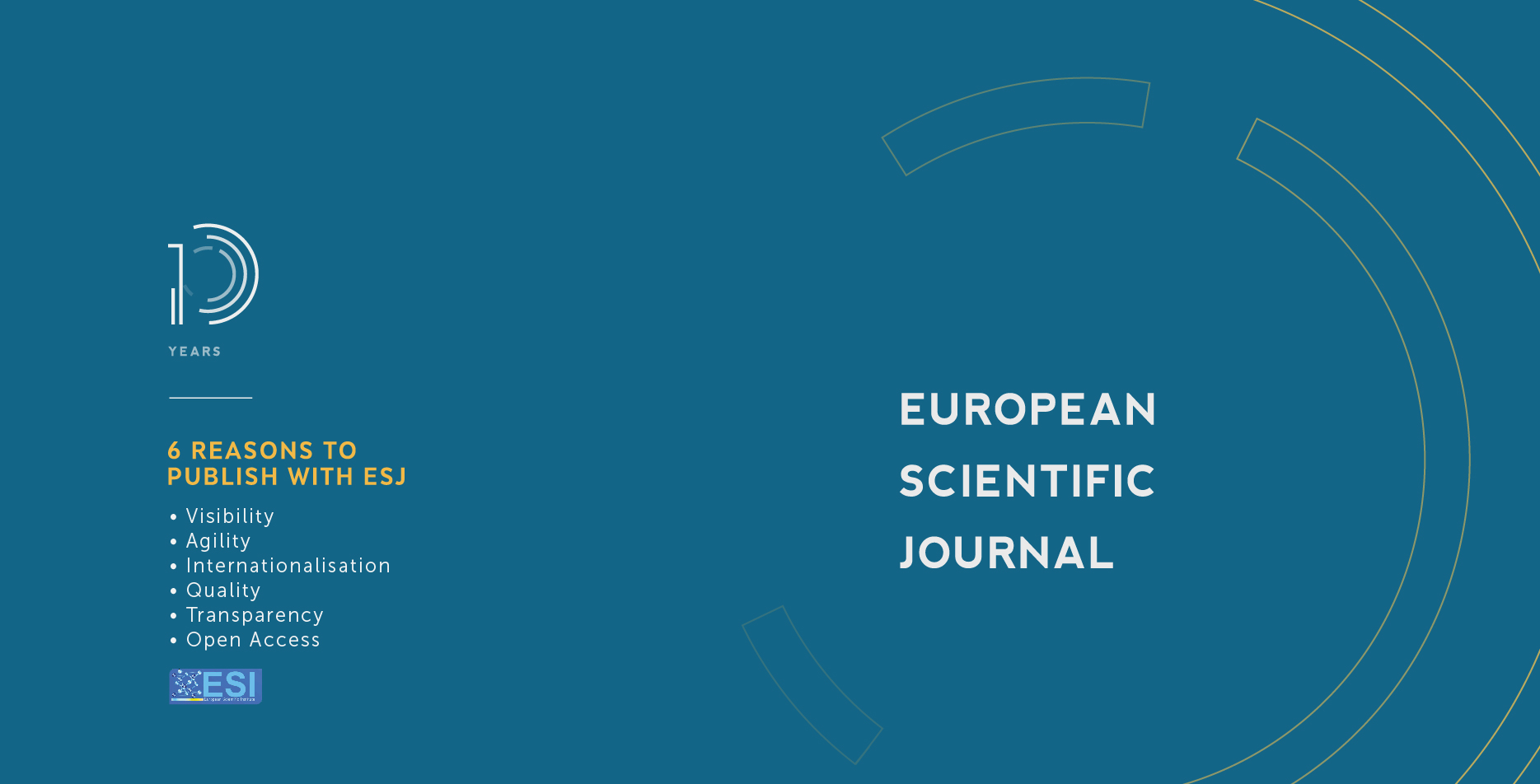 How to Cite
Ouserigha, C. E., & Benjamin, A. K. (2022). The Effect of B, Al, N, and P Impurities on the Electronic Structure of Si0.3Sn0.7Ge alloy: A First-Principles Approach. European Scientific Journal, ESJ, 18(3), 186. https://doi.org/10.19044/esj.2022.v18n3p186
Section
ESJ Natural/Life/Medical Sciences
Copyright (c) 2022 Collins E. Ouserigha, Ayibapreye K. Benjamin
This work is licensed under a Creative Commons Attribution-NonCommercial-NoDerivatives 4.0 International License.