The Impact of Dental Hypersensitivity on the Patients Quality of Life. A Questionnaire-Based study
Alexandra Mihaela Stoica

Department of Odontology and Oral Pathology, Faculty of Dental Medicine, University of Medicine, Pharmacy Science and Technology, George Emil Palade, Tirgu Mures, Romania

Monica Monea

Department of Odontology and Oral Pathology, Faculty of Dental Medicine, University of Medicine, Pharmacy Science and Technology, George Emil Palade, Tirgu Mures, Romania

Timea Dako

Department of Odontology and Oral Pathology, Faculty of Dental Medicine, University of Medicine, Pharmacy Science and Technology, George Emil Palade, Tirgu Mures, Romania

Oana Elena Stoica

Department of Pedodontics, Faculty of Dental Medicine, University of Medicine, Pharmacy Science and Technology, George Emil Palade, Tirgu Mures, Romania

Liana Beresescu

Department of Preventive and Community Dentistry, Faculty of Dental Medicine, University of Medicine, Pharmacy Science and Technology, George Emil Palade, Tirgu Mures, Romania
Keywords:
Hypersensitivity, hyperestesia
Abstract
Introduction: Dentinal hypersensitivity is a pathological condition with an increased incidence among patients of various ages, affecting their well-being and with a common response for a wide range of treatment strategies.
The study aimed to assess the impact of teeth hypersensitivity on the quality of life, daily activities, and on the emotional status of the patients affected by it.
Method: We conducted an anonymous survey on a group of 200 patients with ages 20 and 65 years old, using a questionnaire that included 23 questions. The results were collected and statistically analyzed using the chi-square test.
Results: Out of all the patients who answered our questionnaires, 51 percent have ages between 20-25 years, 26 percent between 26-35 years, 12 percent between 36-45 years, respectively 11 percent represent patients older than 46 years. 81 percent of patients are female, and 19 percent are male. In 65 percent, the onset of dental hypersensitivity sensations is caused by the consumption of ice cream,  affecting the patients' lifestyle negatively. According to the study, 36 percent of patients give up on certain foods/drinks that led to the appearance of dentinal hypersensitivity sensations. Forty-one correspondents felt compelled to give up consuming cold food, and carbonated and sour drinks.
Conclusions: Dentin hypersensitivity is represented by the appearance of an uncomfortable sensation due to dentin being exposed to the exterior environment, a sensation that can range from mild irritation to severe pain and can reduce the quality of mastication and oral hygiene.
Downloads
Download data is not yet available.
References
1. Buruian, M., Monea, M., Stoica, A.M. Cone beam computed tomography study among dental residents based on a questionnaire, European Scientific Journal, December 2016 edition 12:32-38.
2. Habelitz, S., Lacruz, R.S., Paine, M.L. Dental enamel formation and implications for oral health and disease, Physiological Reviews, 2017 July 1;97(3):939-993.
3. Heymann, H.O., Roberson, T., Swift, Jr E.J. Sturdevant's art and science of operative dentistry, Ed. Sixth, Canada, Mosby: 2006; 6-10.
4. Dabiri, D.M. Harper, D.E., Kapila, Y., Kruger, G.H,. Applications of sensory and physiological measurement in oral-facial dental pain, Special Care in Dentistry 38:6, 2018, 395-404.
5. Holland, R. & Torabinejad, M. La biologie de la pulpe dentaire et des tissus périradiculaires. Endodontie, 2016, 1-21.
6. Grippo, J.O., Simring M., & Schreiner S. Attrition, abrasion, corrosion and abfraction revisited: a new perspective on tooth surface lesions, Journal of the American Dental Association, 2004, 135(8):1109–18 quiz 63-65.
7. Lussi, A. & Schaffner M. Progression of and risk factors for dental erosion and wedge-shaped defects over a 6-year period, Caries Research Journal, 2000, 34(2):182–187.
8. Lussi, A, Seong, J., & Hellwig, E. West, N. X., Dentin hypersensitivity: pain mechanisms and aetiology of exposed cervical dentin, Clinical Oral Investigation, 2013, 17(Suppl 1):9–19.
9. Clerehugh, V. Tugnait, A. Gingival recession- it's significance and management, Journal of Dentistry, 2001, 29(6):381–394.
10. Kim, Y., Lee, K. Lee, B.M, Park, C., Ion Channels Involved in Tooth Pain, International Journal of Molecular Sciences, 2019, 20-28.
11. Kathariya, R. Dental hypersensitivity: A common cold in dentistry, Journal of Dental Research and Review, 2016, 3:49-50.
12. Markowitz, K., Pashley, D.H. Discovering new treatments for sensitive teeth: the long path from biology, Journal of Oral Rehabilitation, 2008; 35: 300-315;
13. Managing, F. Strassler, H.E, & Serio. Dentin hypersensitivity, Inside Dentistry, 2008;4(7):730-738.
14. Attrill, D., Brunton, P., Chesters, R., Gillam, D., Slater, M., Dentine hypersensitivity guidelines for the management of a common oral health problem, Dental Update, 2013, 40: 514-524.
15. Galvão, A.D.M., Souza, P.G., Teixeira, D.N.R, Zeola, L.F. Soares PV. Brazilian dentists' perception of dentin hypersensitivity management, Brazilian Oral Research, 2020, Jan 10-33.
16. Almas, K., Izhar, F., Majeed, A, Nazir, M.A. A Study of Dentists about Their Knowledge and Practice of Dentine Hypersensitivity. European Journal of Dentistry 2019 Oct;13(4):540-546.
17. Betsani, I., Chatzopoulou, D., Exarchou C., Sakellari D. A survey of dentists in the management of dentine hypersensitivity: A Questionnaire-based Study, European Journal of Dentistry, 2019, 383-390.
18. Meyerowitz, C., Kopycka-Kedzierawski D.T. Management of dentin hypersensitivity by practitioners in The National Dental Practice-Based Research Network, Journal American of Dental Association, 2017, Oct.148:728-736.
19. Gupta, S., Sood, S., & Jain, A. Evaluation of dentine hypersensitivity in adult population with chronic periodontitis visiting dental hospital in Chandigarh, Indian Journal of Dental Research, 2016, May-Jun.27(3):249-255.
20. Blaizot, A., Offner, D., Trohel, G. et al - Prevalence of sensitive teeth and associated factors: a multicentre, cross-sectional questionnaire survey in France, BMC Oral Health,2020, 234-250.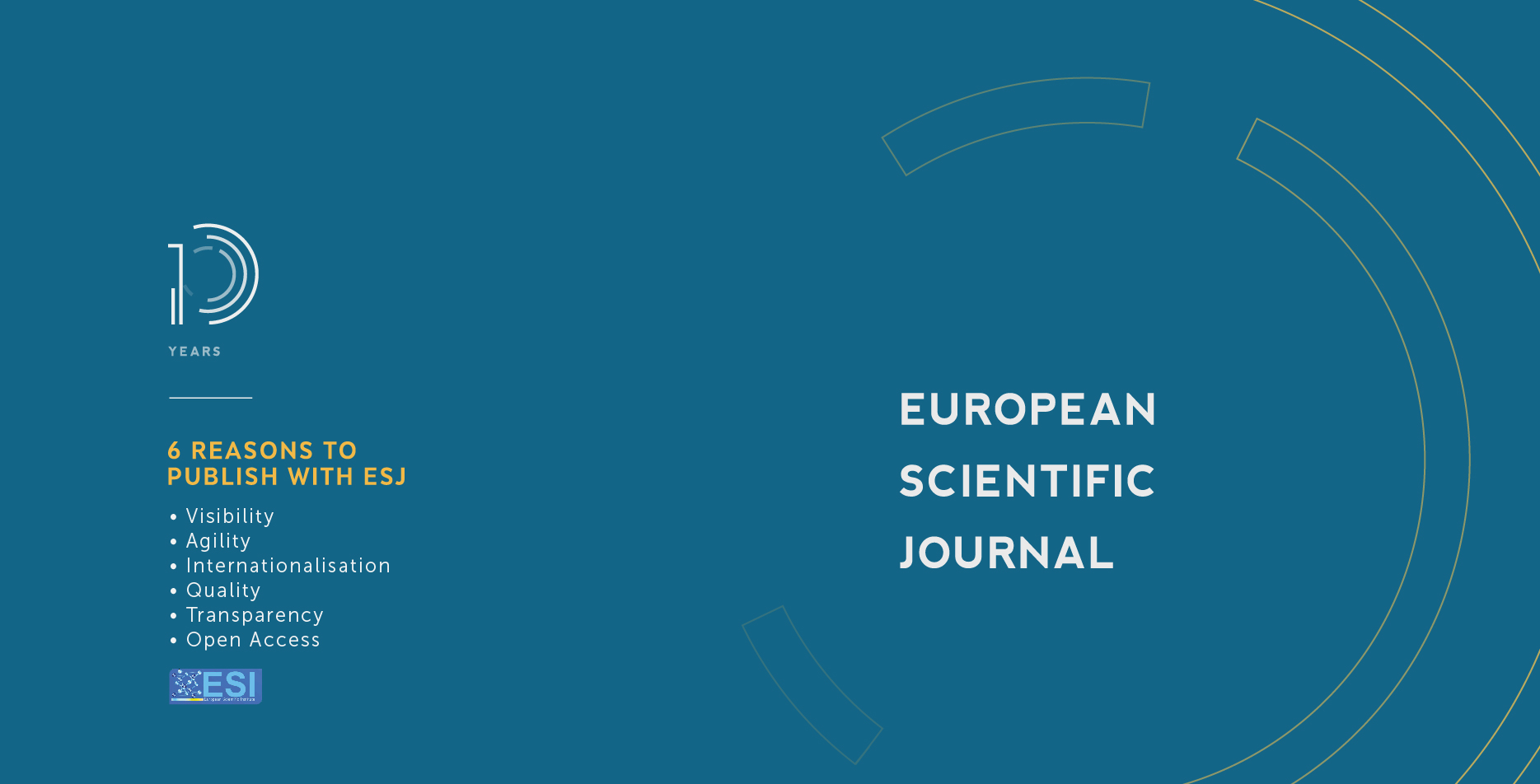 How to Cite
Mihaela Stoica, A., Monea, M., Dako, T., Elena Stoica, O., & Beresescu, L. (2022). The Impact of Dental Hypersensitivity on the Patients Quality of Life. A Questionnaire-Based study. European Scientific Journal, ESJ, 18(14), 131. https://doi.org/10.19044/esj.2022.v18n14p131
Section
ESJ Natural/Life/Medical Sciences
Copyright (c) 2022 Alexandra Mihaela Stoica, Monica Monea, Timea Dako, Oana Elena Stoica, Liana Beresescu
This work is licensed under a Creative Commons Attribution-NonCommercial-NoDerivatives 4.0 International License.