Bilan D'activités De 10 Ans De Pratique D'endoscopie Urologique Au Niger : Résultats, Défis Et Perspectives
Halidou, M.

Service de néphrologie de l'Hôpital National de Zinder, Niger

Kodo A

Service de néphrologie de l'Hôpital National de Zinder, Niger

Diongolé, H

Service de néphrologie de l'Hôpital National de Zinder, Niger Faculté des sciences de la santé, Université de Zinder, Niger

Zakou, A.R.H

Service d'urologie, Hôpital National de Zinder/Niger

Adamou, H

Service de chirurgie générale B, Hôpital National de Zinder Faculté des sciences de la santé, Université de Zinder, Niger

Doucthi, M

Service des maladies infectieuses, Hôpital National de Zinder

Amadou S.

Service d'urologie, Hôpital National Lamordé/Niger Faculté des sciences de la santé, Université de Zinder, Niger
Keywords:
Endoscopy, bladder cancer, hematuria, Bilharziosis, cystoscopy
Abstract
But: Rapporter les résultats de la pratique d'endoscopie urologique au Niger, recenser les défis et annoncer les perspectives.
Matériels et Méthodes : Il s'agit d'une étude descriptive rétrospective allant du 1er janvier 2010 au 31 décembre 2019 portant sur les dossiers des patients ayant bénéficié de procédures endoscopiques urologiques. L'étude s'est déroulée sur quatre sites du pays qui disposaient de matériel endoscopique urologique. Les paramètres sont : les caractéristiques sociodémographiques des patients, le type de procédure endoscopique, les indications, les résultats.
Résultat: Au total 5806 gestes chirurgicaux dont 535 procédures endoscopiques ont été réalisés sur la période d'étude. Treize (13) dossiers incomplets ont été exclus. Les activités endoscopiques constituaient 9,21% de l'ensemble des activités chirurgicales. L'âge moyen des patients était de 49,60 ans avec un écart type de 18,15 et la tranche d'âge [41-60 ans] était la plus représentée avec 36,21%. Le sexe ratio était de 2,4 en faveur de l'homme. L'endoscopie était diagnostique dans 90,04%. L'urétrocystoscopie était la procédure la plus pratiquée (88,70%) suivie de l'urétrotomie interne endoscopique (UIE) (4,21%). La résection trans urétrale de la prostate (RTUP) et la résection trans urétrale de la vessie (RTUV) représentaient respectivement 0,96% et 1,34%. Les principales indications de l'urétrocystoscopie étaient l'hématurie avec 245 cas soit 52,91% suivie des SBAU avec 113 cas soit 24,40%. Les résultats de l'urétrocystoscopie étaient dominés par les tumeurs de vessie (31,10%) ; l'hypertrophie prostatique (17,71 %).
Conclusion : L'urétrocystoscopie domine la pratique de l'endoscopie au Niger. Le véritable problème demeure le manque de matériels d'où la nécessité d'équiper les différents services d'urologie du pays.
Aim: To report the results of the practice of urological endoscopy in Niger, identify the challenges, and to announce the prospects.
Materials and Methods: This is a retrospective descriptive study from January 1, 2010 to December 31, 2019 on the records of patients who underwent urological endoscopic procedure. The study took place at four sites across the country that had urologic endoscopic equipment. The parameters studied were: the sociodemographic characteristics of the patients, the type of endoscopic procedure, the indications, and the results.
Results: A total of 5,806 surgical procedures, including 535 endoscopic procedures, were performed over the study period. Thirteen (13) incomplete files were excluded. Endoscopic activities constituted 9.21% of all surgical activities. The mean age of the patients was 49.60 years with a standard deviation of 18.15 and the age group [41-60 years] was the most represented with 36.21%. The sex ratio was 2.4 in favor of the male. Endoscopy was diagnostic in 90.04%. Urethrocystoscopy was the most frequently performed procedure (88.70%) followed by endoscopic internal urethrotomy (EIU) (4.21%). Transurethral resection of the prostate TURP and transurethral resection of the bladder (TURB) accounted for 0.96% and 1.34%, respectively. The main indications for urethrocystoscopy were hematuria with 245 cases (52.91%), followed by lower urinary tract symptoms (LUTS)
with 113 cases (24.40%). Urethrocystoscopy findings were dominated by bladder tumors (31.10%) and prostatic hypertrophy (17.71%).
Conclusion: Urethrocystoscopy dominates the practice of endoscopy in Niger. The real problem remains the lack of materials. Hence, there is the need to equip the various urology services in the country.
Downloads
Download data is not yet available.
References
1. Ahossi, NB. (2019). Connaissances de la Bilharziose Urinaire en Milieu Rural Ivoirien: Etude de Cas à Bamoro et N'guessan-Pokoukro (District Sanitaire de Bouaké). ESJ, 15 : 113-127.
2. Alpha, SY., Michel, EC., Yaya, C., Bernard, S., & Sekou, FT. (2021). Efficacité d'une prise unique de Praziquantel pour le traitement de la bilharziose urinaire en zones endémiques chez les enfants d'âge scolaire au Mali. ESJ, 17: 162-179.
3. Benjelloun, M., Drissi, M., Makhloufi, M., Nouri, A., Karmouni, T., & Tazi, K. (2008). Traitement des sténoses de l'urètre par urétrotomie interne endoscopique: résultats anatomiques et fonctionnels d'une série de 244 cas.Afr J Urol, 14 : 114-19.
4. Delongchamps, NB., Robert, G., Descazeaud, A., Cornu, JN., & Azzouzi, AR. (2012). Traitement de l'hyperplasie bénigne de prostate par techniques endoscopiques électriques et adénomec¬tomie voie haute : Revue de littérature du CTMH de l'AFU. Prog. Urol, 22 : 73-79.
5. Diakité, ML., Berthé, HJG., Diallo, M., Kambou, D., Diakité, A., Sangaré, D., &Tembely, A. (2016). La résection endoscopique bipolaire. Expérience du service d'urologie du CHU Point G. Uro' Andro, 1: 264-268.
6. Diao, B., Amath, T., Fall, B., Fall, PA., Dieme, MJ., & Steevy, NN. (2008). Les cancers de vessie au Sénégal: particularités épidémiologiques, cliniques, et histologiques. Prog Urol, 18: 445-8.
7. Chandra, SB., Jaimin, B., Joby, T., Aberra, AG., John, McG., & Ruaraidh, MacD (2014). Introducing endourology to a developing country: how to make it sustainable. Journal of Clinical Urology, 7 : 202-7
8. Eziyi, AK., Eziyi, JAE., Salako, AA., & Aderounmu, AOA. (2010). Early experience with endourology at Ladoke Akintola University of Technology Teaching Hospital, Osogbo. Niger J Clin Pract, 13:1-8
9. Doizi, S., Raynal, G., & Traxer, O. (2015). Évolution du traitement chirurgical de la lithiase urinaire sur 30 ans dans un centre hospitalo-universitaire . Prog. Urol, 25 : 543-548.
10. Halidou, M., Adamou, H., Diongolé, H., Amadou, M., Amadou, MI. (2015). Prise en charge chirurgicale de l'hypertrophie bénigne de la prostate: à propos de 123 patients colligés à l'Hôpital National de Zinder.Annales de l'Université Abdou Moumouni, Tome XIX-A : 149-56.
11. Jalloh, M., Niang, L., Andjanga-Rapono, YE., Ndoye, M., Labou, I., & Gueye, SM. (2016). Urétrocystoscopie ambulatoire au service d'Urologie/Andrologie de l'Hôpital Général Grand Yoff de Dakar. Afr J Urol, 22: 115-20.
12. Kambou, T., Zango, B., Ekoue, F., Traoré, AC., Bonkoungou, B., Ouattara, T., & Sano, D. (2006). Traitement chirurgical de l'hypertrophie bénigne de la prostate au C.H.U. Sanou Souro de Bobo-Dioulasso (Burkina Faso) : Résultats à court et moyen terme - A propos de 190 cas. Méd. Afr. Noire, 53 : 605-12.
13. Klotz, F. (2003). L'endoscopie dans les pays en voie de développement. Acta Endoscopica, 33 : 756-757.
14. Lahlaidi, K., Ariane, MM., & Fontaine, E. (2014). Actualités sur la prise en charge de l'hyperplasie bénigne de la prostate. Quel adénome traiter et comment ? Rev Med Interne, 35:189-195.
15. Ndoye, AK., Ba, M., Fall, PA., Sylla, C., Gueye, SM., & Diagne, BA. (2000). Migration de dispositif intra utérin dans la vessie. Prog urol, 10 : 295-297
16. Ouattara, A., Avakoudjo, J., Hounnasso, PP., Yévi, DM., Cissé, D., & Hodonou, DF. (2015). Apport de la cystoscopie rigide dans le diagnostic des anomalies et pathologies du bas appareil urinaire. Méd.Afr .Noire, 62 : 305-10
17. Salako, AA., Badmus, TA., Sowande, OA., Adeyemi, BA., Nasir, AA., & Adejuyigbe, O. (2005). Endourology in a Nigerian Tertiary Hospital current level of practice and challenges Nigerian Journal of Research, 3-4 : 268-270.
18. Spatafora, S., Casarico, A., Fandella, A., Galetti, C., Hurle, R., Mazzini, E., et al. (2012). Evidence-based guidelines for the treatment of lower urinary tract symptoms related to uncomplicated benign prostatic hyperplasia in Italy: updated summary fromAURO.it. Ther Adv Urol; 4:279-301.
19. Takure, AO., Shittu, OB., Adebayo, SA., Olaopa, EO., & Okeke, LI. (2012). Day case endourology in surgical outpatient clinic at Ibadan: A 5 years review. Afr J Urol, 18:112-7.
20. Zango, B., Kambou, T., & Sanou, A. (2002). La résection transurétrale de la prostate à l'Hôpital Sanou Souro à propos de 68 cas. Afr J Urol, 8 :1-5.
21. Zango, B., Kambou, T., & Sanou, A. (2003). Urétrotomie interne endoscopique pour rétrécissement urétral acquis à l'Hôpital de Bobo-Dioulasso : faisabilité de la technique dans les conditions précaires et résultats à court terme. Bull Soc Pathol Exot, 96: 92-5.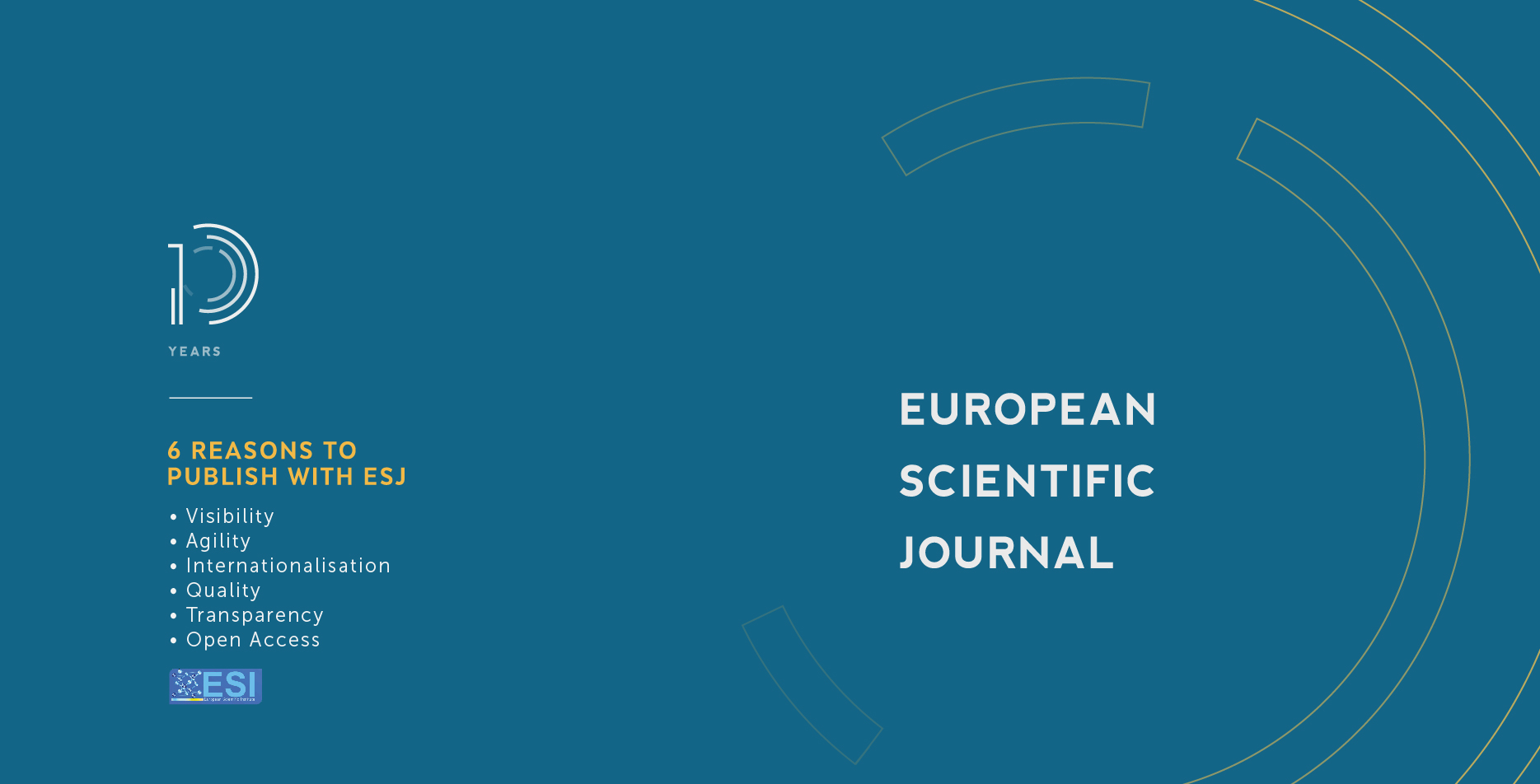 How to Cite
M., H., A, K., H, D., A.R.H, Z., H, A., M, D., & S., A. (2022). Bilan D'activités De 10 Ans De Pratique D'endoscopie Urologique Au Niger : Résultats, Défis Et Perspectives . European Scientific Journal, ESJ, 18(14), 228. https://doi.org/10.19044/esj.2022.v18n14p228
Section
ESJ Natural/Life/Medical Sciences
Copyright (c) 2022 Halidou, M., Kodo A, Diongolé, H, Zakou, A.R.H, Adamou, H, Doucthi, M, Amadou S.
This work is licensed under a Creative Commons Attribution-NonCommercial-NoDerivatives 4.0 International License.