Analyse des pratiques de production et qualité des poissons fumés commercialisés au sud-Bénin
Brito Thibautéon Arron Sonangnon

Aboudou Kowiou

Alidou Chérif

Unité de Recherche en Génie Enzymatique et Alimentaire (URGEA), Laboratoire d´Étude et de Recherche en Chimie Appliquée (LERCA), Département de Génie de Technologie Alimentaire, École Polytechnique d´Abomey-Calavi (EPAC), Université d´Abomey-Calavi (UAC), 01 BP 2009 Cotonou, Bénin

Goudjinou Codjo

Unité de Recherche en Génie Enzymatique et Alimentaire (URGEA), Laboratoire d´Étude et de Recherche en Chimie Appliquée (LERCA), Département de Génie de Technologie Alimentaire, École Polytechnique d´Abomey-Calavi (EPAC), Université d´Abomey-Calavi (UAC), 01 BP 2009 Cotonou, Bénin

Soumanou M. Mohamed

Unité de Recherche en Génie Enzymatique et Alimentaire (URGEA), Laboratoire d´Étude et de Recherche en Chimie Appliquée (LERCA), Département de Génie de Technologie Alimentaire, École Polytechnique d´Abomey-Calavi (EPAC), Université d´Abomey-Calavi (UAC), 01 BP 2009 Cotonou, Bénin
Keywords:
Smoking practices, Scromber scrombrus, Clarias ariepinus, Oreochromis aureus
Abstract
   Cette étude vise à analyser les pratiques de production et évaluer la qualité des poissons fumés commercialisés au Sud-Bénin. A cet effet, une enquête a été réalisée auprès de trente (30) transformatrices spécialisées dans le fumage du poisson. Les données relatives aux espèces de poissons fumés, aux procédés et équipements de fumage puis aux contraintes des transformatrices de poisson ont été collectées sur cinq (05) sites de fumage préalablement identifiés (Calavi Kpota, Xwlacodji, Bohicon, Dangbo et Comé) à raison de six (06) transformatrices par site. Les qualités physicochimiques et microbiologiques de 60 échantillons constitués de quatre (04) espèces de poissons (Clarias, Tilapias, Maquereaux et Chinchards) les plus fumées et collectées de façon aléatoire ont été évaluées suivant des méthodes standards. Les résultats obtenus ont montré que les  Clarias et Tilapias puis les  Maquereaux et Chinchards sont respectivement les deux espèces de poissons locaux et importés  les plus fumées dans la zone d'étude selon 65% des productrices. L'étude a permis de répertorier quatre technologies de fumage de poisson au Sud du Bénin : la technologie artisanale TA1  la plus pratiquée (100 % des transformatrices) suivie de la technologie TA2 (3,33%) puis les technologies semi-améliorées TSA1 (16,66%) et TSA2 (6,66%). Les technologies artisanales TA1 et TA2 sont essentiellement basées sur l'utilisation des foyers en tonneau métallique (100 %), en terre cuite et barrique (76,66%) et des foyers Nansou (3,33 %) tandis que les semi-améliorées TSA1 et TSA2 utilisent respectivement les fours FTT-Thiaroye et QualiSani avec du charbon comme combustible. L'analyse de la qualité physicochimique a révélé une variabilité entre les pH (6,24 à 7,4), les teneurs en eau (24,2 à 54,34 %), en protéines (38,64 à 53,68 %) et en lipides (2,38 à 16,63 %) des poissons fumés. Les indices de peroxyde des différentes huiles (11,63 à 23,85 meq O2/kg) indiquent un début d'altération dans les poissons fumés collectés. Les résultats microbiologiques ont montré la présence, des Germes Aérobies Mésophiles Totales (GAMT) (2,2 à 7,2 105 UFC/g), des Coliformes totaux (1,5 à 4,2 103 UFC/g), des Coliformes fécaux (<1 à 8,2101 UFC/g)  et des Escherichia coli (2,8 à 8,2 UFC/g) pour la majorité des échantillons et présentent des valeurs non conformes à la norme exceptés les salmonelles qui sont absents. La nécessité d'améliorer les différentes pratiques s'avère donc nécessaire en vue d'obtenir les produits finis de qualité.
This study aims to analyze production practices and assess the quality of smoked fish marketed in southern Benin. To this end, a survey was conducted among thirty (30) processors specializing in the smoking of fish. Data relating to the species of smoked fish, the smoking processes and equipment and then the constraints of the fish processors were collected on five (05) previously identified smoking sites (Calavi Kpota, Xwlacodji, Bohicon, Dangbo and Comé) at a rate of six (06) transformers per site. The physicochemical and microbiological qualities of 60 samples made up of four (04) species of fish (Clarias, Tilapias, Mackerel and Horse mackerel) the most smoked and collected at random were evaluated using standard methods. The results obtained showed that Clarias and Tilapias then Mackerel and Horse mackerel are respectively the two most smoked local and imported fish species in the study area according to 65% of the producers. The study made it possible to identify four fish smoking technologies in southern Benin: the most widely practiced artisanal TA1 technology (100% of women processors) followed by TA2 technology (3.33%) then the semi-improved TSA1 technologies ( 16.66%) and TSA2 (6.66%). The TA1 and TA2 artisanal technologies are essentially based on the use of metal barrel stoves (100%), terracotta and barrel (76.66%) and Nansou stoves (3.33%) while the semi-improved TSA1 and TSA2 respectively use the FTT-Thiaroye and QualiSani ovens with coal as fuel. The analysis of the physicochemical quality revealed a variability between the pH (6.24 to 7.4), the water content (24.2 to 54.34%), protein (38.64 to 53.68% ) and lipids (2.38 to 16.63%) of smoked fish. The peroxide indices of the different oils (11.63 to 23.85 meq O2/kg) indicate the onset of spoilage in smoked fish. The microbiological results showed the presence of Total Mesophilic Aerobic Germs (GAMT) (2.2 to 7.2 105 CFU/g), Total Coliforms (1.5 to 4.2 103 CFU/g), Faecal Coliforms (<1 to 8.2101 CFU/g) and Escherichia coli (2.8 to 8.2 CFU/g) for the majority of the samples and show values that do not comply with the standard except salmonella which are absent. The need to improve the various practices is therefore necessary in order to obtain quality finished products.
Downloads
Download data is not yet available.
References
1. Adjou, E.S., Kouton, S., Dahouenon-Ahoussi, E., Soumanou, M.M & Sohounhloue, D.C.K. (2013). Effect of Essential Oil from fresh Leaves of Ocimum gratissimum L. on Mycoflora during Storage of Peanut in Benin. Mycotoxin Research, 29: 29-38.
2. AFNOR (1996). Analyse microbiologique. T2 : contrôle de la qualité des produits alimentaires.- Paris : AFNOR édition, 545p.
3. Akakpo, A., Edikou, S., Diantom, A. & Osseyi, E. (2020). Diagnostique des pratiques de fumage de la viande de Poulet (gallus gallus) dans la ville de Lome au Togo, Afr. J. Food Agric. Nutr. Dev. 2020; 20(6): 16738-16760 https://doi.org/10.18697/ajfand.94.19230
4. Anihouvi, V.B, Hounhouigan, J.D. & Ayernor, G.S. (2006). Quality characteristics of Lanhouin: a traditionally processed fermented fish product in the republic of Benin. African Journal of Food Agriculture Nutrition and Development, 6(1) : 1-15.
5. ANSES. 2015. Définition des denrées périssables et très périssables. Avis de l'Anses, saisine n° 2014-SA-0061.https://www.a.fr/fr/system/files/BIORISK2014sa00 61.pdf.
6. AOAC. (1995). Official methods of Analysis of the Association of Official Analytical Chemists Chemists International, (16th edn). AOAC International Arlington, VA, 250p.
7. Aremu, M.O., Majabi, G.O., Oko O.J., Opaluwa, O.D., Gav, .BL. &Osinfade, B.G. (2014). Physicochemical analysis of different sources of drinking water in Okene Local Government Area of Kogi State, Nigeria. Journal of Civil and Environmental Research, 6(5) :143-150.
8. Assogba, M. H. M., Ahounou, S. G., Bonou, G. A., Salifou, C. F. A., Dahouda, M., Chikou, A., Farougou, S. & Youssao abdou karim I. (2018). Qualité de la Chair des Poissons : Facteurs de Variations et Impacts des Procédés de Transformation et de Conservation, International Journal of Progressive Sciences and Technologies (IJPSAT), Vol. 10 No. 2 pp. 333-358, http://ijpsat.ijsht-journals.org
9. Assogba, M.H.M., Salifou, C.F.A., Tobada, P., Aboudou, A.K., Bakary, A.B., Dahouda, M., Chikou, A., Farougou, S. & Karim, I.Y.A. (2020). Impact of break in cold chain on the technological and organoleptic qualities of Atlantic Mackerel (Scomber scombrus) and Horse Mackerel (Trachurus trachurus) in South Benin. Journal of Microbiology Biotechnology and Food Sciences, 9 (5) : 1242–1248.
10. Ayoubi, H.E. & Failler, P. (2013). Industrie des pêches et de l'aquaculture au Bénin. Rapport n°5 de la revue de l'industrie des pêches et de l'aquaculture dans la zone de la COMHAFAT, 19p.
11. Chabi, N.W., Konfo, C.T.R., Emonde, P.D.M., Capo-Chichi, M.T. and Chabi Sika, K.J.K., Alamou, Y., Keke, M., Dahouenon-Ahoussi, E. & Baba-Moussa, L.S. (2014). Performance d'un dispositif amélioré de fumage (four Chorkor) sur la qualité du poisson fumé dans la commune d'Aplahoué (Sud-est du Bénin) ; International Journal of Innovation and Applied Studies, 9 :1383-1391.
12. Degnon, R.G., Agossou, V., Adjou, E.S, Dahouenon-Ahoussi, E., Soumanou, M.M. & Sohounhloue, D.C.K. (2013). Évaluation de la qualité microbiologique du chinchard (Trachurus trachurus) au cours du processus de fumage ; Journal of Applied Biosciences 67 : 5210- 5218.
13. Depo, A.A., Dossou, J. & Anihouvi, V. (2019). Itinéraire technique et évaluation de la qualité des poissons-chats (Clarias gariepinus) fumés et commercialisés au Bénin. Sciences de la vie de la terre et agronomie, 7 : 29-34.
14. Djessouho, D.O.C. (2015). Analyse socio-économique du fumage du poisson de la pêche artisanale maritime sur le littoral du Bénin. Mémoire de fin d'étude en Master de l'Institut Supérieur des Sciences agronomiques, agroalimentaires, horticoles et du paysage, Agro Campus Ouest (Renne), 56p.
15. Djinou, H.P.A.B. (2001). Etude de la qualité microbiologique du poisson fumé artisanalement en Côte d'Ivoire et destiné à l'exportation. Thèse en Médecine Vétérinaire de l'Ecole Inter Etats des Sciences de l'Université Cheikh Anta Diop de Dakar, 231p.
16. Ekomy, A.S, Bruneau, D, Mbega, D.J & Aregba, W. (2013). Nouveau concept de séchage et de fumage artisanal des aliments : application en milieu de pêche artisanale au Gabon. Afrique SCIENCE, 09 (3) : 45-55.
17. FAO. (2016). La situation mondiale des pêches et de l'aquaculture. Contribuer à la sécurité alimentaire et à la nutrition de tous. Rome, 224 p.
18. FIDA. (2019). L'avantage de la pêche et de l'aquaculture Faire progresser la sécurité alimentaire, la nutrition, les revenus et l'autonomisation. Fonds international de développement agricole. Rome, 48p.
19. Joffin, C. & Joffin, J.N. (2003). Microbiologie alimentaire. Biologie et Technique, 5è édition, CRDP Aquitaine, 212p.
20. Goueu, B. (2006). Contribution à l'étude de l'évolution de la qualité microbiologique du poisson fumé en Côte d'Ivoire et destiné à l'exportation. Thèse de doctorat en Médecine Vétérinaire de l'Ecole Inter Etats des Sciences de l'Université Cheikh Anta Diop de Dakar, pp. 55 - 127.
21. Guy, E. E. & Mongbo L.R. (2020). Dynamique demographique, Nutrition Et Alimentation dans La Commune De Karimama Au Benin. European Scientific Journal September edition, 16 (27): 331-353
22. Hissein, O.A., Tapsoba, F., Guira, F., Zongo, C., Abakar, L.I & Tidjani, A. (2018). Technologies, qualité et importance socioéconomique du poisson séché, Afrique Revue des Sciences et de la Technologie Synthèse, 37: 49-63.
23. Huss, H.H., Reilly, A. & Embarek, B.P.K. (2000). Prevention and control of hazards in seafood. Food Control, 11 (2) : 149-156.
24. Knockaert, F. (1994).« Le fumage par atomisation ». Rapport Ifremer Avril
25. Latifou, A. B, Toko, I.I, Elegbe, H.A, Pelebe, R.O.E, Tougan, P.U, Boni, A.R, Ahyi, V, Hossou, E.S, Vissiennon, Z. & Chikou, A. (2020). Les Produits Halieutiques au Bénin : Sources d'Approvisionnement et Statistiques. International Journal of Progressive Sciences and Technologies 21 (1) :152-167.
26. Lefèvre, F. & Bugeon. J. (2008).Déterminisme biologique de la qualité des poissons in 12ème Sciences du Muscle et Technologies des Viandes. p. 139-146.
27. MAEP. (2017). Plan Stratégique de Développement du Secteur Agricole (PSDSA) 2025 et Plan National d'Investissements Agricoles et de Sécurité Alimentaire et Nutritionnelle PNIASAN 2017 -2021, 131p.
28. Ndiaye, O., Sodoke, B., & Diei-Ouadi, Y. (2014). La technique FAO-Thiaroye de transformation (FTT-Thiaroye). Rome, FAO. 67 p.
29. Oparaku, N.F. & Nwaka FC. (2013). Effect of processing on the nutritional qualities of three fish species (Synodontis clarias, Trachurus trecae and Clarias gariepinus). International Journal of Biology and Biological Sciences 2(10 ): p. 143149.
30. Oulaï, S.F., Koffi, R.A., Koussemon, M., Djè, M., Kakou, C. & Kamenan, A. (2007). Evaluation de la qualité microbiologique des poissons Etmalosa fimbriata et Sardinella aurita fumés traditionnellement. Microbiologie et Hygiène Alimentaire, 19(55) :37-42.
31. Raffray, G. (2014). Outils d'aide à la décision pour la conception de procédés agroalimentaires au Sud : application au procédé combiné de séchage, cuisson et fumage de produits carnés (Thèse de doctorat). Montpellier(France) http://www.theses.fr/2014NSAM0066. Accessed on October 23,
32. Rivier, M, Kebe, F & Goli, T. (2009). Fumage de poissons en Afrique de l'Ouest pour les marchés locaux et d'exportation, Rapport intermédiaire, AUF/CIRAD, 18p.
33. SALIFOU, C.F.A., AHOUNOU, S.G., KIKI, P.S., HOGBONOUTO, E.B., GADE, K.A.I & YOUSSAO, A.K.I. (2020). Caractérisation des techniques de fumage des poissons au sud, Journal International de la Recherche Scientifique, 1(2) : 41-47.
34. Šašinka, Č., Stachoň, Z., Čeněk, J., Šašinková, A., Popelka S. & Ugwitz, P. (2021). A comparison of the performance on extrinsic and intrinsic cartographic visualizations through correctness, response time and cognitive processing. PLoS ONE, 16(4):1-23.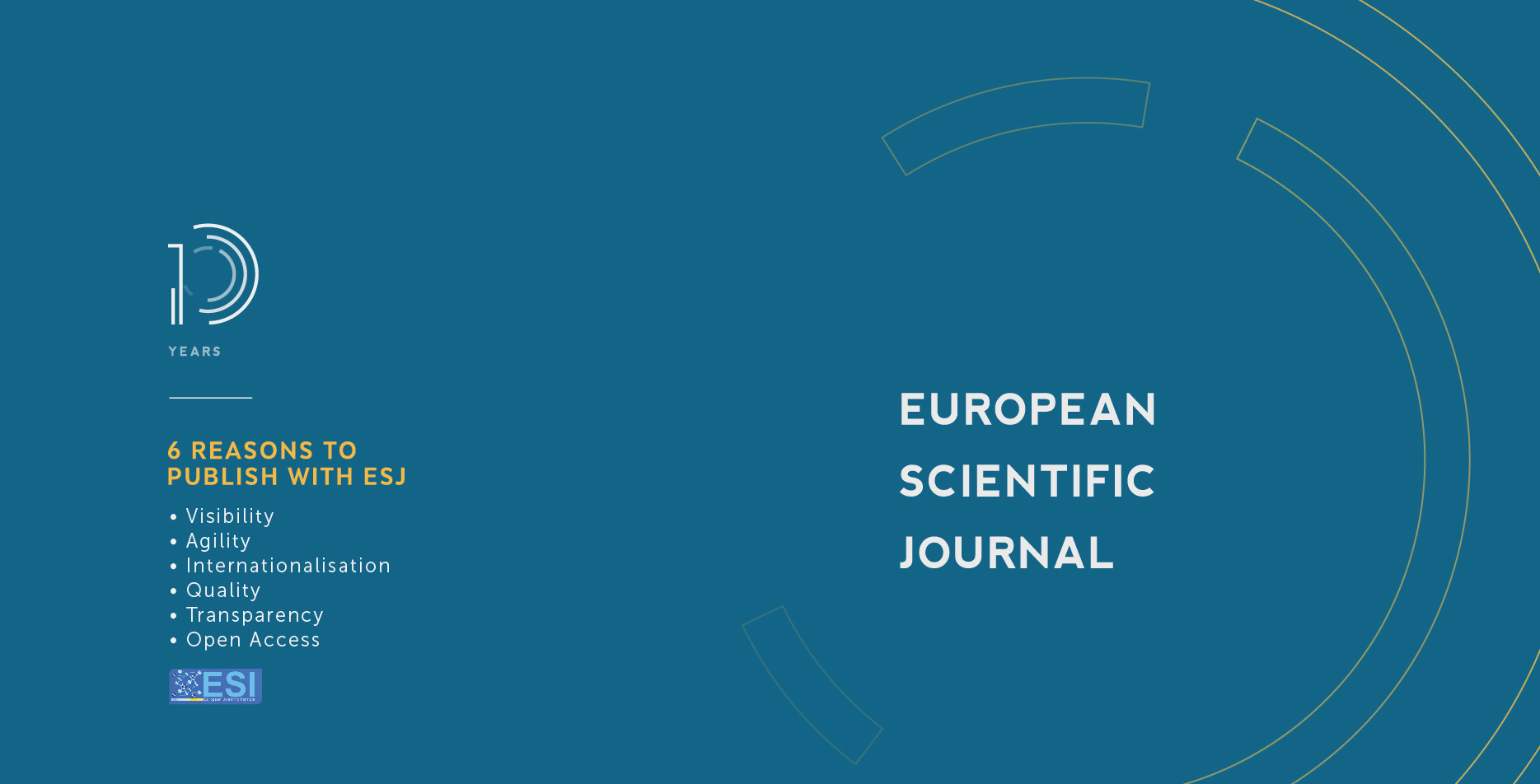 How to Cite
Arron Sonangnon, B. T., Kowiou, A., Chérif, A., Codjo, G., & M. Mohamed, S. (2022). Analyse des pratiques de production et qualité des poissons fumés commercialisés au sud-Bénin. European Scientific Journal, ESJ, 18(17), 154. https://doi.org/10.19044/esj.2022.v18n17p154
Section
ESJ Natural/Life/Medical Sciences
Copyright (c) 2022 Brito Thibautéon Arron Sonangnon, Aboudou Kowiou, Alidou Chérif, Goudjinou Codjo, Soumanou M. Mohamed
This work is licensed under a Creative Commons Attribution-NonCommercial-NoDerivatives 4.0 International License.