The Adoption of Artificial Intelligence in Newsrooms in Kenya: a Multi-case Study
Peter Mwangangi Kioko

Graduate Student, Graduate School of Media and Communications - Aga Khan University, Kenya. Senior Journalist Reporter at British Broadcasting Corporation (BBC) News

Nancy Booker

Associate Professor and Interim Dean, Graduate School of Media and Communications - Aga Khan University, Kenya

Njoki Chege

Director, Innovation Centre - Aga Khan University, Kenya

Paul Kimweli

Research Assistant Consultant, Graduate School of Media and Communications - Aga Khan University, Kenya
Keywords:
Artificial Intelligence, Robot Journalism, Investigative Journalism, Data Journalism, News Media, Technology, Machine Learning
Abstract
The deployment of Artificial Intelligence (AI) in newsrooms is gaining prominence worldwide, with the technology being used to enhance the processes of news gathering, packaging, and distribution. The study was guided by two research questions: what factors drive/hinder(s) the adoption of AI or lack of it in newsrooms in Kenya? Moreover, what opportunities do journalists feel are offered by adopting AI in newsrooms in Kenya? A qualitative research approach and descriptive research design were employed to investigate the adoption of AI in newsrooms in Kenya. British Broadcasting Corporation (BBC-Africa) and Radio Africa Group (RAG) media organizations were the target population. As a research strategy, a multi-case method was employed. The researchers conducted in-depth interviews with newsroom-based participants. A purposive sampling technique was used to select participants for the research. Collected data were analyzed thematically. The paper identified six factors driving the adoption of AI or lack of it: management buy-in, cost, technical skills, clarity of user case, perception, and company structure. Further, the study identified three challenges presented by adopting AI: lack of quality data, ethical concerns, and unpredictability of the technology's impact. The study concludes that AI offers excellent opportunities for newsrooms in Kenya to explore. Still, some obstacles need to be addressed before they can benefit fully from the technology. The study projects that human and automated journalism will become closely integrated in the future and recommends that newsrooms in Kenya prepare to embrace AI by laying the foundation for its adoption. Media schools should update curricula to prepare journalists to work with emerging technologies such as AI. Further research is needed to identify the specific skill sets required for Kenyan digital journalists to embrace AI fully. Scholars should investigate how AI can shape new business models given shrinking revenues in the media.
Downloads
Download data is not yet available.
PlumX Statistics
References
1. Akhtar, I. (2016). Research Design. Research in Social Science: Interdisciplinary Perspectives, 68–84. http://dx.doi.org/10.2139/ssrn.2862445
2. Anger, J. (2018). Time to step away from the "bright, shiny things"? Towards a sustainable model of journalism innovation in an era of perpetual change. http://digitaltransmedia.digitaltransformers.cat/wp-content/uploads/2018/12/Posetti_Towards_a_Sustainable_model_of_Journalism_FINAL.pdf
3. Babbie, E. R. (2016). The practice of social research (14th ed). Cengage Learning.
4. Belair-Gagnon, V., & Revers, M. (2018). 13. The Sociology of Journalism. In Journalism (pp. 257–280). https://doi.org/10.1515/9781501500084-013
5. Bruhn, M., Schoenmueller, V., & Schäfer, D. B. (2012). Are social media replacing traditional media in terms of brand equity creation? Management Research Review, 35(9), 770–790. https://doi.org/10.1108/01409171211255948
6. Carlson, M. (2015). The Robotic Reporter. Digital Journalism, 3(3), 416–431. https://doi.org/10.1080/21670811.2014.976412
7. Chege, N. (2022a, March 4). AI technology is the lifeblood of new media. Nation. https://nation.africa/kenya/blogs-opinion/opinion/ai-technology-the-lifeblood-of-new-media-3737200
8. Chege, N. (2022b, March 18). Attitude change key to AI buy-in in newsrooms. Nation. https://nation.africa/kenya/blogs-opinion/opinion/attitude-change-key-ai-buy-in-newsrooms-3753038
9. Creswell, J. W., & Poth, C. N. (2018). Qualitative inquiry & research design: Choosing among five approaches (4th ed). SAGE.
10. Daymon, C., & Holloway, I. (2010). Qualitative Research Methods in Public Relations and Marketing Communications (2nd ed.). Routledge. https://doi.org/10.4324/9780203846544
11. Dowd, C. (2020). The impacts of integrated media systems and social media in news. In Digital Journalism, Drones, and Automation (pp. 13–31). https://doi.org/10.1093/oso/9780190655860.003.0002
12. Dwivedi, Y. K., Ismagilova, E., Hughes, D. L., Carlson, J., Filieri, R., Jacobson, J., Jain, V., Karjaluoto, H., Kefi, H., Krishen, A. S., Kumar, V., Rahman, M. M., Raman, R., Rauschnabel, P. A., Rowley, J., Salo, J., Tran, G. A., & Wang, Y. (2021). Setting the future of digital and social media marketing research: Perspectives and research propositions. International Journal of Information Management, 59, 102168. https://doi.org/10.1016/j.ijinfomgt.2020.102168
13. Given, L. M. (2016). 100 Questions (and answers) about qualitative research. SAGE publications.
14. Guanah, J. S., Agbanu, V. N., & Obi, I. (2020). Artificial Intelligence and Journalism Practice in Nigeria: Perception of Journalists in Benin City, Edo State. In International Review of Humanities Studies, 5 (2), 698 – 715. https://doi.org/10.7454/irhs.v0i0.268
15. Hagendorff, T. (2020). The ethics of AI ethics: An evaluation of guidelines. Minds and Machines, 30(1), 99–120. https://doi.org/10.1007/s11023-020-09517-8
16. Hammond, M., & Wellington, J. (2012). Research Methods: The Key Concepts (1st ed.). Routledge. https://doi.org/10.4324/9780203097625
17. Harper, R. A. (2010). The social media revolution: Exploring the impact on journalism and news media organizations. Inquiries Journal, 2(03). http://www.inquiriesjournal.com/articles/202/the-social-media-revolution-exploring-the-impact-on-journalism-and-news-media-organizations
18. Jamil, S. (2021). Artificial Intelligence and Journalistic Practice: The Crossroads of Obstacles and Opportunities for the Pakistani Journalists. Journalism Practice, 15(10), 1400 -1422. https://doi.org/10.1080/17512786.2020.1788412
19. Jwan, J. O., & Ong'ondo, C. O. (2011). Qualitative Research: An Introduction to Principles and Techniques. Eldoret, Kenya: Moi University Press.
20. Kothari, A., & Cruikshank, S. A. (2022). Artificial Intelligence and Journalism: An Agenda for Journalism Research in Africa. African Journalism Studies, 43(1), 17 – 33. https://doi.org/10.1080/23743670.2021.1999840
21. Mabweazara, H. M., & Mare, A. (2021). Participatory journalism in the age of artificial intelligence, chatbots, algorithms and editorial analytics. In H. M. Mabweazara & A. Mare (Eds.), Participatory Journalism in Africa: Digital News Engagement and User Agency in the South (1st ed., pp. 65–83). https://doi.org/10.4324/9780429242908-4
22. Marconi, F. (2020). Newsmakers: Artificial Intelligence and the Future of Journalism. Columbia University Press. https://play.google.com/store/books/details?id=1MqWDwAAQBAJ
23. Media Council of Kenya. (2020). Status of the Media Survey, November 2020 Report. https://mediacouncil.or.ke/
24. Miguel Pedrero-Esteban, L., & Pérez-Escoda, A. (2021). Democracy and digitisation: Ethical Implications of AI in the Personalisation of Content through Voice Interfaces. Recerca, 26(2). http://search.ebscohost.com/login.aspx?direct=true&profile=ehost&scope=site&authtype=crawler&jrnl=11306149&AN=152785444&h=YKaqV7wSIzQFKQV%2BhdX3sHPyRwf8r1kXNgv3emr2oFJIznwNALZDY9ezZebEvExCBDg7j80Q60oL1RyMnGl3Uw%3D%3D&crl=c
25. Mills, A. J., Durepos, G., & Wiebe, E. (Eds.). (2010). Encyclopaedia of case study research. SAGE Publications.
26. Miroshnichenko, A. (2018). AI to Bypass Creativity. Will Robots Replace Journalists? (The Answer Is "Yes"). In Information, 9(7),183. https://doi.org/10.3390/info9070183
27. Mitchell, A., Gottfried, J., Barthel, M., & Shearer, E. (2016, July 7). The modern news consumer: News attitudes and practices in the digital era. Pew Research Center. https://apo.org.au/node/65498
28. Monti, M. (2019). Automated Journalism and Freedom of Information: Ethical and Juridical Problems Related to AI in the Press Field. https://papers.ssrn.com/abstract=3318460
29. Munoriyarwa, A., Chiumbu, S., & Motsaathebe, G. (2021). Artificial intelligence practices in everyday news production: The case of South Africa's mainstream newsrooms. Journalism Practice, 1–19. https://doi.org/10.1080/17512786.2021.1984976
30. Mutsvairo, B., Bebawi, S., & Borges-Rey, E. (2020). Data Journalism in the Global South. Springer Nature. https://play.google.com/store/books/details?id=4KbNDwAAQBAJ
31. Nwanyanwu, N. C., & Nwanyanwu, M. (2021). Utilization of Artificial Intelligence in Journalism in Nigeria. KIU Journal of Social Sciences, 7(2), 205–212. https://www.ijhumas.com/ojs/index.php/kiujoss/article/view/1239
32. Rashidian, N., Brown, P. D., Hansen, E., Bell, E. J., & Albright, J. R. (2019). Friend and foe: The Platform Press at the heart of journalism. Columbia University. https://doi.org/10.7916/D8-15PQ-X415
33. Roussi, A. (2021, October 25). A Big Tech talent war threatens Kenya's start-ups. Financial Times.
34. Saunders, B., Sim, J., Kingstone, T., Baker, S., Waterfield, J., Bartlam, B., Burroughs, H., & Jinks, C. (2018). Saturation in qualitative research: exploring its conceptualization and operationalization. Quality and Quantity, 52(4), 1893–1907. https://doi.org/10.1007/s11135-017-0574-8
35. Schapals, A. K., & Porlezza, C. (2020). Assistance or resistance? Evaluating the intersection of automated journalism and journalistic role conceptions. Media and Communication, 8(3), 16–26. https://doi.org/10.17645/mac. v8i3.3054
36. Stray, J. (2019). Making Artificial Intelligence Work for Investigative Journalism. Digital Journalism, 7(8), 1076–1097. https://doi.org/10.1080/21670811.2019.1630289
37. Thurman, N., Lewis, S. C., & Kunert, J. (2019). Algorithms, Automation, and News. Digital Journalism, 7(8), 980–992. https://doi.org/10.1080/21670811.2019.1685395
38. Vasileiou, K., Barnett, J., Thorpe, S., & Young, T. (2018). Characterising and justifying sample size sufficiency in interview-based studies: systematic analysis of qualitative health research over a 15-year period. BMC Medical Research Methodology, 18(1), 1 - 18. DOI: 10.1186/s12874-018-0594-7
39. Ward, S. J. A. (2018). Ethical Journalism in a Populist Age: The Democratically Engaged Journalist. Rowman & Littlefield. https://play.google.com/store/books/details?id=pbRqDwAAQBAJ
40. Zayani, M. (2021). Digital Journalism, Social Media Platforms, and Audience Engagement: The Case of AJ+. Digital Journalism, 9(1), 24 - 41. https://doi.org/10.1080/21670811.2020.1816140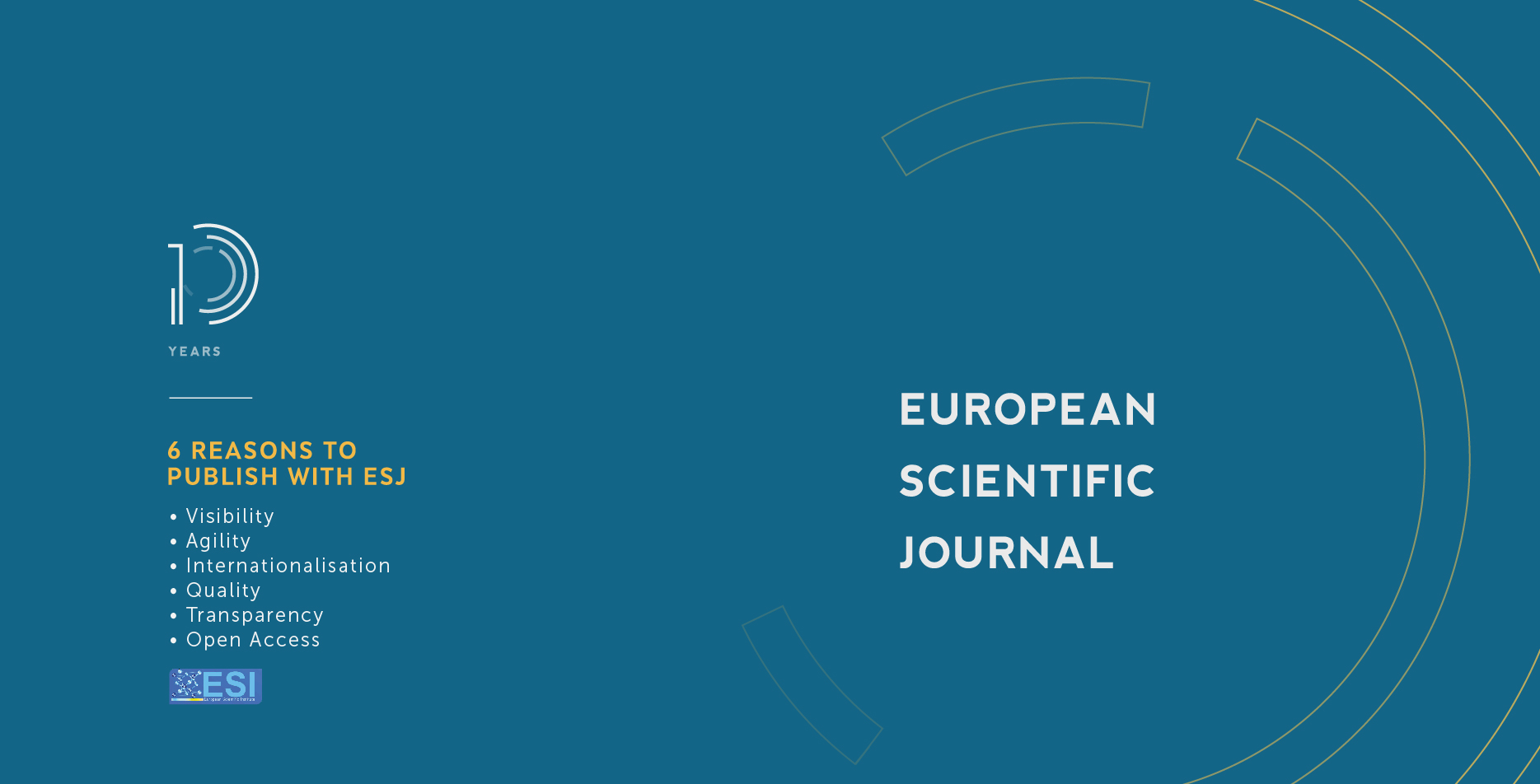 How to Cite
Kioko, P. M., Booker, N., Chege, N., & Kimweli, P. (2022). The Adoption of Artificial Intelligence in Newsrooms in Kenya: a Multi-case Study. European Scientific Journal, ESJ, 18(22), 278. https://doi.org/10.19044/esj.2022.v18n22p278
Section
ESJ Social Sciences
Copyright (c) 2022 Peter Mwangangi Kioko, Nancy Booker, Njoki Chege, Paul Kimweli
This work is licensed under a Creative Commons Attribution-NonCommercial-NoDerivatives 4.0 International License.