Serbia and France: the special relationship?
Aleksandra Varga-Kocsicska

University of Public Service, Hungary
Keywords:
Western Balkans, European Union, Serbia, integration, identity
Abstract
What is the relationship between the European Union and the Western Balkans, and Serbia in particular? The author reviews the process of accession of the Western Balkan countries (with a focus on Serbia) to the European Union, but also the geopolitical stakes in this region, which is sought after by external actors such as China and Russia, and which the European Union should pay more attention in order to strengthen its strategic autonomy. The EU needs to take a bold stance in the Western Balkans and France wants to be at the forefront. European actors must show future member states that the door to full membership is indeed open, but only if they can truly embrace democratic values. In his analysis, the author writes about Serbia's path towards EU integration through an increasingly close relationship with France. The current situation in Serbia is rather complex. Will it continue with its "hamster in the wheel" approach, where the result is always expected to be the same, or should Serbia adopt a different approach for the future? As concerns Serbia, France will certainly continue to insist on economic cooperation and the improvement of French investments in Serbia. They will also take a stand against damaging foreign influences which they believe could potentially destabilize the region and are fundamentally at cross purposes with the policy favored by the European Union.
Downloads
Download data is not yet available.
PlumX Statistics
References
1. Dartford, Katy (2022, April 22) "For first time , a majority of Serbs are against joining the EU-poll" Euronews. https://www.euronews.com/2022/04/22/for-first-time-a-majority-of-serbs-are-against-joining-the-eu-poll
2. Council Of The European Union: European Security Strategy, Europe In A Better World (2009). Retrieved from https://www.consilium.europa.eu/media/30823/qc7809568enc.pdf
3. Emmott, Robin and Baczynska, Gabriela (2019, October 15) "Macron on course for clash with Merkel over EU talks with Balkan hopefuls". Reuters. https://www.reuters.com/article/us-eu-balkans-idUSKBN1WU156
4. European Commission: Communication from the Commission to the European Parliament, the Council, the European Economic and Social Committee and the Committee of the Regions: An Economic and Investment Plan for the Western Balkans (2020, October 6). Retrieved from https://ec.europa.eu/neighbourhood-enlargement/system/files/2020-10/communication_on_wb_economic_and_investment_plan_october_2020_en.pdf
5. European Commission: State of the Union 2020: State of the Union Address 2020. (2020) Retrieved from https://ec.europa.eu/info/sites/default/files/soteu_2020_en.pdf
6. European Union External Action: A Global Strategy for the European Union's Foreign and Security Policy (2019, December 15). Retrieved from https://www.eeas.europa.eu/eeas/global-strategy-european-unions-foreign-and-security-policy_en
7. Európai Bizottság: Von der Leyen elnök értékelő beszéde az Unió helyzetéről az Európai Parlament planáris ülésén (2020, September 16) Retrieved from https://ec.europa.eu/commission/presscorner/detail/hu/SPEECH_20_1655
8. European Commission: Communication From The Commission To The European Parliament, The Council, The European Economic And Social Committee And The Committee Of The Regions: A Credible Enlargement Perspective For And Enhanced EU Engagement With The Western Balkans. (2018, February 6) Retrieved from https://ec.europa.eu/info/sites/default/files/communication-credible-enlargement-perspective-western-balkans_en.pdf
9. European Commission: Strategy for the Western Balkans: EU sets out new flagship initiatives and support for the reform-driven region. (2018, February 6) Retrieved from https://ec.europa.eu/commission/presscorner/detail/en/IP_18_561
10. French, Chinese Firms Sign Deal On Belgrade Metro (2021, January 22). RFE/RL's Balkan Service. https://ww w.rferl.org/a/31064218.html
11. Koller, Boglárka (2019). Az európaizáció konceptuális és elméleti kérdései, különös tekintettel a Nyugat-Balkánra. In Európaizáció a Nyugat-Balkánon (pp. 15–29).
12. Metro workers starts amid uproar, warnings of pollution: Vucic: Opponents leisured (2021, November 22). N1 Belgrade. https://rs.n1info.com/english/news/metro-works-start-amid-uproar-warnings-of-pollution-vucic-opponents-leisured/
13. Non-Paper: Reforming the Euroepan Union accession process (2019, November). Politico. https://www.politico.eu/wp-content/uploads/2019/11/Enlargement-nonpaper.pdf
14. Ördögh, T. (2019). Szerbia közeledése az Európai Unióhoz. In Európaizáció a Nyugat-Balkánon (pp. 173–188).
15. Reljic, Dusan (2021, September 23). "The EU's quest for strategic autonomy in the Western Balkans: Why it flopped". IAI - Istituto Affari Internazionali. https://www.swp-berlin.org/publications/products/fachpublikationen/The_EU's_quest_for_strategic_autonomy.pdf
16. Serbia signs for the acquision of mistral 3 short-range air defence systems with MBDA (2019, July 16) MBDA Missile Systems. https://www.mbda-systems.com/press-releases/serbia-signs-for-the-acquisition-of-mistral-3-short-range-air-defense-systems-with-mbda/
17. Serbia signs MoU with French and Chinese companies to build Belgrade metro (2021, January 26) Industry Europe. https://industryeurope.com/sectors/construction-engineering/serbia-signs-mou-with-french-and-chinese-companies-to-build-belgrade-metro/
18. Serbian government's takeover of Nis airport sparks local fury (2018, April 11) bne IntelliNews. https://www.intellinews.com/serbian-government-s-takeover-of-nis-airport-sparks-local-fury-139750/
19. Serbian president Aleksandar Vucic wins new term by landlslide. (2022, April 4). The Guardian. https://www.theguardian.com/world/2022/apr/04/serbia-president-aleksandar-vucic-claims-election-victory-to-secure-second-term
20. Subotic, Strahinja (2019, July 12). Let's face it, Serbia will not join the EU in 2025. European Policy Centre. https://cep.org.rs/en/blogs/lets-face-it-serbia-will-not-join-the-eu-in-2025/
21. Tcherneva, Vessela (2019, December 11). "French connections: How to revitalise the EU enlargement process". Euroepan Councile of Foreign Relations. https://ecfr.eu/article/commentary_french_connections_how_to_revitalise_the_eu_enlargement_process/
22. Troncota, Miruna (2014): The formation of the Juncker Commission and its impact on the Western Balkans. Europolity, Vol. 8, No. 2. 153.
23. Vasovic, Aleksandar (2022, April 11) "Serbia considers purchase of Rafale jets from France, president says" Reuters. https://www.reuters.com/world/europe/serbia-considers-purchase-rafale-jets-france-president-says-2022-04-11/
24. Vinci Signs Belgrade Nikola Tesla Airport Concession (2018, March 22) CorD. https://cordmagazine.com/en/news/vinci-signs-belgrade-nikola-tesla-airport-concession/
25. World Bank Group: Western balkans Regular Economic Report No.21. Steering Through Crises. (2022, Spring) Retrieved from https://openknowledge.worldbank.org/bitstream/handle/10986/37368/P17720607706c30e90841607b7d53ee8106.pdf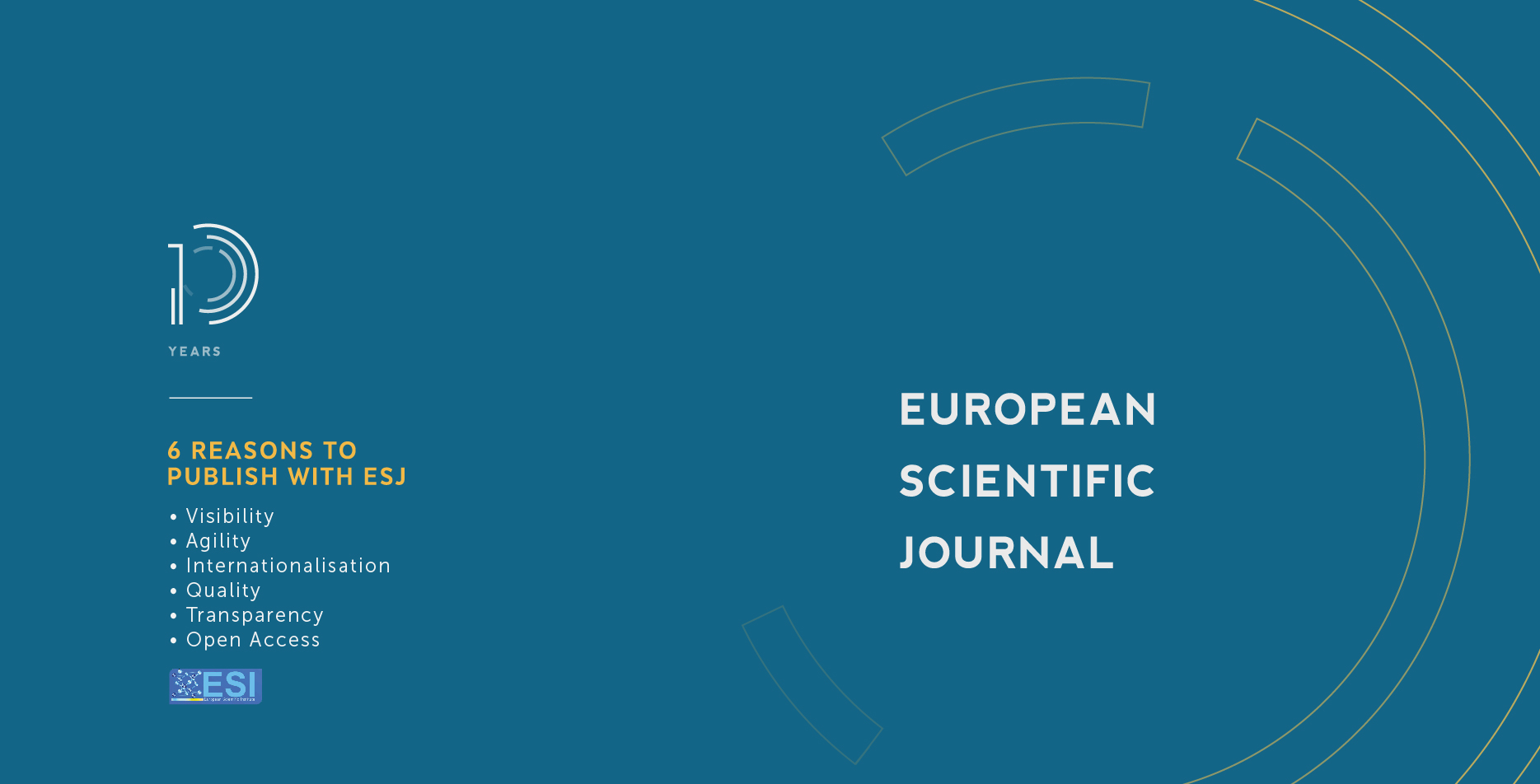 How to Cite
Varga-Kocsicska, A. (2022). Serbia and France: the special relationship?. European Scientific Journal, ESJ, 18(23), 1. https://doi.org/10.19044/esj.2022.v18n23p1
Copyright (c) 2022 Aleksandra Varga-Kocsicska
This work is licensed under a Creative Commons Attribution-NonCommercial-NoDerivatives 4.0 International License.