La Condition de la Femme au Foyer et de l'Enfant Orphelin dans la Communication Sociale à Travers l'Ahossi chez les Agni-Morofouè de Côte d'Ivoire: Plaidoyer pour un Mieuxêtre
Kouakou Oi Kouakou Benoît

Université Félix Houphouët-Boigny d'Abidjan, UFR Information, Communication et Arts, Côte dIvoire
Keywords:
Communication sociale, plaidoyer, enfant orphelin, femme maltraitée, Agni-Morofouè
Abstract
Le présent article a analysé la communication sociale de chansons ahossi des Agni-Morofouè, en les appréhendant comme des plaidoyers en faveur d'un mieux-être et d'un mieux-vivre de la femme maltraitée au foyer et de l'enfant orphelin marginalisé. Au niveau théorique, l'étude a convoqué le modèle descriptif de la communication de Lasswell. Au plan méthodologique, elle s'est appuyée sur un corpus de dix chansons tirées du répertoire de six groupes ahossi. Ce corpus a fait l'objet d'une analyse qualitative de contenu lexico-thématique. L'analyse révèle comment cette musique-danse se saisit des souffrances de la femme (en particulier celles de la première épouse dans un foyer polygamme, surtout  avec l'arrivéee d'une plus jeune femme) ainsi que de la marginalisation et des douleurs de l'enfant orphelin. En décrivant et en dénonçant les effets pervers de la polygamie (très souvent à l'origine des déboires de la femme la plus ancienne) et en mettant à la lumière les malheurs de l'enfant orphelin, l'ahossi se situe dans une perspective de plaidoyer en faveur d'un agir humanisant. En tant que canal, elle fait entendre l'écho du message-complainte des sans-voix et des sans-voies, en vue d'influencer les idées et attitudes, et parvenir à un changement social au sujet de ces personnes fragilisées.
This article analyses the social communication of the ahossi songs performed by the Agni-Morofouè people. It examines these songs as pleas for wellness and a better life for the abused housewife and for the marginalized orphaned child. At the theoretical level, the study is based on Lasswell's descriptive model of communication. Methodologically, it uses a corpus of ten songs from the repertoire of six ahossi groups. This corpus was subjected to a qualitative lexicothematic content analysis.The analysis reveals how this dance-music captures the sufferings of women (particularly those of the first wife in a polygamous household, especially with the arrival of a younger wife) as well as the marginalization and pain of the orphaned child. By describing and denouncing the perverse effects of polygamy (very often the cause of the older wife's torment) and by highlighting the misfortunes of the orphaned child, the ahossi song represents a plea for humanism. As a channel, it echoes the message and complaint of the voiceless and helpless people in order to influence ideas and attitudes, and achieve social change about these vulnerable people.
Downloads
Download data is not yet available.
References
1. Charrier, L. (2022). La polygamie : une discrimination à l'égard des femmes selon l'ONU. Terriennes, https://information.tv5monde.com/ terriennes/la-polygamie-une-discrimination-l-egard-des-femmes-selo n-l-onu-451490, Consulté le 30/07/2022, à 8h36.
2. Collet, H. (2004). Communiquer. Pourquoi, comment ? Le guide de la communication sociale, Eaubonne : CRIDEC.
3. Corinne Daviette, K.W., Jaza Folefack, A.J. et Lengha, T.N. (2022). Analyse des facteurs influençant les contributions des populations rurales camerounaises au développement local. European Scientific Journal, ESJ, 18 (23), 112-139.
4. Dedy, S. (1984). Musique traditionnelle et développement national en Côte d'Ivoire. Tiers-Monde, 25 (97), 109-124.
5. Hurst, S. (2013). Protéger les personnes vulnérables : une exigence éthique à clarifier. Revue Médicale Suisse, vol. 386, 1054-1057
6. Illitch, I. (1973). La convivialité, Paris : Éditions du Seuil.
7. Kadjegbin, T.R.G. (2022). Activites agricoles et développement local dans la commune d'Athieme au Sud-Ouest du Benin. European Scientific Journal, ESJ, 18 (13), 103-122.
8. Kouakou, O. K. B. (2017). Musique traditionnelle et communication sociale : l'exemple de l'Ahossi chez les Agni-Morofouè de Côte d'Ivoire. Communication en Question, 8, 83-108.
9. Kouakou, O. K. B. (2022). Le sursaut à l'aune de systèmes de communication de l'Afrique traditionnelle. Le sursaut. Pour le développement de l'Afrique et le changement social, Paris : L'Harmattan, 115-134.
10. Kouakou, O. K. B. et Djedjess, A. A. (2022). Zouglou, communication sociale et satire politique en Côte d'Ivoire : exemple avec "Tu sais qui je suis", "Le peuple te regarde" et "On dit quoi" de Yodé et Siro. International Journal Advanced Research (IJAR), 10 (6), 322-335.
11. Kouakou, O. K. B. et Lasme, M. F. (2022). Les tambours parleurs et la communication socio-musicale chez les Akan : médiatisation et médiation de l'espace public. La revue des Sciences Sociales «Kafoudal», 10, 18-37.
12. Lasswell, H. D. (1948). The structure and function of communication in society. In L. Bryson (Ed.), The communication of ideas. New York: Harper and Row, 37-51.
13. M'Salha, M. (2001). Qu'en est-il aujourd'hui de la polygamie et de la répudiation en Droit marocain ? Revue internationale de droit comparé, 53, 171-182.
14. Mcluhan, M. (2015). Pour comprendre les médias, Paris : Points (1ère Éd. 1964).
15. Mucchielli, A. (dir.). (1996). Dictionnaire des méthodes qualitatives en sciences humaines et sociales, Paris : Armand Colin.
16. N'Da, P. (2017). L'État et la vie sociale : face à l'exclusion et à la marginalité. Sociologie Politique. Pour comprendre ce qui se joue, se décide et se passe ici et ailleurs, avec sa géométrie variable, Paris : L'Harmattan, 253-290.
17. Nguimfack, L. (2014). Conflits dans les familles polygames et souffrance familiale. Cahiers critiques de thérapie familiale et de pratiques de réseaux, 53, 49-66.
18. Sacriste, V. (2007). Communication et Médias. Sociologie de l'espace médiatique, Vanves : Foucher.
19. Schopenhauer, A. (1912). Le monde comme volonté et comme représentation, Paris : Librairie Félix Alcan.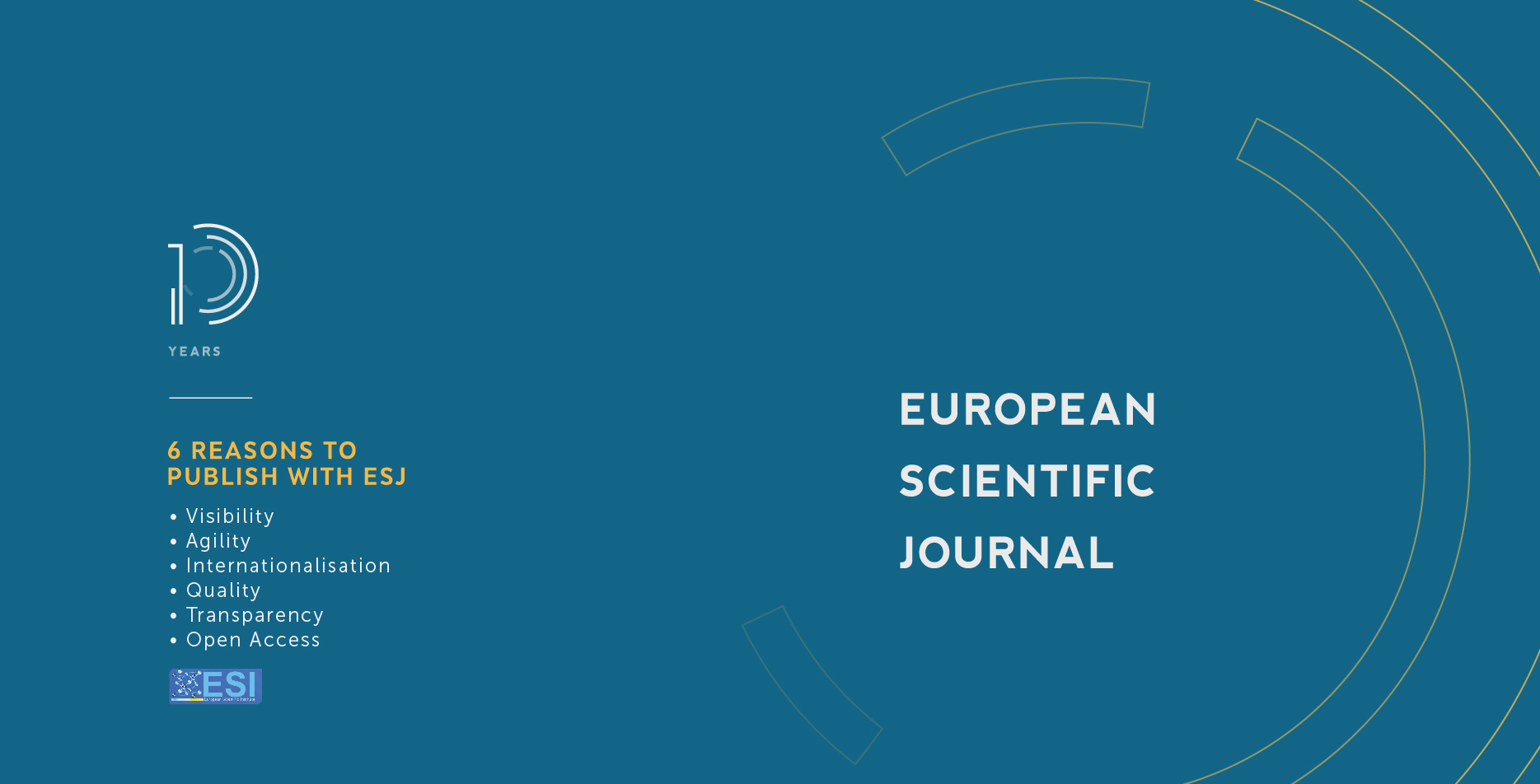 How to Cite
Benoît, K. O. K. (2022). La Condition de la Femme au Foyer et de l'Enfant Orphelin dans la Communication Sociale à Travers l'Ahossi chez les Agni-Morofouè de Côte d'Ivoire: Plaidoyer pour un Mieuxêtre. European Scientific Journal, ESJ, 18(35), 80. https://doi.org/10.19044/esj.2022.v18n35p80
Copyright (c) 2022 Kouakou Oi Kouakou Benoît
This work is licensed under a Creative Commons Attribution-NonCommercial-NoDerivatives 4.0 International License.