Estudio Comparativo en la Calidad Nutricional y Empatique de Galletas de Pulido de Arroz
Martha Elena Cervantes Sánchez

Instituto Tecnológico Superior de Escárcega, Licenciatura en Turismo, Escárcega, Campeche, México

Arianna del Ángel Pacheco May

Instituto Tecnológico Superior de Escárcega, Licenciatura en Turismo, Escárcega, Campeche, México

Ricardo Ascencio López

Instituto Tecnológico Superior de Escárcega, Licenciatura en Turismo, Escárcega, Campeche, México

Maximiliano Vanoye Eligio

Instituto Tecnológico Superior de Escárcega, Licenciatura en Turismo, Escárcega, Campeche, México
Keywords:
Pulido, arroz, galleta, empaque
Abstract
El pulido de arroz se define como un subproducto de aspecto harinoso, suave y fibroso al tacto, constituido por el pericarpio, el tegumento, la aleurona, parte del grano, en polvo o en fragmentos y germen entero y triturado, así como cascarilla. Es rico en proteínas, grasas, y contiene una cantidad apreciable de vitaminas y minerales; sin embargo el uso al que se ha destinado este subproducto es únicamente para el consumo animal. En base a lo anterior, el objetivo de este trabajo de investigación es contribuir en la trasformación del pulido de arroz para consumo humano, mediante la elaboración de galletas utilizando el subproducto de arroz pulido. Para el logro del trabajo de investigación, la materia prima se obtuvo de la empresa arrocera Agrocampo Arisanta S.P.R de R.L de C.V. una vez obtenida la materia prima, esta llevo a laboratorio para la preparación de las galletas, realizar los distintos análisis físico-químicos e identificar la vida en anaquel, la cual se valoró cada 15 días durante un periode de cinco meses. Los resultados indican que la porción por galleta debe de ser de 40 gramos, teniendo cada galleta un contenido de fibra de 3.2% y 12.5% de proteína. En relación a la vida en anaquel, se observó que las galletas conservan sus características organolépticas hasta por un tiempo de cinco meses. Estos resultados contribuyen de forma directa a los beneficios a la salud, por lo que sus características permite que se desarrollen alimentos funcionales, tal es el caso de la elaboración de galletas a base de pulido, de consistencia y  sabor agradable al paladar de aquellas personas que gustan de cuidar su dieta
Rice polishing is defined as a by-product with a floury appearance, soft and fibrous to the touch, consisting of the pericarp, the integument, the aleurone, part of the grain, in powder or fragments and whole and ground germ, as well as a husk. It is rich in proteins, and fats, and contains an appreciable amount of vitamins and minerals; however, the use to which this by-product has been destined is solely for animal consumption. Based on the above, the objective of this research work is to contribute to the transformation of polished rice for human consumption, by making biscuits using the polished rice by-product. For the achievement of the research work, the raw material was obtained from the rice company Agrocampo Arisanta S.P.R de R.L de C.V. Once the raw material was obtained, it was taken to the laboratory for the preparation of the cookies, to carry out the different physical-chemical analyzes and to identify the shelf life, which was valued every 15 days during a period of five months. The results indicate that the serving per cookie should be 40 grams, with each cookie having a fiber content of 3.2% and 12.5% ​​protein. In relation to shelf life, it was observed that cookies retain their organoleptic characteristics for up to five months. These results contribute directly to health benefits, so its characteristics allow functional foods to be developed, such is the case of the production of polishing-based biscuits, with a consistency and a palatable taste for those who like to take care of your diet.
Downloads
Download data is not yet available.
References
1. Almora-Hernández, E., Barrios, L., Monteagudo-Borges, R., Lago-Abascal, V., Leon, G., & Rodríguez, E. (2021). Evaluación sensorial de galletas de arroz integral suplementadas con stevia y moringa. Peruvian Agricultural Research, 3(2).
2. Avalos Mezones, A. A., & Torres Bazán, I. C. (2018). Modelo de negocio para la producción y comercialización de envases biodegradables a base de cascarilla de arroz.
3. Bazan-Aliaga, G., Gabrielli-González, R., Acosta-Chinchayhuara, D., & Rojas, J. (2015). Galletas de buena aceptabilidad a base de harina de arroz (oriza sativa) y harina de papa (Solanum tuberosum) var. parda pastosa. Agroindustrial Science, 5(1), 69-75.
4. Hernández, E. A., Huergo, C. C., Borges, R. M., Abascal, V. L., Arana, O. A. E., & Jiménez, E. R. (2021). Desarrollo de la galleta de arroz integral suplementada con Moringa oleifera. Revista de Ciencias Farmacéuticas y Alimentarias, 6(2), 52-64.
5. INEGI. (2000) El Sector Alimentario en México. Instituto Nacional de Estadística, Geografía e Informática. México. 295 pp.
6. Larios-Saldaña, A., Porcayo-Calderón, J., & Poggi-Varaldo, H. M. (2005). Obtención de una harina de pulido de arroz desengrasado con bajo contenido de fibra neutro detergente. Interciencia, 30(1), 29-32.
7. Lezama Solano, A. (2015). Desarrollo de un pan de molde a partir de los subproductos del procesamiento del grano de arroz entero y determinación de sus propiedades funcionales.
8. López, C. V. (2000). Campeche: sociedad, economía, política y cultura. Unam.
9. Ortiz Aguilar, J. A. (2019). Optimización del proceso de elaboración de galletas utilizando salvado de arroz (Oryza sativa).
10. Primo ,Y.E. (1982) Química Agrícola. III. Alimentos. 1ª ed. Alhambra. Madrid, España.
11. Rodríguez Carbajo, P. (2015). Elaboración de galletas sin gluten con mezclas de harina de arroz-almidón-proteína.
12. Romero, J. E. L., Vásconez, R. S. L., Zaquinaula, M. A. A., Norma, L. R. F. O., Sánchez, N. L. N., & Romero, R. M. L. (2018). Estudio De Caso: Turismo Comunitario. Nivel De Satisfacción del visitante Sumak Kawsay, Provincia de Chimborazo - Ecuador. European Scientific Journal, ESJ, 14(20), 261. https://doi.org/10.19044/esj.2018.v14n20p261.
13. Rueda Albuja, D. (2012). Plan de Marketing de Participación del Producto Galletas de Arroz Integral Explotado (GAIE) en la Ciudad de Quito (Master's thesis, Quito: Universidad Israel, 2012).
14. Salazar Sanchez, E. (2019). Propuesta de aprovechamiento energético de la cascarilla de arroz para incrementar la rentabilidad del molino y Cía. Semper SAC utilizando el sistema de gasificación.
15. Vanoye, E. M., Alfaro, J. I. X., López, J. Ángel de E., & Castillo, J. E. A. (2017). Analisis Exploratorio En La Industria De Quesos Artesanales En Escárcega, Campeche De Acuerdo A Los Prerrequisitos De Haccp. European Scientific Journal, ESJ, 13(18), 592. https://doi.org/10.19044/esj.2017.v13n18p592.
16. Vargas, E., & Murillo, M. (1978). Composición química de subproductos de trigo y arroz y de granos de maíz y sorgo utilizados en Costa Rica. Agronomía Costarricense, 2(1), 9-15.
17. Vargas, L., & Alvarado, P. (2013). Caracterización del subproducto cascarilla de arroz en búsqueda de posibles aplicaciones como materia prima en procesos. Revista científica de la Facultad de Ciencias Químicas y Farmacia, 23(1), 86-101.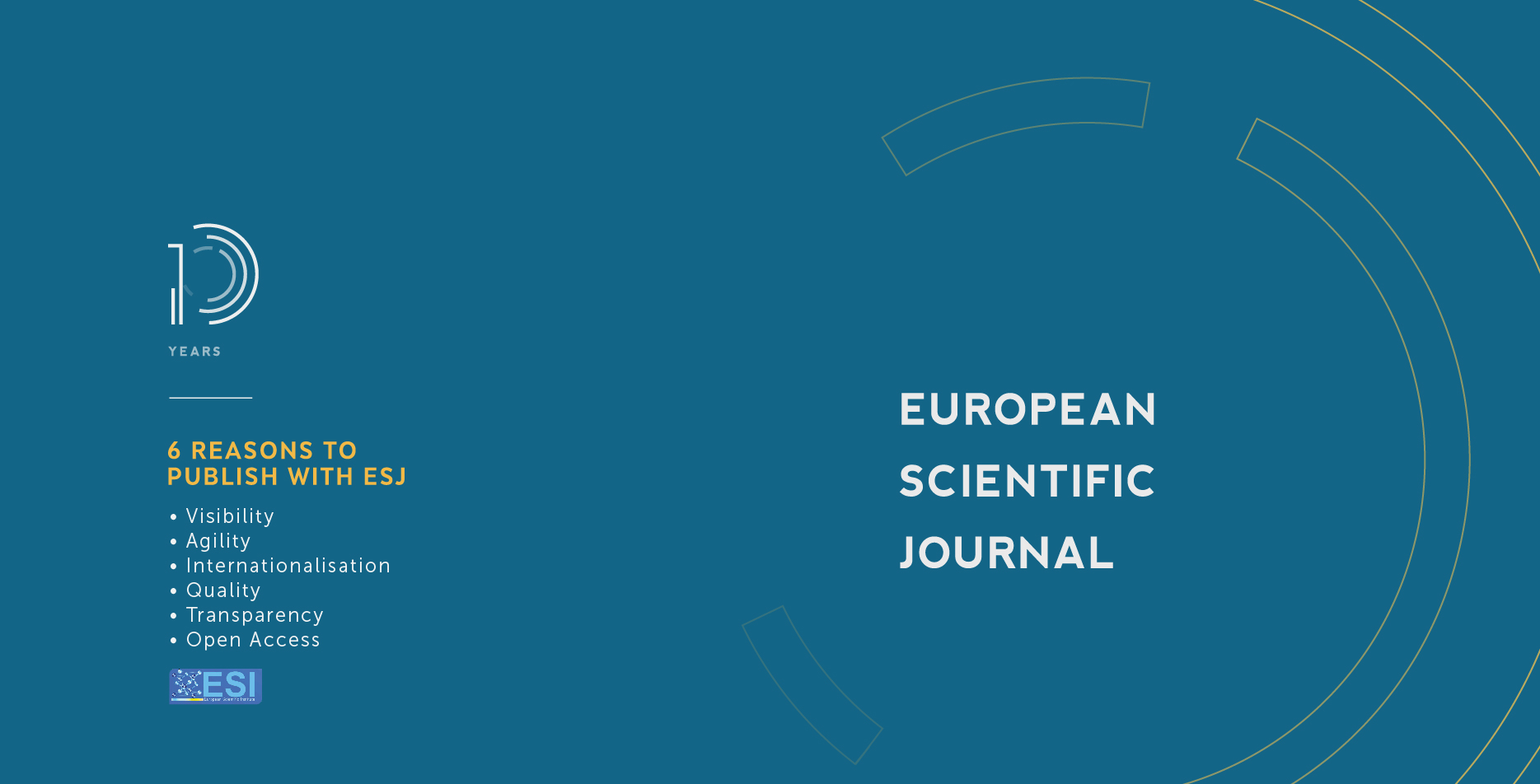 How to Cite
Cervantes Sánchez, M. E., Pacheco May, A. del Ángel, López, R. A., & Eligio, M. V. (2022). Estudio Comparativo en la Calidad Nutricional y Empatique de Galletas de Pulido de Arroz . European Scientific Journal, ESJ, 18(40), 35. https://doi.org/10.19044/esj.2022.v18n40p35
Section
ESJ Natural/Life/Medical Sciences
Copyright (c) 2022 Martha Elena Cervantes Sánchez, Arianna del Ángel Pacheco May, Ricardo Ascencio López, Maximiliano Vanoye Eligio
This work is licensed under a Creative Commons Attribution-NonCommercial-NoDerivatives 4.0 International License.