The Return of Decentralization Greek Local Government Response to the COVID-19 Pandemic
Sifis Plimakis

Assistant Professor of Public Management, Department of Political Science and International Relations, University of Peloponnese, Greece
Keywords:
Urban Resilience, Municipal Management, Strategic Planning, Crisis Management, Local Government Innovation, Reform
Abstract
The COVID-19 pandemic was one of the greatest crisis faced by humanity. It had a significant negative impact that affected public health, the society, the economy, and the performance of public administration. Although national administrative system's response to COVID-19 pandemic was set up, the performance and the resilience of strategic management patterns at national and local level was also initiated. This paper focuses on identifying and evaluating the strategies and models adopted by Greek local government to build resilience during the COVID-19 crisis. The results of the research are based on an empirical survey conducted in 27 municipal authorities in Greece, which showed that despite the various government policy initiatives and funding provided during the last decade and the formal introduction of crisis management and resilience focused planning models, urban resilience is downgrading due to the continuation of important implementation and compliance gaps in strategic planning and performance measurement adoption from the municipal authorities and the lack of an effective model of multi-level coordination among policy's stakeholders.
Downloads
Download data is not yet available.
References
1. 100 Resilient Cities (2018). Resources. (http://www.100resilientcities.org/resources/#section-1 )
2. Adams, A. C., Muir, S., & Hoque, Z. (2014). Measurement of sustainability performance in the public sector. Sustainability Accounting. Management and Policy Journal, 5(1), 46-67.
3. Ahern, J. (2011). From fail-safe to safe-to-fail: Sustainability and resilience in the new urban world. Landscape and urban Planning, 100(4), 341-343.
4. Ansell, C., Sørensen, E., & Torfing, J. (2020). The COVID-19 pandemic as a game-changer for public administration and leadership? The need for robust governance responses to turbulent problems. Public Management Review, 1-12.
5. Boin, A., McConnell, A., & Hart, P. (2021). Governing the Pandemic: The Politics of Navigating a Mega-Crisis (p. 130). Springer Nature.
6. Borgonovi, E., Bianchi, C., & Rivenbark, W. C. (2017). Pursuing community resilience through outcome-based public policies: Challenges and opportunities for the design of performance management systems. Public Organization Review, doi:10.1007/s11115-017-0395-1
7. Boyer, S. R. & Martin, L. L. (2012). The Florida Benchmarking Consortium: A local government performance measurement and benchmarking network. Public Performance & Management Review, 36(1), 124-137.
8. Bryce, C., Ring, P., Ashby, S., & Wardman, J. K. (2020). Resilience in the face of uncertainty: early lessons from the COVID-19 pandemic. Journal of Risk Research, 23(7-8), 880-887.
9. Bryson, J. M. (2018). Strategic planning for public and nonprofit organizations: A guide to strengthening and sustaining organizational achievement. John Wiley & Sons.
10. Caiado, R. G. G., Leal Filho, W., Quelhas, O. L. G., de Mattos Nascimento, D. L., & Ávila, L. V. (2018). A literature-based review on potentials and constraints in the implementation of the sustainable development goals. Journal of cleaner production, 198, 1276-1288.
11. Capano, G., Howlett, M., Jarvis, D. S., Ramesh, M., & Goyal, N. (2020). Mobilizing policy (in) capacity to fight COVID-19: Understanding variations in state responses. Policy and Society, 39(3), 285-308.
12. Cavalluzzo, K. S. & Ittner, C. D. (2004). Implementing performance measurement innovations: evidence from government. Accounting, organizations and society, 29(3-4), 243-267.
13. Caldas, P., Dollery, B., & Marques, R. C. (2016). What really matters concerning local government evaluation: Community sustainability. Lex Localis, 14(3), 279.
14. Cumming, G. S., Barnes, G., Perz, S., Schmink, M., Sieving, K. E., Southworth, J., & Van Holt, T. (2005). An exploratory framework for the empirical measurement of resilience. Ecosystems, 8(8), 975-987.
15. De Lancer Julnes, P. (2013). Citizen‐Driven Performance Measurement: Opportunities for Evaluator Collaboration in Support of the New Governance. New Directions for Evaluation, 2013(137), 81-92.
16. De Lancer Julnes, P. (2006). Performance measurement: An effective tool for government accountability? The debate goes on. Evaluation, 12(2), 219-235.
17. De Lancer Julnes, P. & Steccolini, I. (2015). Introduction to Symposium: Performance and accountability in complex settings—Metrics, methods, and politics. International Review of Public Administration, 20(4), 329-334.
18. Denhardt, J. V. & Denhardt, R. B. (2015). The new public service: Serving, not steering. Routledge.
19. European Centre for Disease Prevention and Control (2021). COVID-19 situation updates worldwide – monthly reports, EU publications.
20. European Commission (2014-2019). Administrative reform in Greece: progress reform, EU press.
21. European Commission (2020). Towards a more resilient Europe post-coronavirus Capabilities and gaps in the EU's capacity to address structural risks, EU publications.
22. European Commission (2021). Transformation post-COVID, Transformative nations, regions and cities as vectors for change, EU publications.
23. European Committee of Regions (2021). Annual regional and local Eurobarometer: the impact of Covid-19 on European Regions, cities and villages.
24. George, B., Verschuere, B., Wayenberg, E., & Zaki, B. L. (2020). A guide to benchmarking COVID‐19 performance data. Public Administration Review, 80(4), 696-700.
25. Gates, S. & Germain, C. (2010). Integrating sustainability measures into strategic performance measurement systems: An empirical study. Management Accounting Quarterly, 11(3), 1-7.
26. Gaudreau, K. & Gibson, R. B. (2010). Illustrating integrated sustainability and resilience-based assessments: a small-scale biodiesel project in Barbados. Impact Assessment and Project Appraisal, 28(3), 233-243.
27. Genest-Grégoire, A., Charbonneau, É., & Bromberg, D. E. (2018). The Sustainability Assumption in Performance Management Reforms: Revisiting the Patterns of Implementation. Public Organization Review, 18(4), 525-542.
28. Goderis, B. (eds) (2015). Public Sector Achievement in 36 countries, The Netherlands Institute for Social Research, pp. 108 – 122, 243 – 254, pp. 89 – 107.
29. Gozgor, G. (2021). Global evidence on the determinants of public trust in governments during COVID-19. Applied research in quality of life, 1-20.
30. Greer, S. L., King, E. J., da Fonseca, E. M., & Peralta-Santos, A. (2020). The comparative politics of COVID-19: The need to understand government responses. Global public health, 15(9), 1413-1416.
31. Holzer, M. & Newbold, S. P. (2020). A call for action: public administration, public policy, and public health responses to the COVID-19 pandemic.
32. Holzer, M. (eds) (2021). Public Productivity Handbook. CRC Press
33. Horney, J., Johansen, C., & Tien, I. (2017). Metrics for evaluating and improving community resilience. Journal of Infrastructure Systems, 23(2), 04016032.
34. ICLEI (2019). Resilient cities, thriving cities: The evolution of urban resilience. Bonn, Germany.
35. Karkatsoulis, P. (2011). Regulation, deregulation and reform of public policy. Athens: Sideris Publications (G).
36. Karkatsoulis P, (2019). Public Governance Reform in Greece. KEFIM press
37. Linkov, I., Keenan, J., & Trump, B. (Eds.) (2021). COVID-19: Systemic Risk and Resilience. Springer Press.
38. Malandrino, A. & Demichelis, E. (2020). Conflict in decision making and variation in public administration outcomes in Italy during the COVID‐19 crisis. European Policy Analysis, 6(2), 138-146.
39. Rossi, F. M. & Aversano, N. (2015). Advancing performance measurement: Italian local government vis-à-vis the IPSASB project. International Journal of Productivity and Performance Management.
40. Martini, M., Cavenago, D., & Mariani, L. (2018). When the Outcome is Employability: Leading Indicators for the Governance of Labour Market Services. Public Organization Review, 18(4), 507-524.
41. Moynihan, D. P., Fernandez, S., Kim, S., LeRoux, K. M., Piotrowski, S. J., Wright, B. E., & Yang, K. (2011). Performance regimes amidst governance complexity. Journal of public administration research and theory, 21(suppl_1), i141-i155.
42. OECD (2016-2019). Government at a glance: Greece
43. OECD (2020). Cities in the World: A New Perspective on Urbanisation, OECD Urban Studies. OECD Publishing, Paris.
44. OECD (2020). The territorial impact of COVID-19: Managing the crisis across levels of government. OECD Publishing, Paris.
45. OECD (2021). OECD Policy Responses to Coronavirus (COVID-19): Cities policy response. OECD Publishing, Paris.
46. Osborne, S. (2011). From the new public management to public governance.
47. Pollitt, C. & Bouckaert, G. (2017). Public management reform: A comparative analysis-into the age of austerity. Oxford university press.
48. Sharifi, A. (2016). A critical review of selected tools for assessing community resilience. Ecological indicators, 69, 629-647.
49. Sharifi, A. & Khavarian-Garmsir, A. R. (2020). The COVID-19 pandemic: impacts on cities and major lessons for urban planning, design, and management. Science of The Total Environment, 142391.
50. Spanou, C. & Sotiropoulos, D. A. (2011). The odyssey of administrative reforms in Greece, 1981–2009: A tale of two reform paths. Public Administration, 89(3), 723-737.
51. Spanou, C. (eds) (2018). The impact of the memorandum on the promotion of administrative reform in Greece. ELIAMEP press (G)
52. Schuster, C., Weitzman, L., Sass Mikkelsen, K., Meyer‐Sahling, J., Bersch, K., Fukuyama, F., & Kay, K. (2020). Responding to COVID‐19 through surveys of public servants. Public Administration Review, 80(5), 792-796.
53. Steen, T. & Brandsen, T. (2020). Coproduction during and after the COVID‐19 Pandemic: Will It Last? Public Administration Review, 80(5), 851-855.
54. Toshkov, D., Carroll, B., & Yesilkagit, K. (2021). Government capacity, societal trust or party preferences: what accounts for the variety of national policy responses to the COVID-19 pandemic in Europe? Journal of European Public Policy, 1-20.
55. United Nations (UN) (2020). United Nations Comprehensive Response to COVID-19: Saving Lives, Protecting Societies, Recovering Better. UN press.
56. United Nations (UN) (2021). Building Urban Economic Resilience during and after COVID-19. UN press.
57. Van Dooren, W. & Noordegraaf, M. (2020). Staging Science: Authoritativeness and fragility of models and measurement in the COVID‐19 crisis. Public Administration Review, 80(4), 610-615.
58. Vigoda E. (Ed.) (2017). Public Administration: An Interdisciplinary Critical Analysis. New-York: Marcel Decker.
59. WHO (2020-2021). COVID-19 Preparedness and Response Progress Reports. WHO press.
60. WHO (2021). COVID-19 Strategic preparedness and response plan - Monitoring and evaluation framework. WHO press.
61. World Bank (2020). Protecting People and Economies: Integrated Policy Responses to COVID-19. World Bank Press.
62. World Bank (2021). Driving the COVID-19: response from the center. World Bank Press.
63. Yang, K. (2020). Unprecedented challenges, familiar paradoxes: COVID‐19 and governance in a new normal state of risks. Public Administration Review, 80(4), 657-664.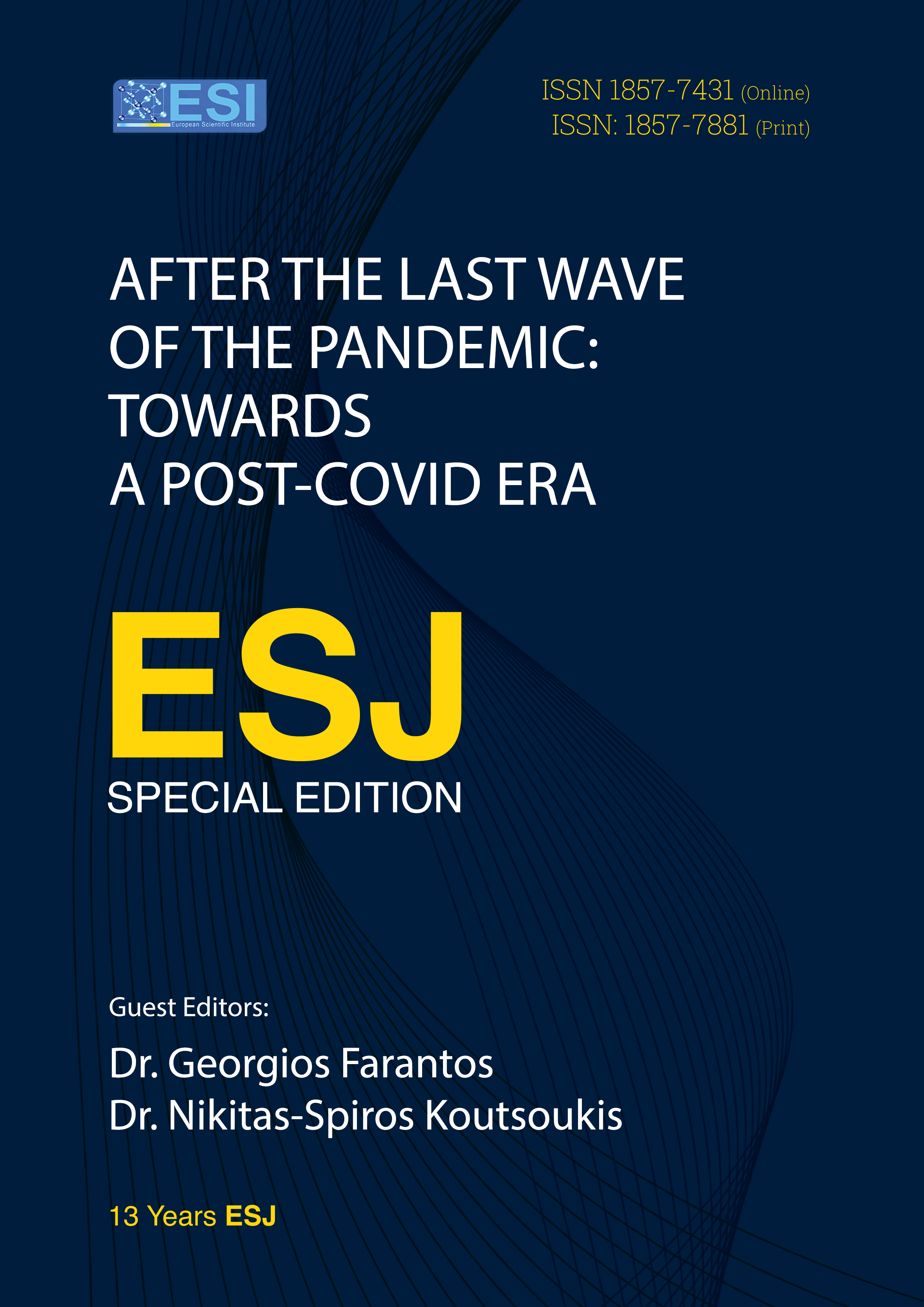 How to Cite
Plimakis, S. (2023). The Return of Decentralization Greek Local Government Response to the COVID-19 Pandemic. European Scientific Journal, ESJ, 19(38), 82. https://doi.org/10.19044/esj.2023.v19n38p82
Copyright (c) 2023 Sifis Plimakis
This work is licensed under a Creative Commons Attribution-NonCommercial-NoDerivatives 4.0 International License.