Analyse De La Diversité De La Forêt Classée d'Orumbo-Boka (Centre De La Côte d'Ivoire)
Doumbia Mada

Doctorante au Laboratoire de Botanique, U.F.R. Biosciences Université Félix Houphouët-Boigny (Cocody-Abidjan), Côte d'Ivoire

Kouassi Hervé Roland

Maitre de Conférences au département des Sciences et technologie section Sciences de la Vie et de la Terre (SVT) de l'Ecole Normale Supérieur (ENS)

Ambe Alain Serge Augustin

Maitre-Assistant au département des Sciences et technologie section Sciences de la Vie et de la Terre (SVT) de l'Ecole Normale Supérieur (ENS) (Abidjan) Côte d'Ivoire

Nomel Gnagne Jules Richard

Doctorant au Laboratoire de Botanique, U.F.R. Biosciences Université Félix Houphouët-Boigny (Cocody-Abidjan), Côte d'Ivoire

N'guessan Kouakou Edouard

Professeur Titulaire au Laboratoire de Botanique, U.F.R. Biosciences Université Félix Houphouët-Boigny (Cocody-Abidjan), Côte d'Ivoire
Keywords:
Diversité, Orumbo-Boka, Espèces À Statuts Particulier, Côte D'ivoire.
Abstract
La forêt classée d'Orumbo-boka comprend de nombreuses espèces en son sein. L'étude dans cette forêt classée a pour but d'évaluer sa diversité floristique. Pour atteindre cet objectif, un inventaire a été réalisé dans cette forêt. Cet inventaire a consisté en des relevés de surfaces et des relevés itinérants dans tous les biotopes identifiés et rencontrés dans cette forêt classée et dans ses environs. A l'issus de cet inventaire, 281 espèces ont été recensées. Ces espèces sont réparties en 195 genres et 72 familles. Les familles les plus fournies en espèces sont les Fabaceae, les Malvaceae, les Euphorbiaceae, les Moraceae et les Apocynaceae. A travers l'analyse de la diversité dans les biotopes, il en ressort que les forêts secondaire sont plus diversifiées et abritent plus d'espèces que les autres biotopes. Parmi ces espèces, 87 espèces à statut particulier ont été dénombrées. La présence de ces dernières est une raison suffisante pour la prise en compte de ces espaces fragiles.
The classified forest of Orumbo-boka includes many species within it. The purpose of the study in this classified forest is to assess its floristic diversity. To achieve this objective, an inventory was carried out in this forest. This inventory consisted of surface surveys and itinerant surveys for all biotopes identified and encountered in and around this classified forest. From this inventory, 281 species have been identified. These species are divided into 195 genera and 72 families. The most abundant families are the Fabaceae, Malvaceae, Euphorbiaceae, Moraceae and Apocynaceae. Through the analysis of diversity in biotopes, it emerges that secondary forests are more diverse and support more species than other biotopes. Of these species, 87 species of special status were counted. The presence of the latter is a sufficient reason for taking into account these fragile spaces.
Downloads
Download data is not yet available.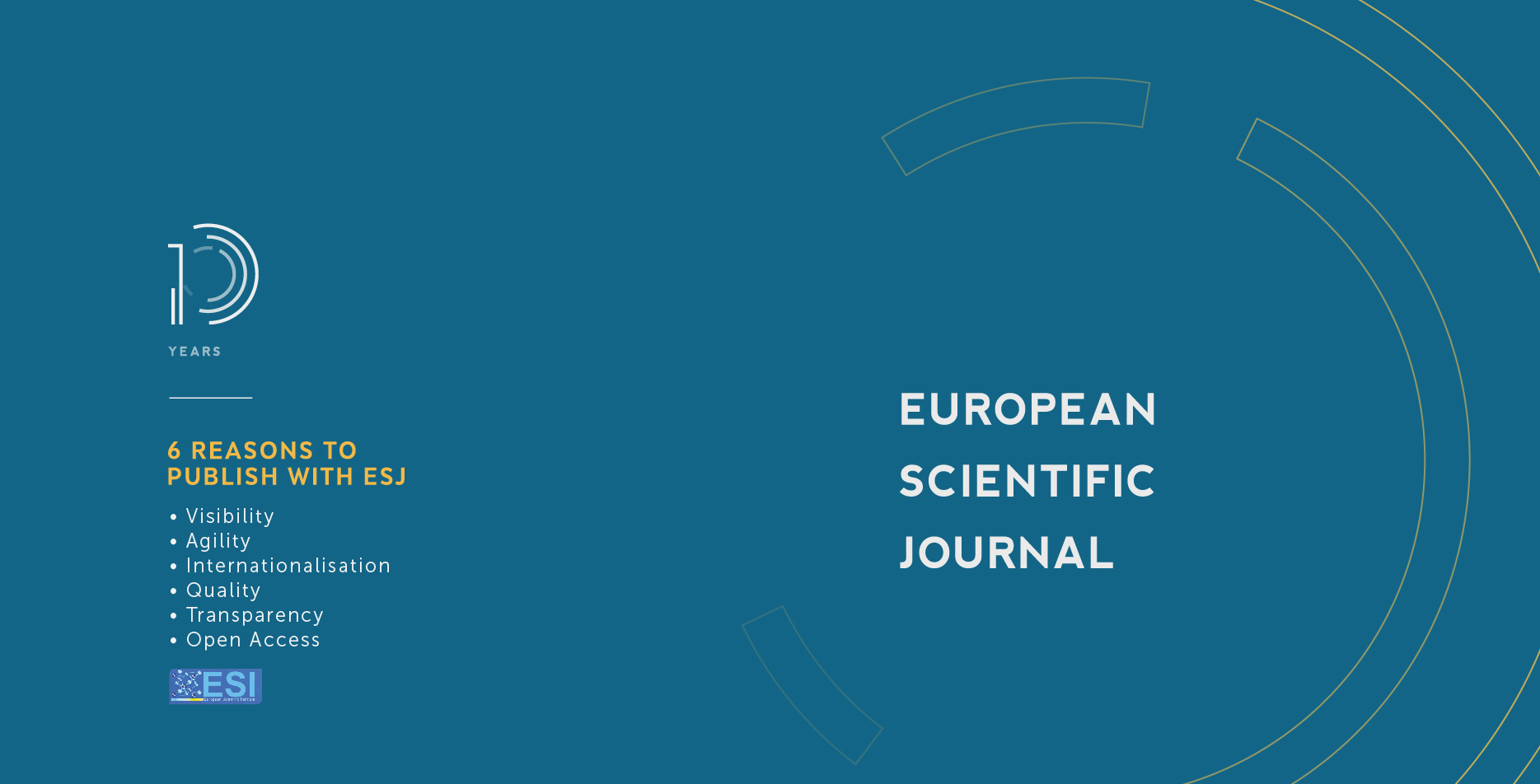 How to Cite
Mada, D., Hervé Roland, K., Alain Serge Augustin, A., Jules Richard, N. G., & Kouakou Edouard, N. (2020). Analyse De La Diversité De La Forêt Classée d'Orumbo-Boka (Centre De La Côte d'Ivoire) . European Scientific Journal, ESJ, 16(24), 184. https://doi.org/10.19044/esj.2020.v16n24p184
Section
ESJ Natural/Life/Medical Sciences
Copyright (c) 2020 Doumbia Mada, Kouassi Hervé Roland, Ambe Alain Serge Augustin, Nomel Gnagne Jules Richard, N'guessan Kouakou Edouard
This work is licensed under a Creative Commons Attribution-NonCommercial-NoDerivatives 4.0 International License.