Características De Salud Y Seguridad En Trabajadores De Una Empresa Automotriz
Mayra Rita Rodriguez-Morales

Licenciatura en Enfermería, Universidad Autónoma de Querétaro, México

Nancy Viridiana Ruiz-Vargas

Kellogg de México, Querétaro, México

Ruth Magdalena Gallegos-Torres

Universidad Autónoma de Querétaro, México
Keywords:
FINE Method, Prevention, Risks, Health, Safety, Workers
Abstract
Introducción: El lugar de trabajo es más que el espacio donde lostrabajadores prestan sus servicios, por lo tanto, las condiciones de estoslugares pueden afectar de manera significativa el desempeño y laproductividad de los empleados. Objetivo: Describir las características desalud y seguridad presentes en los trabajadores de una empresa automotriz dela ciudad de Querétaro, a través de un mapeo de riesgos utilizando el métodoFINE. Metodología. Estudio transversal, descriptivo, realizado en unaempresa de giro automotriz implementando un mapa de riesgo, siguiendo elmétodo FINE. Se consideraron trabajadores de sexo indistinto, con antigüedadmínima de 6 meses, de las áreas de mantenimiento y reparación, que aceptaranparticipar en el estudio y firmaran el consentimiento informado. El proyectofue evaluado y registrado ante un Comité de Investigación y Bioética. Elanálisis de los datos se realizó mediante estadística descriptiva. Se cuidaronlos principios éticos de la investigación en humanos. Resultados: La zonaevaluada consta de un total de 42 individuos, siendo de ellos en su mayoríahombres, con un 71% (30), rango de 18 a 59 años de edad. La estática posturaldespunta con un 71% (30) de los trabajadores. Se encontró la presencia de unriesgo moderado y grave. Conclusión:Resulta relevante abordar a lostrabajadores desde un aspecto personal y familiar, puesto que estos factoresresultan de importancia debido a que pueden potencializar la fuentegeneradora de un daño a la salud por causa de los diversos riesgos existentesen los lugares de trabajo.
Introduction: The workplace is something else than just a space where workers provide their services. Therefore, conditions prevailing in these places may significantly affect employee performance and productivity. Objective: To describe health and safety features prevailing in the workers of an automotive company in Queretaro City by mapping risks, using the FINE method. Methodology. Transversal, descriptive survey applied at an automotive branch company implementing a risk map, following the FINE method. It will cover indistinct gender workers with a minimum of 6-month seniority from the maintenance and repair areas, who shall accept to take part in the study and sign an informed consent. The project was evaluated and registered with the Research and Bioethics Committee. Data analysis was made by descriptive statistics. The ethical principles of research on humans were taken into account. Results: The evaluate zone has a total of 42 individuals, mostly men, with a 71% (30), range of 18 to 59 years of age. Static posture deploys with 71% (30) of the workers. The presence of moderate and severe risks has been found. Conclusion: Addressing workers from a personal and family perspective is relevant; these factors are important as they may strengthen a health damage-producing source caused by several risks existing at work places.
Downloads
Download data is not yet available.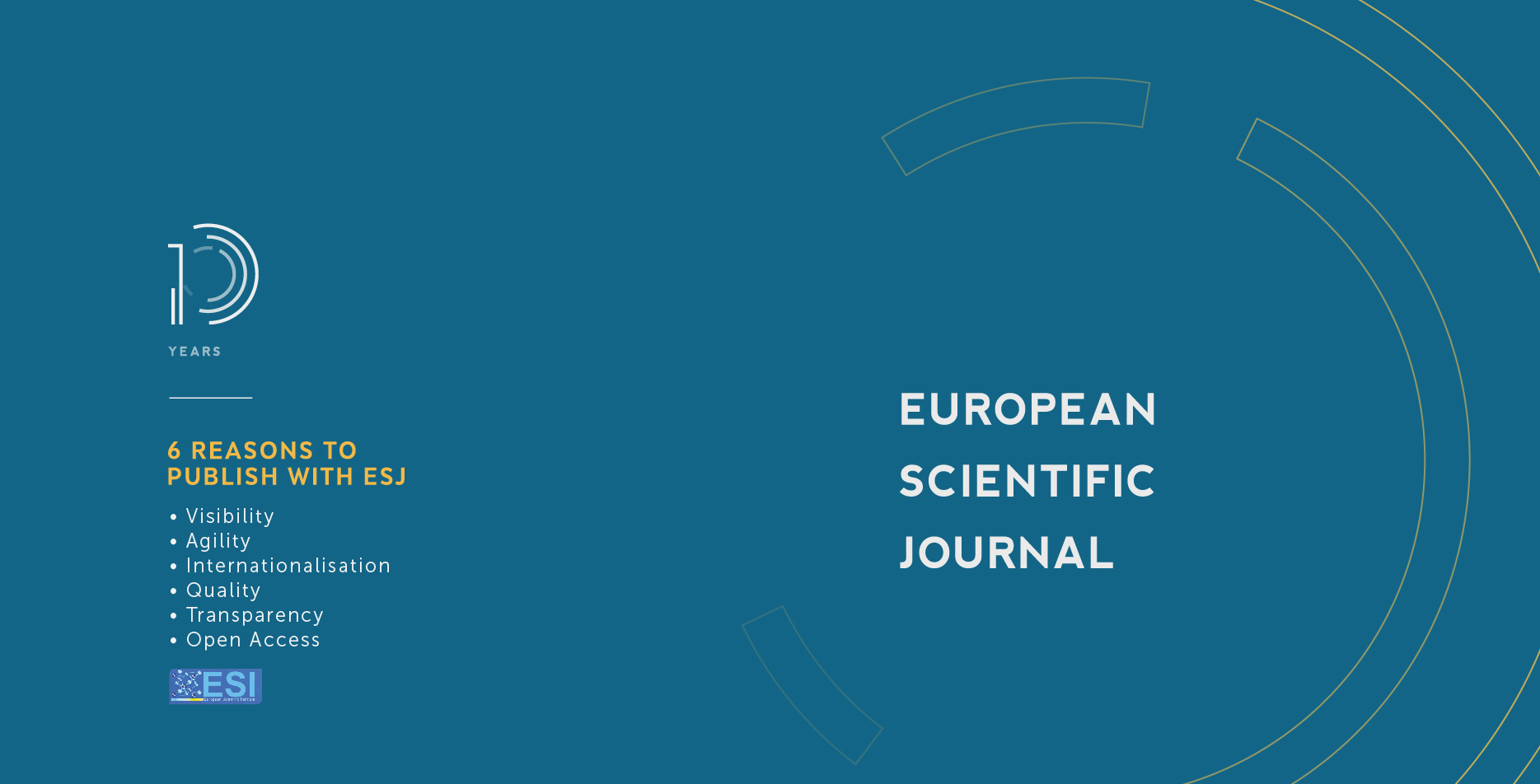 How to Cite
Rodriguez-Morales, M. R., Ruiz-Vargas, N. V., & Gallegos-Torres, R. M. (2020). Características De Salud Y Seguridad En Trabajadores De Una Empresa Automotriz. European Scientific Journal, ESJ, 16(24), 336. https://doi.org/10.19044/esj.2020.v16n24p336
Section
ESJ Natural/Life/Medical Sciences
Copyright (c) 2020 Mayra Rita Rodriguez-Morales, Nancy Viridiana Ruiz-Vargas, Ruth Magdalena Gallegos-Torres
This work is licensed under a Creative Commons Attribution-NonCommercial-NoDerivatives 4.0 International License.