Approvisionnement En Eau De Consommation Et Récurrence Des Maladies Hydriques Dans La Commune De Bangangté (Ouest-Cameroun)
Nya Esther Laurentine

Doctorante, Département de Géographie, Université de Yaoundé I, Cameroun

Mougoué Benoît

HDR, Maître de Conférences, Département de Géographie, Université de Yaoundé I, Cameroun
Keywords:
Approvisionnement, eau de consommation, vulnérabilité, maladies hydriques, Bangangté
Abstract
Approvisionner les ménages camerounais des grandes agglomérations et des villes moyennes en eau potable est une préoccupation constante des pouvoirs publics. Malgré l'implication des acteurs dans l'amélioration de l'accès à l'eau potable, le problème d'eau dans la Commune de Bangangté est très épineux et constitue un risque sanitaire. Le but de cette recherche est de montrer le lien qui existe entre la qualité de l'eau consommée et la récurrence des maladies hydriques dans cette commune. Les enquêtes ont été effectuées auprès de 339 chefs de ménage tirés de manière aléatoire dans 4 villages de la commune : Bangangté, Bangoua, Bamena, Batchingou. Les informations sur les maladies hydriques recueillies par l'enquête-ménage ont été complétées par les données compilées des registres de consultation des différentes formations sanitaires et les analyses physico-chimiques et bactériologiques de 12 échantillons d'eau prélevés. Il ressort de cette étude que les eaux de sources et de bornes-fontaines les plus fréquemment consommées sont contaminées par les Escherichia coli, les streptocoques fécaux et les salmonelles qui rendent les populations vulnérables aux maladies telles que la typhoïde (57%), l'amibiase (47,2%) et les diarrhées (45,5%). La réduction de ces maladies nécessite une gestion préventive des risques à la source de captage et une éducation des populations sur les méthodes de potabilisation de l'eau.
Providing Cameroonian households in big cities and medium-sized cities with drinking water is a constant concern of the public authorities. Despite the involvement of stakeholders in improving access to drinking water, the water problem in the Bangangté municipality is very difficult and constitutes a health risk. This study aims to show the link between the quality of water consumed and the recurrence of water diseases in this municipality. The surveys were carried out with 339 heads of household drawn at random in 4 villages of the municipality: Bangangté, Bangoua, Bamena, Batchingou. The information on water-borne diseases collected by the household survey was supplemented by the data collected in the consultation register of the various health facilities and the physico-chemical and bacteriological analyzes of 12 taken water samples. This study shows that the most frequently consumed springs water and standpipes are contaminated with Escherichia coli, faecal streptococci and salmonella, which makes populations vulnerable to diseases such as typhoid (57%), amoebiasis (47.2%) and diarrhea (45.5%). The reduction of these diseases requires preventive management of the risk at the source of catchment and an education of the populations on the methods of water purification.
Downloads
Download data is not yet available.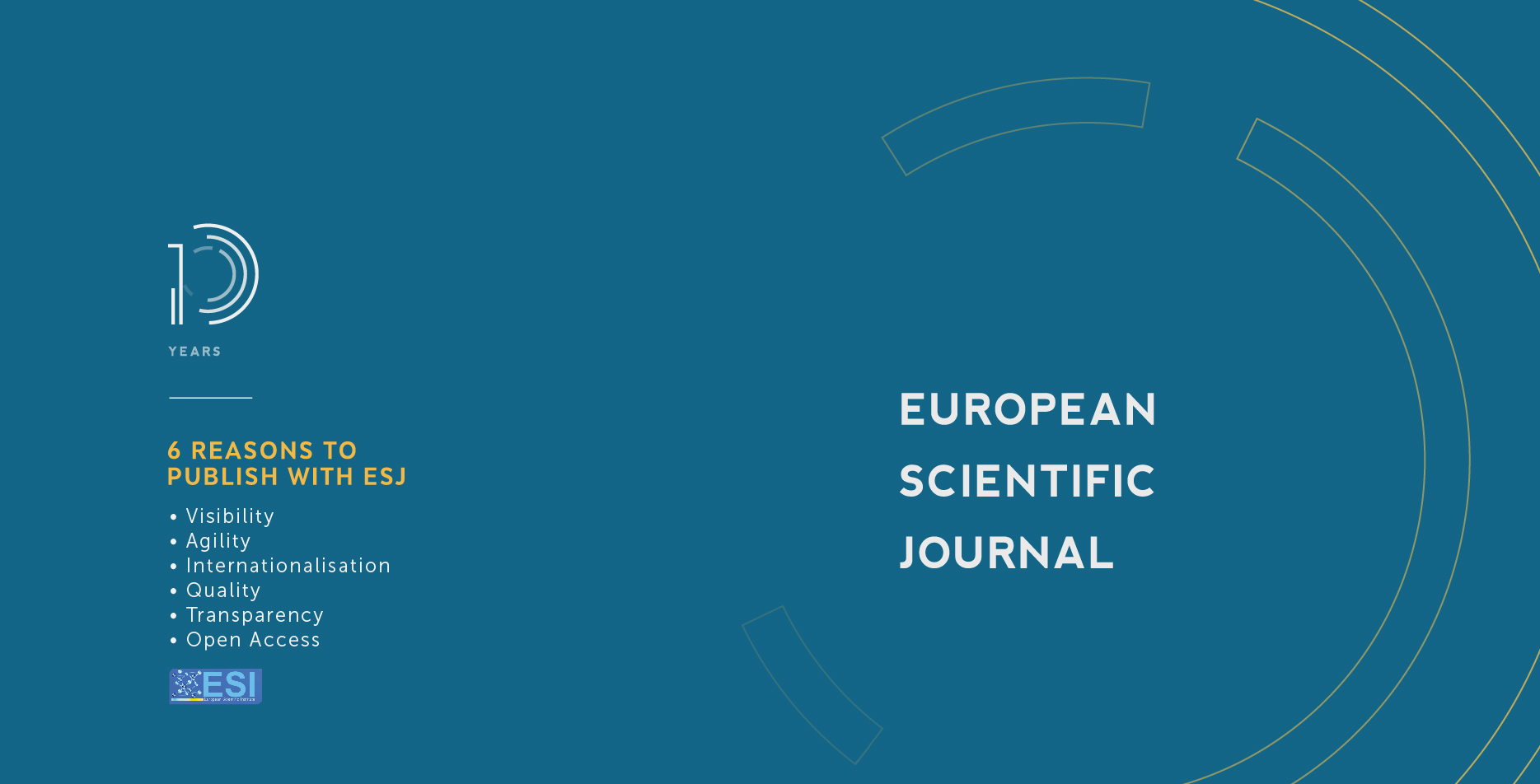 How to Cite
Laurentine, N. E., & Benoît, M. (2020). Approvisionnement En Eau De Consommation Et Récurrence Des Maladies Hydriques Dans La Commune De Bangangté (Ouest-Cameroun). European Scientific Journal, ESJ, 16(11), 115. https://doi.org/10.19044/esj.2020.v16n11p115
Copyright (c) 2020 Nya Esther Laurentine, Mougoué Benoît
This work is licensed under a Creative Commons Attribution-NonCommercial-NoDerivatives 4.0 International License.