Factors Influencing the Effects of Large-Scale Land Acquisition on The Livelihood of Smallholder Farmers in the Pru District of Ghana
Charles Quansah

Kwame Nkrumah University of Science and Technology (KNUST), College of Humanities and Social Sciences Faculty of Social Sciences, Department of Geography and Rural Development, Ghana

Agyemang Frimpong

Ghana Institute of Management and Public Administration (GIMPA), School of Public Service and Governance, Department of Public Management and International Relations, Ghana, University of Cape Coast (UCC), College of Humanities and Legal Studies/Faculty of Social Sciences Department of Sociology and Anthropology, Ghana

Ronald Osei Mensah

Ghana Institute of Management and Public Administration (GIMPA), School of Public Service and Governance, Department of Public Management and International Relations, Ghana, University of Cape Coast (UCC), College of Humanities and Legal Studies/Faculty of Social Sciences Department of Sociology and Anthropology, Ghana
Keywords:
Large-scale land acquisition, livelihood, smallholder farmers, household, household head, Pru district
Abstract
This study is undertaken to find out the factors influencing the effects of large-scale land acquisition on the livelihood of smallholder farmers in the Pru district. An important driver for large-scale land acquisition in Ghana, and the rest of Africa, is the growing global demand for biofuels and other plantations. Methodologically, mixed method approach was adopted by applying both quantitative and qualitative research designs. Quantitative data was obtained through a cross-sectional survey from smallholder farming households in the study communities of the Pru District with the help of a multi-stage sampling technique and cluster sampling technique. Qualitative data was obtained through Focus Group Discussions (FGD) from farmerbased associations in the Pru district. The Pru district in the Bono East region was purposively selected based on the reason that it isthe most affected district with activities of land grabbing in Ghana. Based on the sample frame of 2,554 households in the communities, a sample size of 346 was used for the study out of which 332 were households and 14 were investors and traditional authorities. The study revealed that household heads' level of education, sex of household heads, household engagement in off-farm activities, total farm land owned by a household, size of land lost by households to large-scale land investors, households' participation in decision making, and training of households for other alternative jobs significantly influence large-scale land acquisition on the livelihood of smallholder farming households. The study found out that the higher the level of education of a household head, the lesser the household suffers the adverse effects of losing their farm land to largescale land investors hence their livelihoods. It was revealed that some major factors that influenced large-scale land acquisition in the Pru district were the availability of land for the cultivation of plantations by investors, the soil fertility of the land in the district and the freedom and peace enjoyed by investors to go about their businesses and enjoying good tax exemptions in such an environment thus Pru district.
Downloads
Download data is not yet available.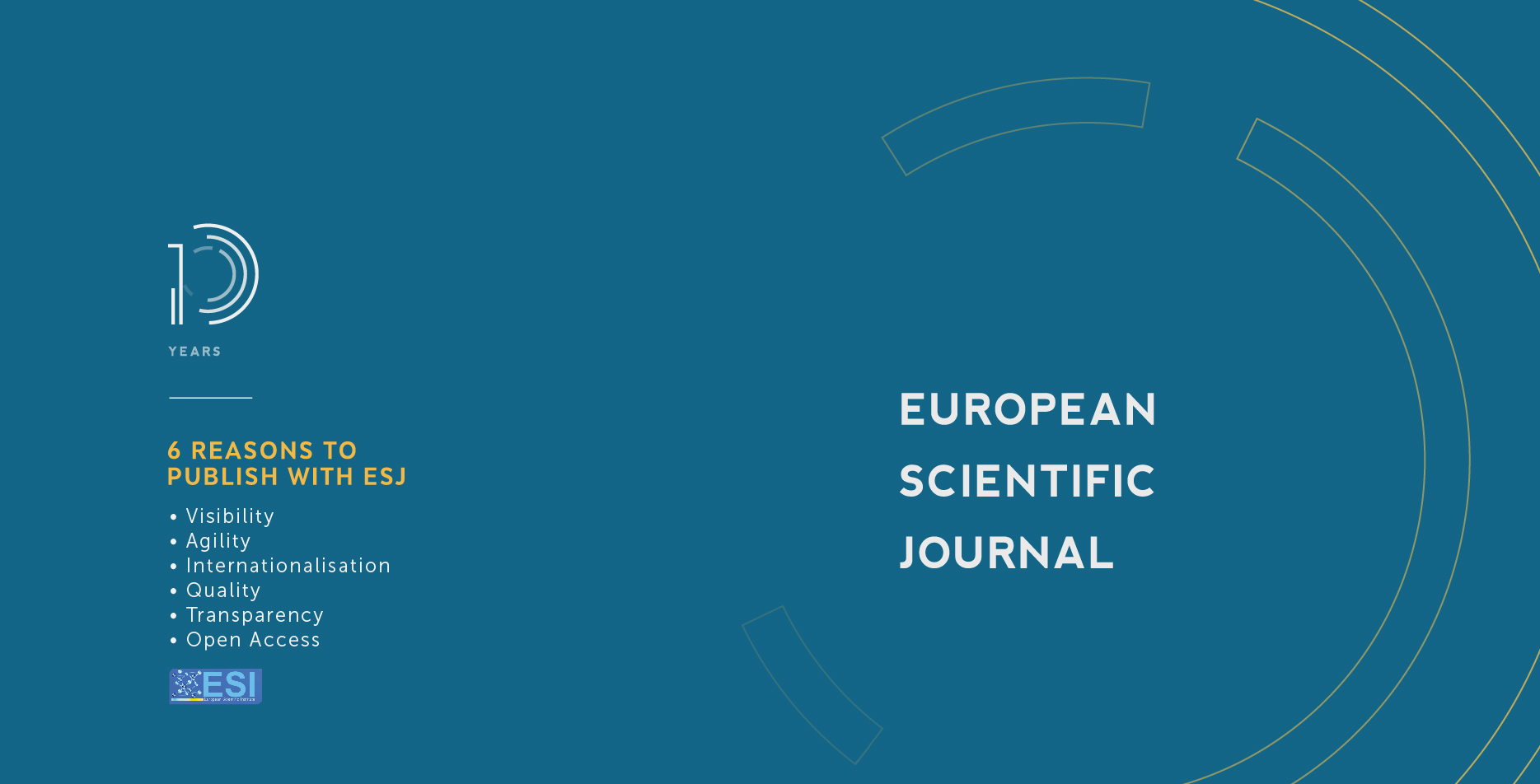 How to Cite
Quansah, C., Frimpong, A., & Mensah, R. O. (2020). Factors Influencing the Effects of Large-Scale Land Acquisition on The Livelihood of Smallholder Farmers in the Pru District of Ghana. European Scientific Journal, ESJ, 16(11), 159. https://doi.org/10.19044/esj.2020.v16n11p159
Copyright (c) 2020 Charles Quansah, Agyemang Frimpong, Ronald Osei Mensah
This work is licensed under a Creative Commons Attribution-NonCommercial-NoDerivatives 4.0 International License.