Déterminants De La Fertilisation Dans Les Systèmes De Riziculture Pluviale Stricte Dans Les Zones Nord Et Sud Soudaniennes Du Burkina Faso
Abdramane Sanon

Institut de l'Environnement et de Recherche Agricole, Laboratoire Sol-EauPlante, Station de Farako-Bâ,Burkina Faso. Université Nazi Boni, Institut du Développement Rural, Laboratoire d'étude et de recherche sur la fertilité du sol (LERF), Bobo-Dioulasso, Burkina Faso

Alain Péoulé Kouhouyiwo Gomgnimbou

Institut de l'Environnement et de Recherche Agricole, Laboratoire Sol-EauPlante, Station de Farako-Bâ,, Burkina Faso

Kalifa Coulibaly

Université Nazi Boni, Institut du Développement Rural, Laboratoire d'étude et de recherche sur la fertilité du sol (LERF),Dioulasso, Burkina Faso.

Karim Traore

Institut de l'Environnement et de Recherche Agricole, Laboratoire Sol-EauPlante, Station de Farako-Bâ,Bobo 01, Burkina Faso

Hassan Bismarck Nacro

Université Nazi Boni, Institut du Développement Rural, Laboratoire d'étude et de recherche sur la fertilité du sol (LERF), Bobo-Dioulasso, Burkina Faso
Keywords:
Riz pluvial strict, Riziculteurs, Engrais, Déterminants, Burkina Faso
Abstract
Knowledge, attitudes and the practices of farmers influence greatly rice productivity. The goal of this study is to identify the determiners of the number of organic manure and chemical fertilizers (NPK, Urea) in rice production. This study has been conducted as a survey and the sample includes 293 peasants from 14 villages in the East, Hauts bassins and Plateau Central regions of Burkina Faso. The logistic regression method was used to characterize the determinants of the value of organic manure, NPK and urea in rice farming. The results indicate that they were 40 years old in average and 37% of them women. Half of them use line pits sowing system with a spacing of 25-30 cm. The quantity of fertilizers per hectare is less elevated with an average of 398,44 kg for organic manure, 90,88 kg for NPK and 56,36 kg for Urea. Upland rice is produced without using Burkina Phosphorus and poultry manure. We consider that age, the size and the number of active workers are the determiners of the value of organic manure, NPK and Urea input in upland rice production in the regions of plateau central, east and hauts bassins. With very expensive chemical fertilizers today, the contribution of the study would be the testing in agronomy of the relevance of endogenous solutions in the broad scale definition of new practices in rainy season rice production.
Les connaissances, les attitudes et les pratiques des agriculteurs influencent insidieusement le niveau de production rizicole. L'objectif de la présente étude est de connaître les facteurs déterminants du nombre d'apports de fumure organique, d'engrais NPK et d'urée en riziculture. Une enquête a été conduite et a concerné un échantillon de 293 riziculteurs répartis dans 14 villages, dans les régions de l'Est, des Hauts Bassins et du Plateau Central du Burkina Faso. La population enquêtée avait une moyenne d'âge de 40 ans et 37% de l'échantillon sont de sexe féminin. La méthode de la régression logistique a été utilisée pour caractériser les déterminants de la fertilisation en riziculture. Les résultats de l'étude indiquent que la moyenne d'âge est de 40 ans et 37% de l'échantillon sont de sexe féminin. La moitié des riziculteurs enquêtés pratique les semis en lignes dans des poquets, avec un écartement de 25*30 cm. Les quantités d'engrais par hectare sont faibles et sont de 398,44 kg pour la fumure organique, de 90,88 kg pour l'engrais NPK et de 56,36 kg pour l'engrais urée. Le riz pluvial strict est cultivé sans apport de Burkina Phosphate et de fumier de volaille. On note que l'âge du producteur, la superficie des parcelles et le nombre d'actifs agricoles sont les facteurs qui influencent le nombre d'apports de fumure organique, d'engrais NPK et d'Urée en riziculture pluviale stricte dans les zones d'étude. Dans le contexte de coût élevé des engrais minéraux, des solutions endogènes pourraient être testées dans le cadre plus large de la définition de nouvelles pratiques de fertilisation de riz pluvial strict.
Downloads
Download data is not yet available.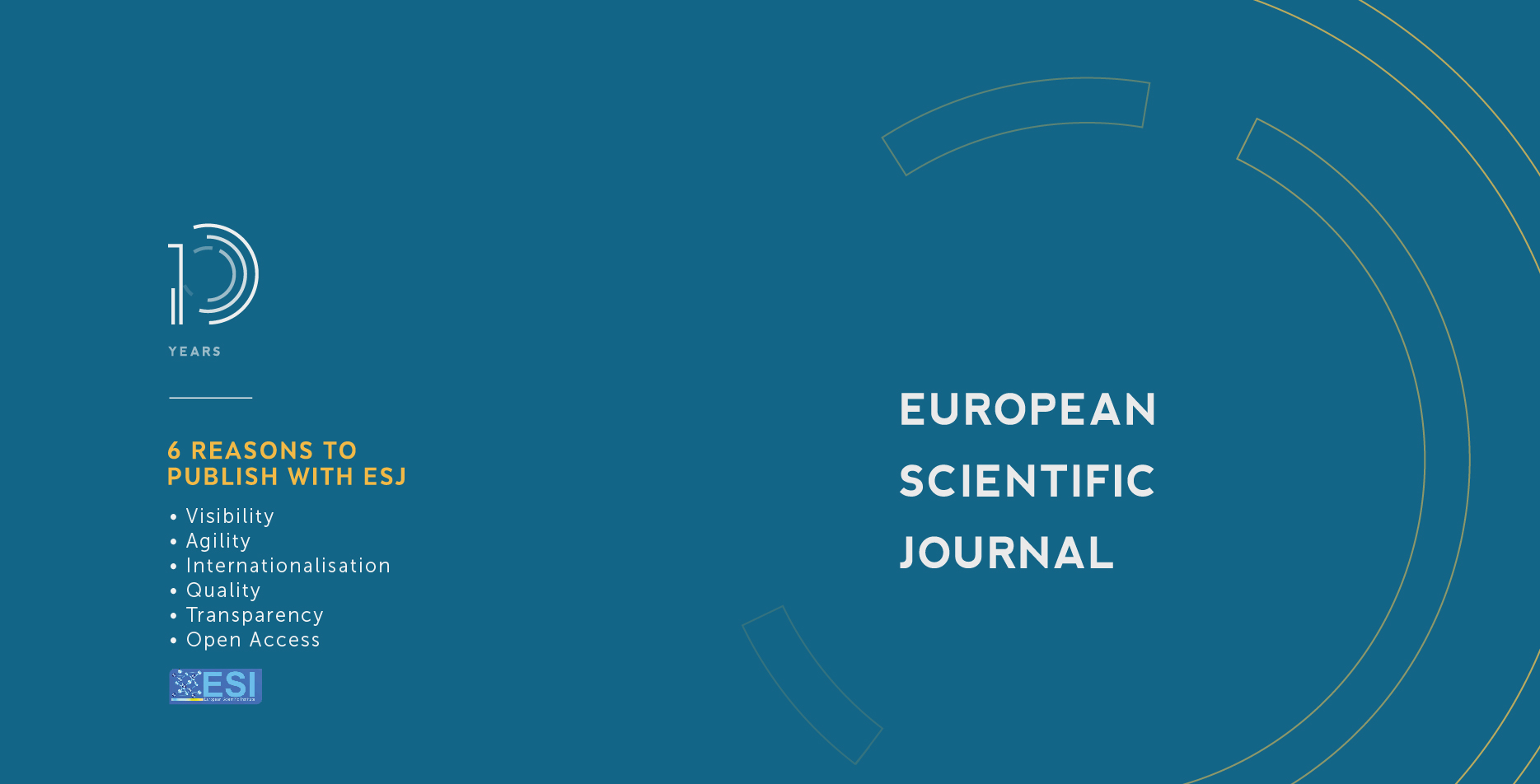 How to Cite
Sanon, A., Kouhouyiwo Gomgnimbou, A. P., Coulibaly, K., Traore, K., & Bismarck Nacro, H. (2020). Déterminants De La Fertilisation Dans Les Systèmes De Riziculture Pluviale Stricte Dans Les Zones Nord Et Sud Soudaniennes Du Burkina Faso. European Scientific Journal, ESJ, 16(27), 38. https://doi.org/10.19044/esj.2020.v16n27p38
Section
ESJ Natural/Life/Medical Sciences
Copyright (c) 2020 Abdramane Sanon, Alain Péoulé Kouhouyiwo Gomgnimbou, Kalifa Coulibaly, Karim Traore, Hassan Bismarck Nacro
This work is licensed under a Creative Commons Attribution-NonCommercial-NoDerivatives 4.0 International License.