Etat Environnemental Des Sols De La Region De Casablanca
I. Benazzouz

Laboratory of Analytical chemistry and physical chemistry of materials Faculty of Sciences : Ben m'sick University Hassan II, Casablanca, Morocco

M. Talbi

Laboratory of Analytical chemistry and physical chemistry of materials Faculty of Sciences : Ben m'sick University Hassan II, Casablanca, Morocco

N. Saber

High School of Technology Sidi Bennour, Morocco Laboratory of devlopement and research
Keywords:
Qualité Environnementale, Qualité Agricole, Sol, Éléments Traces, Métalliques, Région De Casablanca
Abstract
La pollution chimique, dans la région de Casablanca impacte la qualité des sols agricoles. Cinq sites de la région de Casablanca sont étudiés : les sites d'Oued Hassar, Oued Merzeg, Bouskoura, Benslimane-Mohammedia et Bouznika. L'objectif est l'analyse comparative de cinq éléments traces métalliques(Cadmium, Plomb, Cuivre, Zinc et Nickel) des sols afin d'évaluer l'état environnemental et de préserver les potentialités et l'innocuité des sites de la région de Casablanca . Un suivi des variations des paramètres physico-chimiques du sol (pH, carbonates de calcium et matières organiques) est réalisé, suite à la dégradation de l'eau d'irrigation par l'utilisation d'eaux usées, et de l'impact de la pollution chimique. L'étude statistique par le test d'Anova montre des différences significatives concernant les paramètres physico-chimiques entre tous les sites. L'analyse des éléments traces métalliques montre que les sols des sites irrigués par Oued Hassar présentent des teneurs en Cadmium de 2,91 ppm et en Plomb de 137,61ppm qui dépassent les normes préconisées par l'Organisation Mondiale de la Santé (O.M.S.), respectivement de 2 ppm et 100 ppm. Les teneurs en Cuivre dans les sols des sites irrigués par l'Oued Merzeg restent les plus élevées et sont de 896,62 ppm. Les teneurs en Zinc dans les sols proches de la cimenterie de Bouskoura sont prédominantes par rapport aux autres éléments et sont de 537,22 ppm. Dans les sols de MohammediaBenslimane, les teneurs de Cadmium sont de 2 ,36 ppm . Les teneurs en Plomb dépassent rarement 100 ppm.L'étude statistique par le test d'Anova montre des différences significatives entre tous les sites pour tous les éléments traces métalliques sauf pour le Nickel.
Chemical pollution in the peri-urban area of Casablanca impacts the quality of agricultural soils.Five sites from the region of Casablanca have been studied: Oued Hassar, Oued Merzeg, Bouskoura, Benslimane-Mohammedia, and Bouznika.The objective is the comparative analysis of five trace metal elements in soils in order to assess the environmental state and to preserve the potential and harmlessness of sites in the Casablanca region.The environmental state of these sites requires knowledge of the physico-chemical parameters of the soil (PH, Calcium carbonates, organic matter), following the degradation of irrigation water by the use of wastewater or the impact of chemical pollution.The environmental state studied through metallic trace elements shows that the soils of sites irrigated by Oued Hassar have cadmium and lead contents which exceed the standards recommended by the World health organisation (WHO), respectively 2 ppm and 100 ppm.The contents are respectively 2,91 ppm and 137,61ppm.The copper contents in the soils irrigated by the Merzeg wadi remain the highest.The contents are 896,62 ppm. The zinc contents in soils near the Bouskoura cement plant are predominant compared to the other elements.The contents are 537,22 ppm. In Mohammedia-Benslimane soils, the cadmium contents are very variable, moderate and can exceed 2 ppm. Lead levels rarely exceed 100 ppm.The statistical study by the Anova test shows significant differences in the contents of metallic trace elements except for nickel.
Downloads
Download data is not yet available.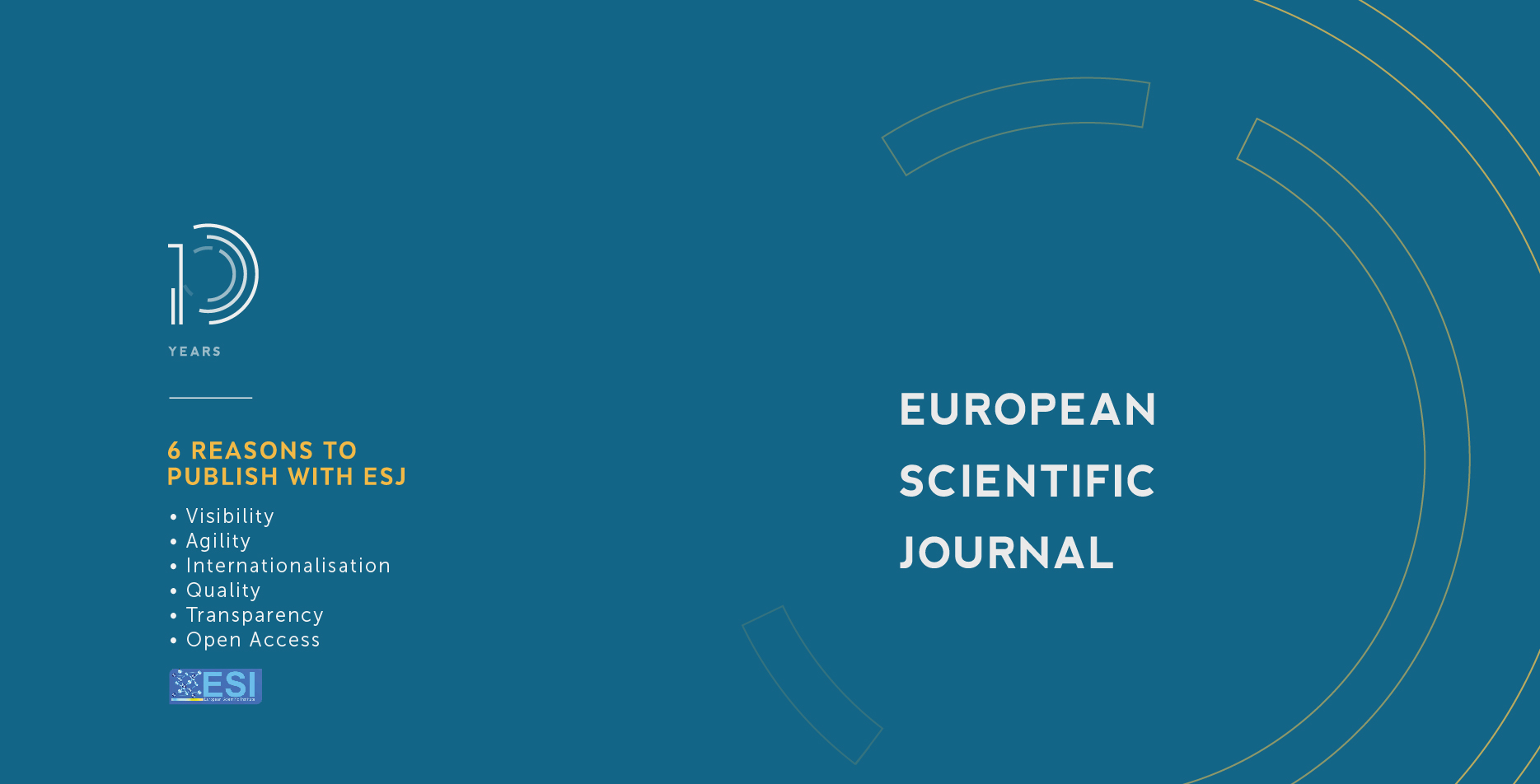 How to Cite
Benazzouz, I., Talbi, M., & Saber, N. (2020). Etat Environnemental Des Sols De La Region De Casablanca. European Scientific Journal, ESJ, 16(27), 90. https://doi.org/10.19044/esj.2020.v16n27p90
Section
ESJ Natural/Life/Medical Sciences
Copyright (c) 2020 I. Benazzouz, M. Talbi, N. Saber
This work is licensed under a Creative Commons Attribution-NonCommercial-NoDerivatives 4.0 International License.