Gestion des Dechets Menagers dans les Communes d'adjame et de Bingerville dans le District Autonome d'Abidjan, Cote d'Ivoire
N'tamon Ekissi Alexis

Université Félix Houphouët Boigny, Abidjan, Côte d'Ivoire Institut d'Ethno-Sociologie, Département de Sociologie Laboratoire d'Etudes et de Recherches Interdisciplinaires en Sciences Sociales et Humaines (LERISSH)
Keywords:
Déchets ménagers, risque sanitaire, représentation sociale, perception, pratiques à risques
Abstract
Dans le district d'Abidjan, la quantité de déchets ménagers a connu au cours des dernières décennies un accroissement rapide en raison de l'urbanisation accélérée qui le caractérise. Dans ses différentes communes notamment celles d'Adjamé et de Bingerville, on constate la présence d'ordures ménagers dans les caniveaux, aux abords des routes et sur les voies publiques. Ce phénomène dû à la mauvaise gestion des déchets ménagers, provoque des odeurs nauséabondes et la prolifération des risques sanitaires. La présente étude a pour objectif d'identifier les facteurs explicatifs de la persistance des pratiques à risques des ménages. Dans une perspective beaucoup plus qualitative, l'étude documentaire, l'observation directe et un questionnaire semi-ouvert ont été mobilisés pour obtenir les données. L'interprétation de nos résultats a été basée sur la théorie structuralismeconstructiviste de Pierre Bourdieu et la théorie sociologique du risque d'Ulrich Beck. De l'analyse des résultats obtenus, il ressort que les ménages utilisent les déchets comme matériel utile à leur environnement. Par ailleurs, ils estiment que les risques sanitaires liés à la gestion des déchets ménagers, sont non mortels et ont une perception socio-culturelle des maladies causées par cette dernière.
In the district of Abidjan, the quantity of household waste has experienced a rapid increase in recent decades due to the accelerated urbanization that characterizes it. In its various municipalities, especially those of Adjamé and Bingerville, there is the presence of household garbage in the gutters, along roads and on public roads. This phenomenon, due to the poor management of household waste, causes foul odors and the proliferation of health risks. The objective of this study is to identify the explanatory factors for the persistence of risky household practices. From a much more qualitative perspective, the documentary study, direct observation and a semi-open questionnaire were used to obtain the data. The interpretation of our results was based on the structuralism-constructivist theory of Pierre Bourdieu and the sociological theory of risk of Ulrich Beck. From the analysis of the results obtained, it emerges that households use waste as material useful for their environment. In addition, they believe that the health risks associated with the management of household waste are non-fatal and have a socio-cultural perception of the diseases caused by the latter.
Downloads
Download data is not yet available.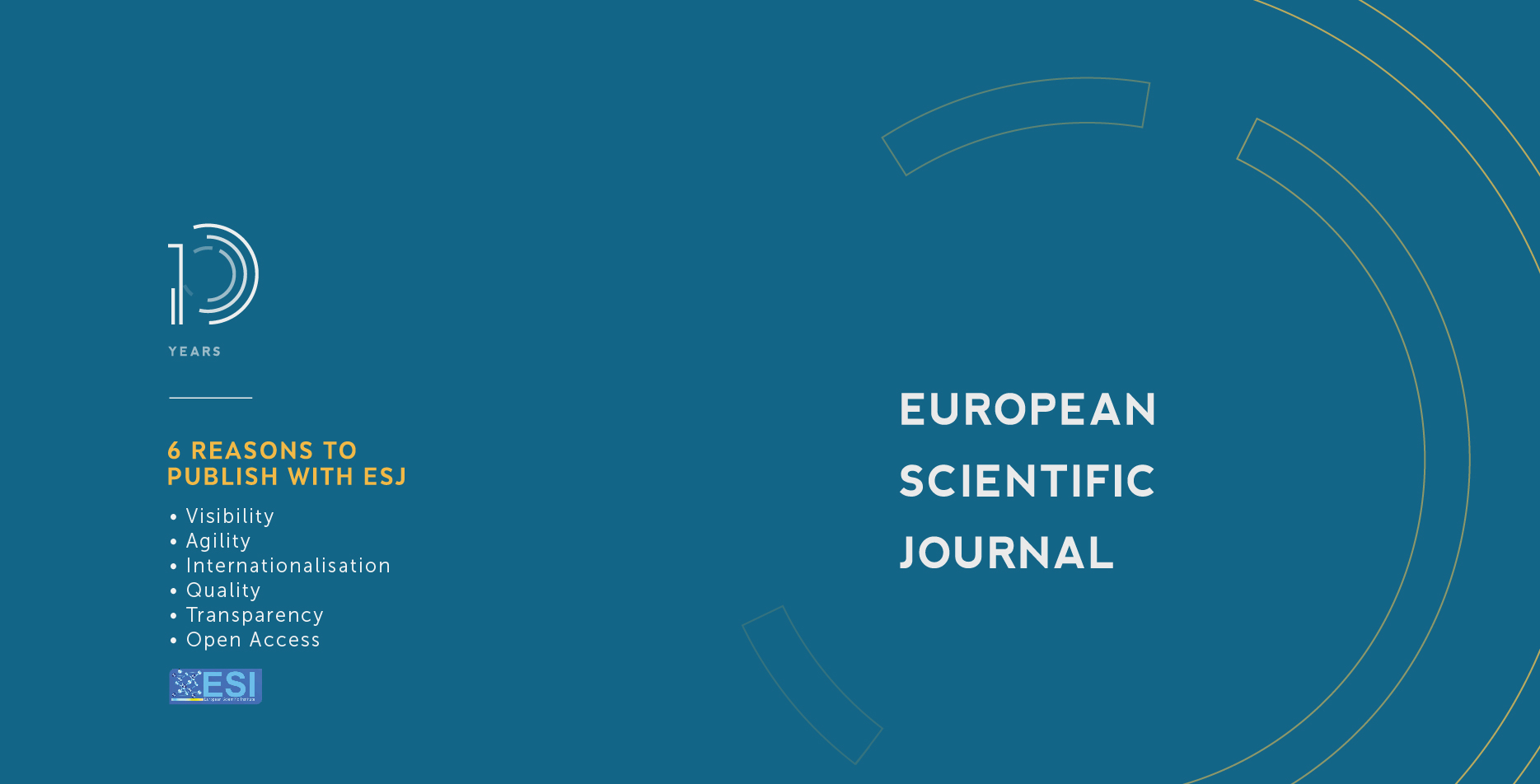 How to Cite
Alexis, N. E. (2020). Gestion des Dechets Menagers dans les Communes d'adjame et de Bingerville dans le District Autonome d'Abidjan, Cote d'Ivoire. European Scientific Journal, ESJ, 16(26), 35. https://doi.org/10.19044/esj.2020.v16n26p35
Copyright (c) 2020 N'tamon Ekissi Alexis
This work is licensed under a Creative Commons Attribution-NonCommercial-NoDerivatives 4.0 International License.