La Gouvernance Urbaine Dans les Espaces Marchands a Bafoussam (Ouest -Cameroun)
Flore Merline Megnijo Yemele

Centre d'Etudes et de Recherche en Espaces, Arts et Humanités (CEREAH), Département de Géographie, Université de Dschang, Cameroun

Maurice Tsalefac

Centre d'Etudes et de Recherche en Espaces, Arts et Humanités (CEREAH), Département de Géographie, Université de Dschang, Cameroun

Aristide Yemmafouo

Centre d'Etudes et de Recherche en Espaces, Arts et Humanités (CEREAH), Département de Géographie, Université de Dschang, Cameroun
Keywords:
Gouvernance urbaine, gestion, espaces marchands, décentralisation, Bafoussam, Cameroun
Abstract
La question des espaces marchands est au cœur de la gestion des villes d'Afrique sub-saharienne. Ces espaces, dotés d'une forte valeur symbolique, remplissent une fonction économique et sociale cruciale. Leur gouvernance au Cameroun fait l'objet d'une exclusivité de l'Etat, acteur principal de la gestion des villes. L'explosion de l'effectif des commerçants rend les infrastructures marchandes largement insuffisantes. Commerçants de gros, détaillants, sauveteurs et autres colporteursrivalisent dans l'occupation des espaces tandis que les communes d'arrondissement et la Communauté Urbaine se battent pour le contrôle de la gestion des marchés. L'objectif de cet article est d'analyser les jeux, enjeux et conflits qui émergent de l'intervention de différents acteurs sur les espaces marchands. L'hypothèse émise pose que les rivalités et les conflits entre acteurs de la gouvernance des espaces marchands tiennent à la fois des jeux d'intérêts personnels et collectifs souvent inavoués. Pour le vérifier, une enquête a été conduite auprès de 435 commerçants, 7 interviews ont été menées auprès des personnes ressources auxquelles se sont greffées des observations. Le traitement statistique et l'analyse des données quantitatives et qualitatives ont permis de comprendre que le désordre urbain dû à l'occupation anarchique de l'espace marchand à Bafoussam dévoile un déficit de gouvernance motivé par des intérêts divergents. La décentralisation qui aurait pu contribuer au développement de la ville a plutôt engendré des rivalités politiques et économiques. Les opérations de reconstruction des marchés érigées en mode de régulation de l'espace marchand par les CTD 2 n'ont pas pu résoudre le problème de l'occupation anarchique desdits espaces par les commerçants. Il en ressort les comportements antisociaux, la mauvaise maintenance des infrastructures et la mauvaise image des espaces marchands.
The issue of commercial spaces is at the center of city management in sub-Saharan Africa. Such spaces, with high symbolic values, have a crucial economic and social function. Commercial spaces in Cameroon are exclusively handled by the State government, main actor of cities management. The exponential increase in number of merchants renders the available commercial infrastructures very insufficient. Dealers, retailers and other small scale traders compete for space while local government authorities and those in charge of cities ensure proper management of markets. The aim of this study is to evaluate the games, challenges and conflicts between different actors of commercial space. The hypothesis is that rivalries and conflicts between actors of commercial spaces governance represent both individual and collective games of interest, often denied. To test this hypothesis, an investigation was carried out on 435 merchants; 7 resource personnel's were interviewed and observations were made. Both quantitative and qualitative data were collected. Data management and Statistical analysis showed that urban disorder due to anarchic occupation of commercial space in Bafoussam reveals the lack of urban governance, motivated by divergent interests. Decentralization, which is expected to contribute to the development of cities, has instead brought political and economic rivalries. The reconstruction of markets by DTC 3 , in order to regularize/manage the commercialspace, could not solve the problem of anarchic occupation of those 3 Decentralised Territorial Authorithies spaces by merchants. This led to anti-social behaviours, poor maintenance of infrastructures and bad image of commercial spaces.
Downloads
Download data is not yet available.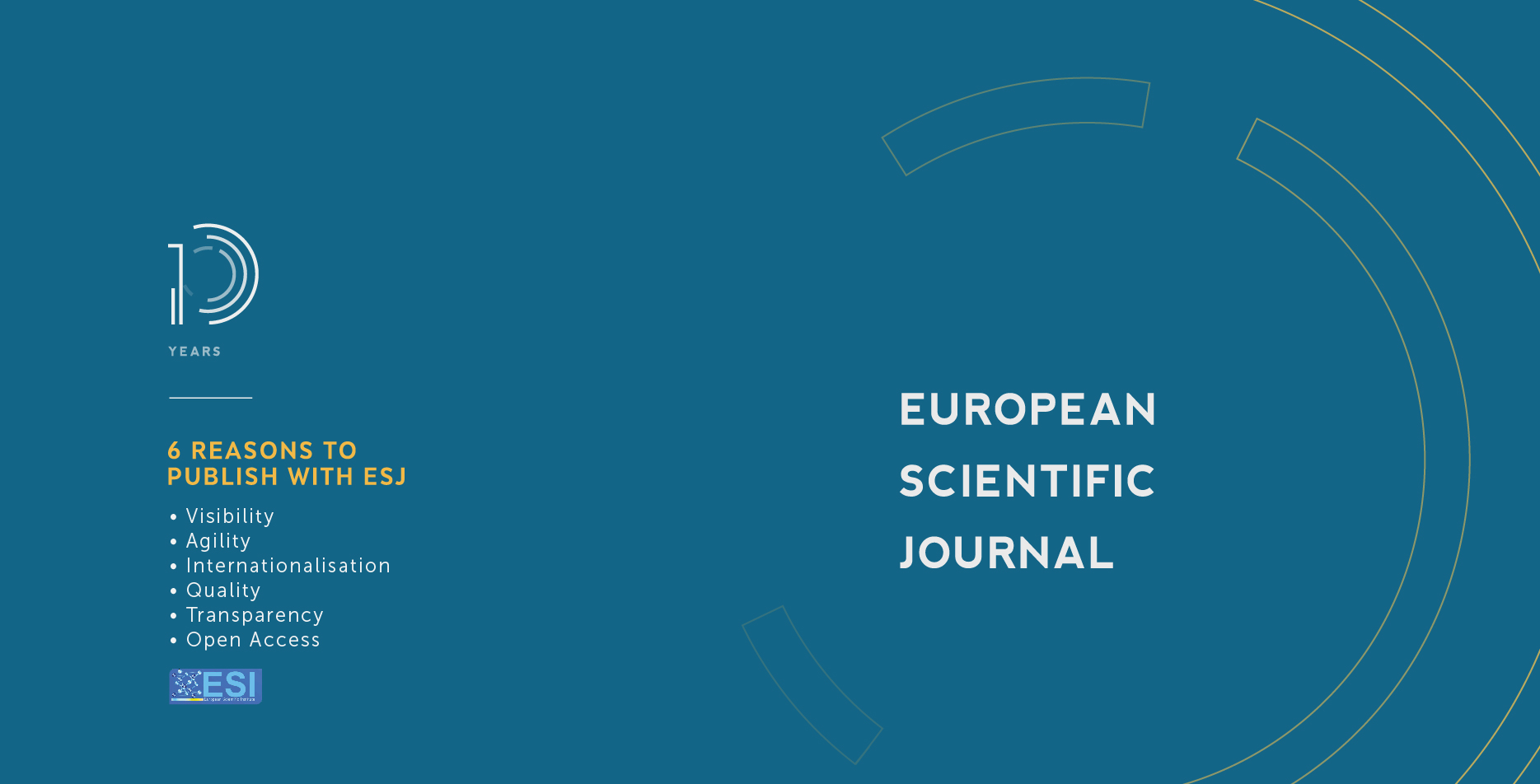 How to Cite
Yemele, F. M. M., Tsalefac, M., & Yemmafouo, A. (2020). La Gouvernance Urbaine Dans les Espaces Marchands a Bafoussam (Ouest -Cameroun). European Scientific Journal, ESJ, 16(29), 243. https://doi.org/10.19044/esj.2020.v16n29p243
Copyright (c) 2020 Flore Merline Megnijo Yemele, Maurice Tsalefac, Aristide Yemmafouo
This work is licensed under a Creative Commons Attribution-NonCommercial-NoDerivatives 4.0 International License.