Habilidades Sociales y Autoestima en Niños Escolarizados Mexicanos. Su Relación con Prácticas Parentales
Claudia Margarita Fragoso González

Doctora, Universidad Autónoma del Estado de Hidalgo, México

Yolanda Guevara-Benítez

Doctora, Universidad Nacional Autónoma de México, México

Nadia Figueroa Vargas

Licenciada, Universidad Autónoma del Estado de Hidalgo, México

Andrómeda Ivette Ortiz Valencia

Doctora, Universidad Autónoma del Estado de Hidalgo, México

Rubén Cruz García

Doctor, Universidad Autónoma del Estado de Hidalgo, México
Keywords:
Prácticas Parentales, Habilidades Sociales, Autoestima
Abstract
La familia es un factor importante para el desarrollo socioemocional de un individuo durante la niñez. Particularmente los padres, a través de las prácticas educativas y los patrones de interacción con sus hijos, pueden influir en el grado de desarrollo de sus habilidades sociales, su regulación emocional y su autoestima. El objetivo de la presente investigación fue conocer el grado de desarrollo de las habilidades sociales y la autoestima en una muestra de 381 niños de una escuela primaria pública del Municipio de Pachuca, Hidalgo, México (con un rango de edad entre 8 y 13 años), así como conocer la relación de dichas variables con el tipo de prácticas parentales que los niños perciben. Los instrumentos que se utilizaron fueron: Escala de Prácticas Parentales de Andrade y Betancourt, Escala de Conducta Asertiva para Niños (CABS) de Michelson y Wood, y el Inventario de Autoestima de Coopersmith para Niños. El análisis de los datos se realizó con estadística descriptiva, la prueba de correlación de Pearson y la t de Student, para muestras independientes. Los puntajes promedio de la escala de habilidades sociales (CABS) indicaron bajo nivel de aptitud social; en las jóvenes, patrones de conducta pasiva y en los varones patrones de conducta agresiva. Las prácticas maternas y paternas de control conductual y control psicológico se asociaron con bajos niveles de habilidad social y autoestima.
The family is an important factor for the social-emotional development of an individual during childhood. In particular, parents, through educational practices and patterns of interaction with their children, can influence the degree of development of their social skills, their emotional regulation and their self-esteem. The objective of this research was to know the degree of development of social skills and self-esteem in a sample of 381 children from a public elementary school in the Municipality of Pachuca, Hidalgo, Mexico (with an age range between 8 and 13 years), as well as knowing the relationship of these variables with the type of parental practices that children perceive. The instruments that were used were: Parental Practices Scale of Andrade and Betancourt, Assertive Behavior Scale for Children (CABS) of Michelson and Wood, and the Coopersmith Self-Esteem Inventory for Children. Data analysis was performed with descriptive statistics, Pearson's correlation test and Student's t test, for independent samples. The average scores of the social skills scale (CABS) indicated a low level of social aptitude; in young women, patterns of passive behavior and in male patterns of aggressive behavior. Maternal and paternal practices of behavioral control and psychological control were associated with low levels of social ability and self-esteem.
Downloads
Download data is not yet available.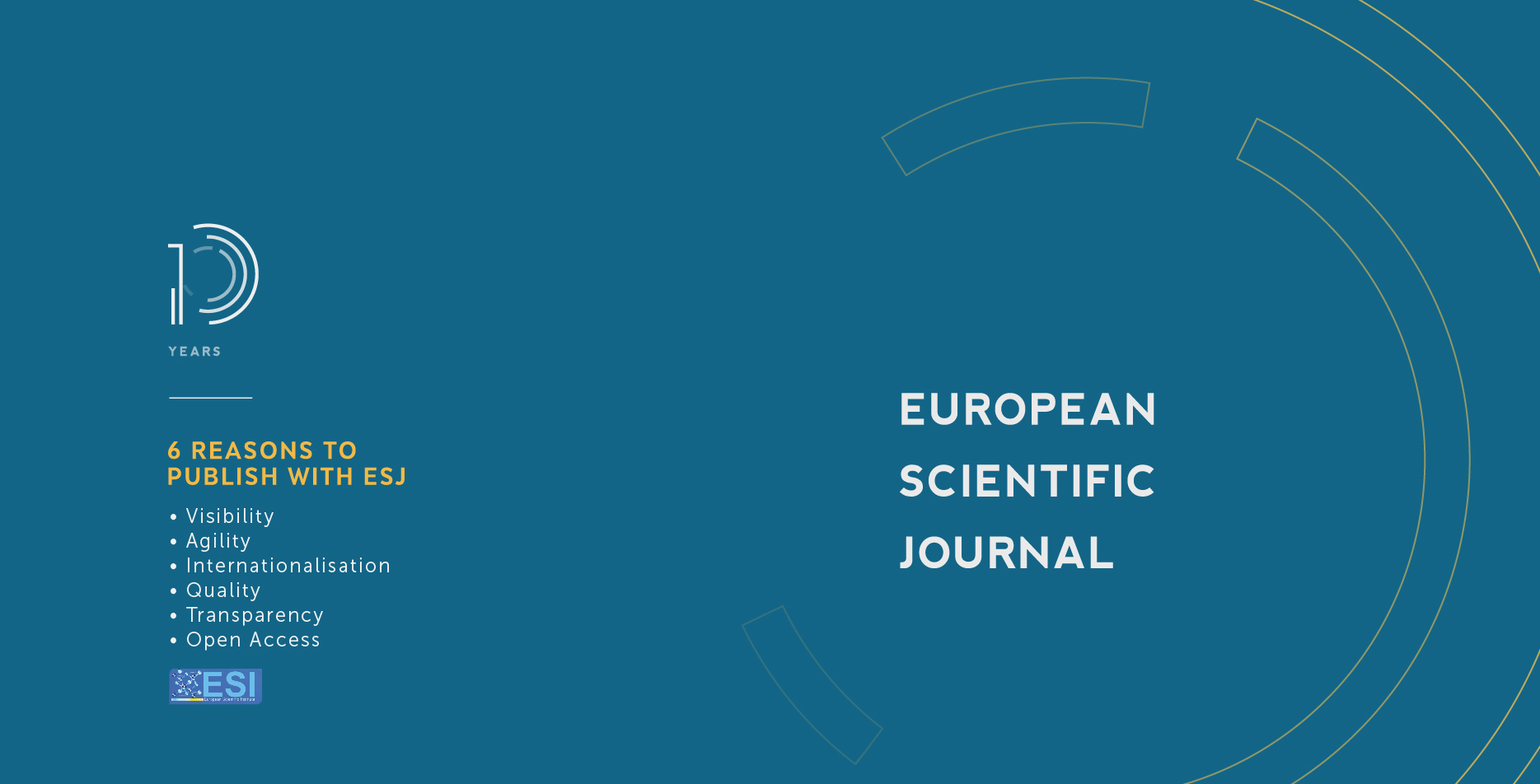 How to Cite
González, C. M. F., Guevara-Benítez, Y., Vargas, N. F., Valencia , A. I. O., & García, R. C. (2020). Habilidades Sociales y Autoestima en Niños Escolarizados Mexicanos. Su Relación con Prácticas Parentales. European Scientific Journal, ESJ, 16(34), 144. https://doi.org/10.19044/esj.2020.v16n34p144
Section
ESJ Social Sciences
Copyright (c) 2020 Claudia Margarita González Fragoso, Yolanda Guevara-Benítez, Nadia Vargas Figueroa, Andrómeda Ivette Valencia Ortiz, Rubén García Cruz
This work is licensed under a Creative Commons Attribution-NonCommercial-NoDerivatives 4.0 International License.